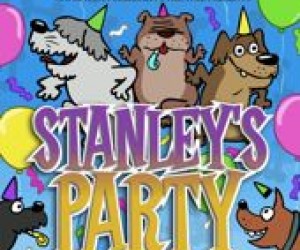 Kid Show: Stanley's Party at Manhattan Children's Theater
Sit. Stay. Don't jump on the couch. There are an awful lot of commandments that apply to your dog and your kid. That's the beauty of Stanley's Party, the latest production at Manhattan Children's Theater. The musical, based on the Stanley book series by Linda Bailey, features the title pooch wrestling with house rules, but it could just as easily be your pre-schooler. Stanley wants to be a good boy, but when his people leave home for a few hours he just can't resist squeezing under the fence. After rounding up his friends, the dog pack take off for adventure that concludes with a house party Stanley's owners won't soon forget.
Young children will identify with Stanley, who really just wants to see how far he can go before his parents, er people, get angry. Stanley approaches each line curiously, not mischievously, and when he crosses it a jolt of independence keeps him moving forward. While we hope your kids don't experiment with soaking fire hydrants and eating garbage, no doubt you'll recognize boundary-testing when you see it. Uptight parents may be irked that Stanley's escapades are rewarded with extra attention from his owners. But ask yourself, would Ferris Bueller's Day Off have been a hit if Principal Rooney had caught him atop that parade float?
This charming, low-key production features human actors dressed as dogs, with faces painted to match and a pop opera-like score. The ground level stage makes it easy for guests to walk on and explore the set before or after the show—within reason. And the small theater's size and bleacher seats make for an intimate performance, more like a souped-up story time than a Broadway production. Actors greet kids in the hallway after the show, where parents are prevailed upon to buy a soundtrack ($10).
Stanley's Party is on stage at the Manhattan Children's Theater at 52 White Street now through May 30. Performances will be held Saturdays and Sundays at 12 p.m. and 2 p.m.; Tickets $20. Premium seats, which include front row seating, a meet and greet with the cast before the show and an autographed program are available for $50. Arrive early, since most seating—including the front row—is chosen by audience members on a first-come, first serve basis.