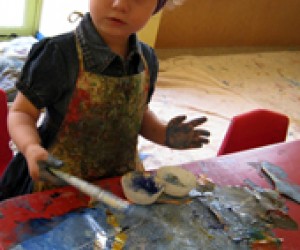 Best Places for Kids' Classes in Park Slope
So far during our month-long focus on Park Slope, we've shared the best places for kids to play, both indoors and outside, our top toy stores and 50 things to do with kids in the area. Today we're spotlighting our favorite places for kids to take classes in this super-family-friendly neighborhood.

Whatever your child is into—arts, crafts, dance, theater, music, sports, nature, yoga, even origami—there's a spot in Park Slope teaching it. Since schedules and prices constantly change, please visit the official websites for the most up-to-date information. Here are our top 11 spots for kids' classes in Park Slope (because we couldn't limit ourselves to just ten).
Hootenanny Art House
426-428 15th Street at Eighth Avenue
Located right at the border of the Slope and Windsor Terrace, this cozy art spot has a real community feel, and regularly hosts gatherings like family disco parties. There are three main classes here: Music Together, yoga and art. There are no drop-offs at this school, since it caters to the under 5 crowd. We've previously written about Hootenanny's monthly drop-in Open Family Art Studio, which is a great deal at a suggested donation of $10-$20 per family. The winter semester has just started, so check the schedule as some classes still have space available. Classes range from $220-$270 for 10 weeks and there are discounts for siblings. You can email the staff and ask for a free trial class, too.

Brooklyn Design Lab
413A 7th Avenue between 13th and 14th Streets
Toddlers and elementary schoolers can be inspired by nature, robots, aliens and Legos at this unique art school. The narrow studio has a long communal table and small class sizes (six students maximum for morning sessions with caregivers, eight students maximum for afternoon drop-off sessions), which makes for a very intimate experience. The students' work is displayed in the front window gallery, so you can get a sense of the offbeat projects here. Different themes are offered each season, and classes are organized by age: 18-24 months, 2-4-year-olds and kindergarten-fifth grade. My daughter took a class here in which she created art inspired by live animals and absolutely loved it! This winter's offerings include comic book design, Bubbles + Bubble Wrap and Art in Boxes, but the classes change every semester. Classes range from $189-$320 for eight weeks, plus fees for materials.

The Dance Studio of Park Slope
630 Sackett Street between Third and Fourth Avenues
Although this studio is technically outside of our Park Slope boundaries, it's just half a block into Gowanus and, as you can tell from the name, it considers itself part of the community. If your kids love to twirl or tap, this is a great place to go. Toddlers can take creative movement classes, while children ages 3-6 can tumble or do combo dance classes. Kids 5 and up can study ballet, tap, jazz/hip-hop fusion and even musical theater. Weekly classes are $500 per semester, plus additional fees for costumes and recital tickets.

Spoke the Hub
748 Union Street near Sixth Avenue
This funky studio also offers lots of dance and performing classes, including ballet, tap and hip-hop. There are some cool, one-of-a-kind options here, like the boys-only Action Heroes class that shows them dance isn't just for girls, and Sing, Dance & Make Believe for toddlers, as well as more serious dance classes for tweens and teens. Classes range from $275-$300.

Brooklyn Arts Exchange
421 Fifth Avenue and 8th Street
We mentioned BAX's awesome drop-in Playspace for preschoolers in our roundup of indoor places to play in the Slope. But there are lots of other cool offerings here. School-age kids can choose from theater, dance and tumbling classes, while toddlers can Move & Groove or take creative movement. At the beginning of the semester, you can request a free trial class. Classes range from $180-$285 for 10 weeks, and financial assistance is available for those who qualify.

Park Slope Armory YMCA
361 15th Street between Seventh and Eighth Avenues
As we wrote when it opened, this Y boasts a track, four courts and cardio equipment (but no pool. If you want to swim you need to head to the nearby Prospect Park Y. There's even a combined membership option). The Armory has sports (soccer, tennis, basketball and track) and culture classes (theater, ballet, hip-hop, music, art, karate, guitar, even puppet-making). It's worth buying a membership: Children under 12 are $135 a year, and family memberships start at $51 per month, plus a joining fee. Members get to register early, receive discounts and gain access to all of the facilities. Kids' classes range from $130-$175 for non-members and $75-$145 for members. Bonus: Family classes are free for members, like Tumbling Tots, Baby Boogie and Story Time.

Brooklyn-Queens Conservatory of Music
58 Seventh Avenue at Lincoln Place
The offerings at this veteran institution (it was founded in 1897!) are pricier than the other spots we're highlighting, but if you've got a serious musician (of any age or skill level) in your household, it's worth the investment. Preschoolers can take introductory classes like Music Adventures for $391-$468 per semester. There are a variety of classes for elementary schoolers—piano, guitar, drum and brass instruments—for $325-$435 a semster. Classical isn't the only style taught here, students can also learn blues, jazz, songwriting and improvisation. There are even private lessons for $726 and up per semester. Visit the website for a complete schedule.

Taro's Origami Studio
95 Seventh Avenue at Union Street, second floor
Locals are buzzing about this new spot that's devoted to the ancient art of origami. (We're actually sending one of our moms to check it out in a few weeks.) Children ages 5-12 can learn how to fold paper into lovely figures with no cutting or gluing. They can even make 3-D paper models of trains, cars, trucks and planes with pre-printed square graphic sheets. Parents must remain on site, no drop-off. Classes are $95 a month for weekly sessions, or you can sign up for one-offs for $20. There's also a Drop In & Try Out Corner ($10 per person for 30 minutes), a DIY station featuring touch-screen tablets with an origami app to help guide families.

The Old Stone House
Fifth Avenue at 3rd Street
This historic house offers after-school classes for elementary schoolers like Art in the House, in which they try their hand at old-school crafts like making 18th-century-style hats and greeting cards. Art classes are approximately $340 for 10 sessions. For nature lovers, there's Garden Explorers ($255 for 10 classes), in which they learn about flowers, plants and insects, and even harvest veggies and herbs from the garden.

Super Soccer Stars
Locations vary by season. Call 212-877-7171.
Kids ages 2 through second grade can learn the sport and play friendly games in classes with a low child-to-coach ratio. Although the classes are held indoors in the winter months, starting in early April they move outside to Prospect Park. The coaches are great at connecting with young children, and really help them build confidence (I know: They did that for my daughter). While the atmosphere is noncompetitive and fun, you may encounter a red-faced parent or two on the sidelines, yelling at their kids. $350 for a 12-week session, but the flexible outdoor summer drop-in program allows you to purchase multiple class passes good at various locations.

Just Wee Two
1320 Eighth Avenue near 14th Street
Aimed exclusively at families with toddlers, this spot helps ease separation anxiety so kids can prepare for being dropped off at a class or preschool. The partial separation class has a structured weekly routine with circle time, arts and crafts, snack time, storytime and play time. Teachers deal well with challenging children, offer lots of individual attention and work with parents to customize the program. Don't let the simple rented space in the Park Slope Jewish Center deter you; you'll be grateful for this hidden gem of a program. Partial separation class costs $445 per semester. A full separation Just For Me class costs a little extra. Call to ask for a trial class.

Read more of our posts about Park Slope.