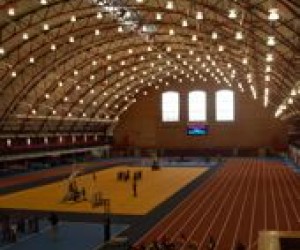 New Park Slope Armory YMCA is Cheap with Lots of Classes for Kids
We've been dying to check out the newest YMCA location that just opened to the public at the Park Slope Armory. We finally got over there to check it out. The great new space has lots of unique offerings for families and is really inexpensive. Find out what all the hubbub is about:
First, and most noticeable is the large open space the armory affords. In the open space is a large indoor track, with basketball and indoor soccer courts located within. The Y intends to not only use the track for running, but for a whole schedule of different uses including stroller walks and family walks in the evening as an alternative to turning on the television. While simultaneously the center of the track is used for up to three different activities, including basketball, volleyball, gymnastics, shuffle board.
Second, this YMCA is stocked with classes for all age groups, starting from babies and toddlers and continuing into classes for teenagers (not to mention classes for adults). Some of these classes are free for members (or $10 per class for non-members), while others have a separate tuition fee on top of the general membership fee. And there are far more than just gym classes, there are music classes, writing classes (starting with imagination classes for younger children) and art classes (including my favorite, "Modern Art for Tots" where your child can learn to paint like Pollack). Plus family classes like "Family Get Messy" and "Baby Boogie". All of these classes take advantage of the original classroom spaces built into the original armory. Here are the full schedules of Family Programs, Arts & Culture Programs, and Group Fitness Programs.
And third, membership is affordable, costing less than even other YMCAs. The individual rate is only $40 per month and the family rate is only $72 per month. Plus, the Y lets you sign-up your child without getting a membership for yourself (the adult is still expected to come to supervise the child). Also, financial assistance is available if the membership rates are too high. Finally, the new Armory facility has joint membership plans with the existing Prospect Park YMCA. Meaning you can have access to both the new track and the Prospect Park YMCA's indoor pool.
The new Y isn't just classes and a track, there are all of the normal machines you'd expect from a gym, plus day care for dropping off a young child while you work out.
Note: There are no lockers or locker rooms.
YMCA Sports Complex at Park Slope Armory (361 15th Street, Brooklyn, NY 11215; (212) 912-2580).
Places featured in this article:
---
YMCA Sports Complex at Park Slope Armory
---
Prospect Park YMCA