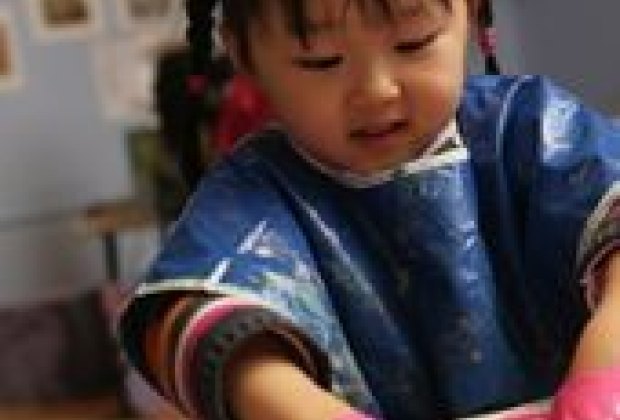 Five Artsy Indoor Places for Tots in New York City
Say what you will about winter, it's the ideal time for indoor art projects and encouraging creativity. But many art classes and drop-in studios are directed toward older kids, and may offer projects that are too complicated to hold your little one's interest. Here's a round-up of some of the best options for the under five set. So when your stir-crazy toddler has had it with your nubby crayons and crusty water colors, feel thankful that you live in a city where so many fun places offer outlets for the artsy tot. Here are five great options for those antsy days.
Children's Museum of the Arts
182 Lafayette Street
(212) 274-0986
This Soho spot is basically heaven for the artistically-inclined kid. Not really a museum at all but more like a treasure hunt of art stations. Kids can bop freely from chalkboard to paint pens, from self-portrait stations to a big table of slime. Wednesday and Friday mornings offer Wee-Arts Drop In sessions, where kids ages 10 months to 3.5 can explore with art supplies, hear stories, and sing and drum. On a recent visit, a 2 year-old's sneeze was quickly and cheerfully wiped up by a friendly art teacher. What else is there in life, really? $22 per family (group of three).


MoMA
The Lewis B. and Dorothy Cullman Education and Research Building
4 West 54 Street (near Fifth Avenue)
(212) 408-6347
FREE with pre-registration
Make great works of modern art a little more accessible with MoMA's Family Art Workshops. The specifics of these one-day weekend workshops change but there's usually at least one geared toward younger kids (four is usually the youngest). Examine the assemblage work of Picasso, for example, and then work on some collages. How's that for an unstuffy art museum experience?

Hootenanny Art House
426-428 15th St
Brooklyn
$10-20 suggested donation per family
This warm and cozy storefront in Park Slope is home to several popular classes, but what's especially exciting when you need a last-minute creativity fix is Family Open Art on the last Saturday of every month. A few lightly-structured art projects, a bunch of supplies, unlimited finger paints, chalkboard and play-doh stations, and best of all, someone else does the clean-up. It's technically all ages but on a recent visit the crowd was definitely skewed toward the preschool set, and the projects were all just right for tiny toddlers.

ArtsCetera
multiple locations in Brooklyn
$250/ten classes
Cobble Hill's ArtCetera is home to hour-long Art Playgroups and Arfie's Art and Play. Both geared toward the 4-and-under crew, these semi-structured playtimes allow kids to experience art, cooking, story time, music, and to work independently on art projects. Arfie's Art and Play adds more music and movement to the mix. Children can also transition from free play to structured group activities, and for 2.5-year-olds and up there is a pre-school-esque drop-off option.
Noguchi Museum
9-01 33rd Road (at Vernon Boulevard)
Long Island City
718-204-7088
$5
This lovely Long Island City museum (check out that dreamy sculpture garden) has an Art for Tots program in which 2-4 year olds and their families can play around with art supplies and movement, and check out the galleries together. It's only offered on certain weekend mornings, about you have to make a reservation, but what a cool way to experience modern sculpture.
For more great crafty programs in NYC check out:
Things to Do in The Art Museums of New York City: Special family programing, story times, free events and more
10 FREE Kids Crafts Places in New York City
or our other great Crafts Posts