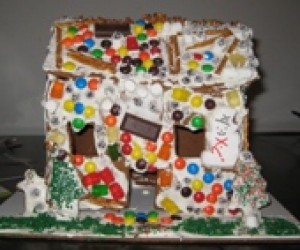 Gingerbread House Decorating and Holiday Cooking Classes for NYC Kids
Family holiday traditions often seem to revolve around food: cooking special meals, baking holiday cookies and creating gingerbread houses. These family moments create those warm memories that children will look back on with nostalgia. But if your inner Martha is on vacation, consider taking your kids to a holiday cooking class instead (or joining in on one with them!)

Several kids' cooking "schools" are offering classes in November and December, teaching holiday staples like sweet potato pie, cocoa and gingerbread house construction. Classes for toddlers through tweens could whet your child's appetite for culinary greatness—or just a really good sugar cookie. Instruction doesn't come cheap: the classes range from $30 to $95 per child. Then again, every holiday host knows eager kitchen help is priceless.

Turkey and all the Trimmings:

Taste Buds:
The school formerly known as Cupcake Kids is offering a Thanksgiving Feast class for children that will teach little Martha's how to whip up sweet potato pie and adorably festive Thanksgiving cookies. Classes cost $55.
November 20, 2010
2 to 4 year olds with caregiver: 10:45 -11:45 a.m. Click here to register
5 to 8 year olds (drop off): 9:30 -10:30 a.m. Click here to register


Dough Re Me Kids
Lucky kids who take the Thanksgiving class get to eat the best meal of the year – twice! Turkey (most likely a breast) and all the trimmings (stuffing, some veggie sides and pumpkin pie for dessert) will be prepared by their own little hands in this intimate class.. Plus they all help to set the table – properly - and partake in fun cooking challenges. For kids aged 8 years and up. Cost: $75

November 19, 2010 from 6 to 9 pm Click here to register

Gingerbread House Decorating
Taste Buds:
Moms and Dads can get in on the sweet and sticky action with the kids at one of the many scheduled parent and child gingerbread house workshops for kids aged 2 to 14 years. Kids aged 5 to 10 years old can go solo at the drop off gingerbread workshop. Cost $75.

Parent & Child - Dec 11, 12, 17, 18, 2010: many classes each day visit website to view times.
Drop Off - Dec 13, 2010, 3:30 – 4:30 pm - Click here to register

Church Street School for Music and Art:
For the first three weekends in December Church Street School offers family gingerbread workshops for parents and kids of all ages as a fundraiser to help support the school's programs. Each gingerbread house kit is $95 if you sign up before December 6, 2010 ($100 after this date). They also offer two adult workshops at the Bubble Lounge with live music by school faculty. Call to register: 212 571-7290 or click here to learn more.

December 4, 5, 11, 12, 18, 19, 2010
Saturdays at 2:15 and 4:00
Sundays at 11:00, 1:00, and 3:00

The Institute of Culinary Education
If junior is looking to make the entire house from start to finish this is the class for him. For the holidays ICE is offering parents and children the chance to to create a 6-by-5-by-8-inch gingerbread house from scratch – that means mixing, shaping and baking the dough, assembling the house and then decorating it to the hilt with candy. The recreational division of this esteemed cooking school is a popular cooking class destination and classes sell out fast! They do maintain a waiting list so don't get discouraged. For ages 5 and up with a parent. Cost: $65

Visit the website for specific dates and times they have quite a few


NY Cake and Baking Distributor
Children aged 8 and up can assemble and decorate their very own gingerbread house at this baking mecca. To Register Call (212) 675-2253. Class costs $50 and require you buy a gingerbread house kit for $12.99 at the store.

December 18, 2010 10:00-12:30 pm Click here to learn more.

More Holiday Goodies:

Whole Foods Market – Bowery Culinary Center
The chef instructors will teach the kids about the culinary traditions of Christmas, Hanukkah and Kwanzaa by making Three-Color Latkes; Chocolate Eggnog Floats; African Coconut Cake (plus yummy hot chocolate) during the "Holiday Cooking from Around the World" class. Class costs $30.

December 18, 2010
Ages 2 to 5 (with caregiver), 12:00 pm – 1:00 pm Click here to register.
Ages 6 to 9 (drop-off class), 2:00 pm – 3:00 pm Click here to register
Ages 10 to 14 (drop-off class), 4:00 pm – 5:30 pm Click here to register

Dough Re Me Kids
Kids will make their own sweet sugar cookies and chocolate marshmallows (nothing is better than a homemade marshmallow) to accompany their made from scratch hot chocolate. For ages 4 and up. Cost: $60
December 19, 2010 from 11 to 1 pm Click here to learn more.
For more great posts on food for the holidays:
9 Brooklyn Bakeries with Delicious Thanksgiving Desserts
5 Brooklyn Restaurants Serving Thanksgiving Dinner (Plus, 3 Places with Meals to Go)

And check out our other great posts on food and cooking with kids.