9 Brooklyn Bakeries with Delicious Thanksgiving Desserts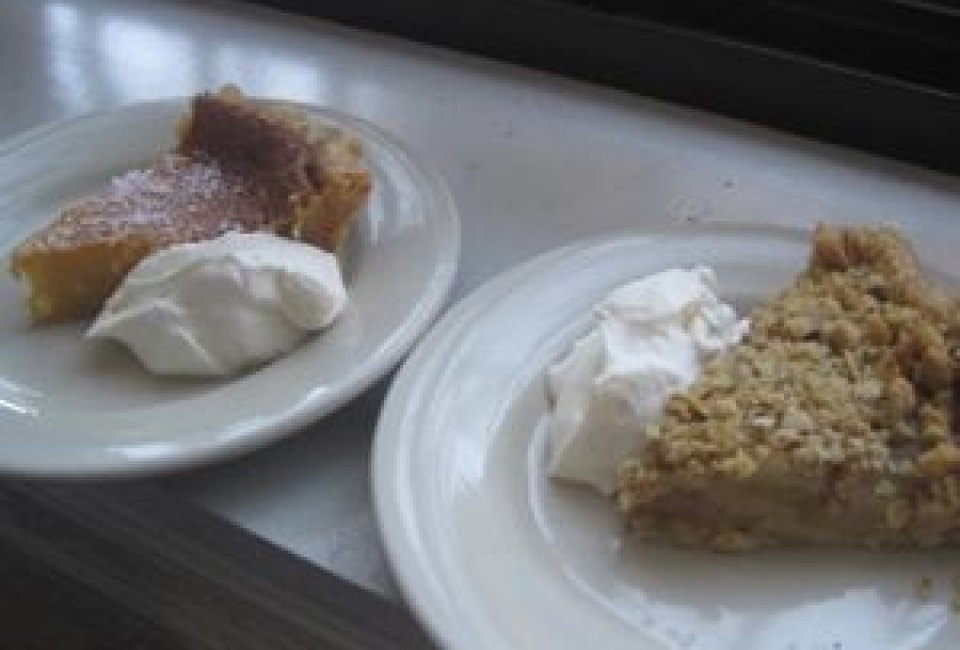 11/9/10
- By
Lia
Now that it's November, Brooklyn bakeries are taking orders for Thanksgiving treats. From Joyce Bakery's upside down pear and cranberry tart to cookies hand-decorated by a Greenpoint artist, these nine places promise the perfect end to your turkey day feast. But don't take too long deciding which pies, tarts, spice cakes, sugar cookies, cheesecakes and other tempting sweets sound best -- most places require orders by November 19.

Cookie Road
94 Franklin Street
718-383-8094
Opened by two artists, Cookie Road is a small Greenpoint cafe with sandwiches, coffee, and a nice selection of sweets. You'll want to try everything, but hand-decorated sugar cookies topped with colorful icing are the real stars. For Thanksgiving, they'll be baking turkey and leaf-shaped cookies ($2.50-$6 each), apple short bread squares, mini pecan maple tarts, and pear walnut spice cakes (starting at $3 each). Larger pies will also be available. Place your order by November 19.
Joyce Bakery
646 Vanderbilt Ave
718-623-7470
A Prospect Heights pastry shop, Joyce Bakery is already serving pumpkin-flavored treats for fall (cheesecake, pie, cupcakes and whoopie pies). For Thanksgiving, they'll also have a pear and cranberry upside down cake, a poached pear and almond tart, and apple or pecan pie. Pies/cakes/tarts are $25-30 and orders should be placed by November 22.
Trois Pommes
260 Fifth Avenue
718-230-3119
Park Slope's popular patisserie will have all sorts of pies for Thanksgiving: pumpkin, apple, apple crumb, pecan, chocolate pecan, plus pumpkin cheesecake and a pear cranberry tart. Prices start at $28. Place your order by November 15.
Little Buddy Biscuit Company
635 5th Ave
718-369-6355
For a small spot in the South Slope, Little Buddy Biscuit Company has a huge dessert menu with cupcakes, cookies, brownies, scones, muffins and cakes. For Thanksgiving, they're baking three kinds of pie: pumpkin, apple, and maple walnut; all three serve 8 and are $23-$27. Other options include a cranberry pear tart with a ginger crust ($28) and a flourless Belgian chocolate cake ($40). Little Buddy also carries Jane's Handmade Ice Cream; ginger and pistachio are two new flavors that would pair well with fall feast ($6.50/pint). Special orders usually require 48 hours advance notice, but it's advised to call earlier for Thanksgiving.
Four and Twenty Blackbirds
439 3rd Ave
718-499-2917
Less than a year old, Four and Twenty Blackbirds is quickly becoming one of Brooklyn's most popular places for pie. For Thanksgiving, they'll be offering whole pies (bourbon sweet potato, honeyed pumpkin, salted caramel apple, and chocolate pecan) on a first come, first serve basis starting November 23. Customers can buy up to 3 pies which are priced from $30 – $35, approximately 9 inches in size, and serve up to 8 people. Just remember that Four and Twenty Blackbirds is cash only.
Almondine
85 Water Street (DUMBO)
718-797-5026
718-832-4607
Known for their French pastries, this DUMBO patisserie will be making pumpkin, apple and pecan pies for Thanksgiving. Orders should be a placed by November 18 and are $25 each.
Baked
359 Van Brunt Street
718-222-0345
People come from all over Brooklyn, and Manhattan, to try the treats at this Red Hook bakery. They'll be serving seasonal pies and tarts for Thanksgiving, but they're famous for their three-layer cakes ($39-$79). Try the caramel apple cake spiced with classic fall flavors, then layered and topped with a sweet caramel buttercream, or their sweet & salty, a dark chocolate cake that's infused with salty caramel, a caramel chocolate ganache and topped with fleur de sel. Cupcake size versions of Baked's signature cakes are available by the dozen ($24). Baked requires at least 48 hours advance notice and more time over holidays. To be safe, call by November 18.
Betty Bakery
448 Atlantic Ave
718-246-2402
Known for wedding and special occasion cakes that are stunning (and delicious), Betty Bakery's Thanksgiving menu has all sorts of tempting sweets. Choose between three cakes: a pumpkin-shaped spice cake filled with honey buttercream, iced with marzipan and decorated with hand-sculpted sugar leaves and berries (three sizes, $60-$150); a yellow butter cake filled with vanilla buttercream, chocolate ganache, apricot jam, topped with rolled fondant icing and marzipan decorations (three sizes, $45-95); and an old-fashioned plum cake (two sizes, $28-$38). Pies, tea breads, iced cookies, marzipan, and cupcakes are also available. Check out the full menu on their website and place your order by November 18.
Blue Marble
196 Court Street (Cobble Hill)
718-858-0408
186 Underhill Ave (Prospect Heights)
718-399-6926
If you're serving pie, you'll need some ice cream to go along with it. Blue Marble's ice cream is made with milk from New York cows and free of artificial colors or flavoring. Seasonal flavors such as pumpkin, maple or cinnamon ($8.75/pint) will pair perfectly with pie, and of course there's always good 'ol vanilla.