Fun and Free Ways to Connect with Nature for NYC Kids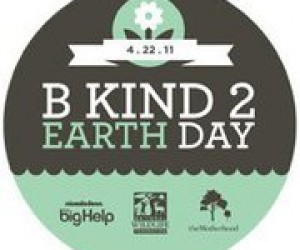 Earth Day is fast approaching but as they say, shouldn't every day be Earth Day?

In the spirit of that statement, the National Wildlife Federation has teamed up with Nickelodeon, TheMotherhood.com and other bloggers (including Mommy Poppins!) to get the word out about B Kind 2 Earth Day, which encourages everyone to do something nice for the planet on Earth Day and beyond.
But you don't have to wait until April 22 to start: Grab the brood, head outdoors and reconnect with our fantastic planet today and all year long. If you feel inspired, make your pledge to do something kind for the Earth on the B Kind 2 Earth Day Facebook page.
Go bird-watching at Belvedere Castle
At one of our favorite Central Park spots (who doesn't love hanging around a castle?), nature lovers can pick up a free bird-watching discovery kit, complete with binoculars, bird book and maps. (You must return it at the end of the day, though.) The Central Park Conservancy is holding a series of free lectures and workshops on park wildlife at the castle in May. Click here for more info.
See some hawks
Yes, hawks! Red-tailed hawk (and famous Fifth Avenue resident) Pale Male constantly makes headlines and continues to surprise city dwellers with his expanding family. UrbanHawks says the egg laying started up again just last week! So visit one of the nesting sites for the birds. You can spy them all over the city, though your best bets will be 960 Fifth Avenue at 78th Street or Riverside Park near 81st Street.
Take a hike
There are tons of hiking trails all over the five boroughs. The Parks Department's website has a detailed list, which breaks each trail down by difficulty and length, and gives an overview of what you'll see. Try it once and it may turn into a regular family outing, which will be great for bonding...and your waistline.
Go canoeing or kayaking
We live on an island, folks, so there's water everywhere. Take advantage of it! There are canoeing "trails" along the waterways. The Parks Department offers guided tours and basic canoeing lessons. (Be sure to check here for age restrictions and permit requirements before hitting the water.) There are also kayak launch sites along the Hudson River and in Brooklyn Bridge Park.
Plant some flowers (or grass or seeds)
Gardening is a wonderful activity for the whole family. Hone your green thumb and support the environment by volunteering at one of the many neighborhood parks around the city, or participate in It's My Park Day (the next one is on Saturday, May 21). In spring and summer, the New York Botanical Garden offers Dig, Plant, Grow! workshops during which families can get down and dirty tending to a one-and-a-half-acre area. Click here for additional gardening opportunities in NYC.
Hit the Alley Pond Adventure Course
Families must work together to conquer this challenging course. There's a zip-line, a climbing wall, swings, nets and balance areas. Last year, the adventure course ran free two-hour programs for families on Sundays. Assuming it's offered again this year, find directions and details here.
Plant a tree (or two)
MillionsTreesNYC aims to get 1 million new arbors planted on city streets, in parks and backyards. Want to get involved? Your family can plant a new tree, care for a previously planted tree or both! How cool to have your very own family tree, which you can watch grow alongside your kids. Visit the website to find out about upcoming activities and how to get a tree for your street. Appropriately enough, the next big event takes place on April 30, the day after Arbor Day.

Go fishing
Grab a pole and make like Otis Redding by sitting by the dock of the...Meer? At Central Park's Harlem Meer, you can explore an amazing aquatic ecosystem. Fish you can catch (and release, of course) include largemouth bass, carp and pumpkinseed sunfish. All of the rules and permit info are here. In addition to the Meer, the Parks Department runs many other fishing holes, piers and ponds where you can cast your line. Go fishing for info on the website.
Find out what's living underwater
The Brooklyn Bridge Park Conservancy invites families to study what's in our rivers. (2011 dates have not yet been scheduled, but once they are you can find the info here.) The Seining the River Wild program stars experts from the Coastal Marine Resource Center and their 30-foot seining net as they scoop up fish and other amazing East River creatures. Best for children ages 5 to 10, it's an enjoyable and enlightening way to spend a few weekend hours.
For more great ways to celebrate nature, check out our roundup of Earth Day events.