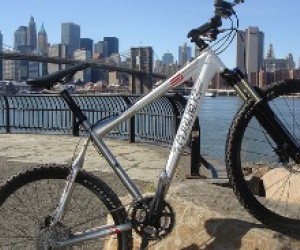 Free and Cheap Places to Rent Bikes in NYC
My preschooler just scored a scooter for her birthday. Now I know that scooters lead to bikes, which means cycling is just around the corner.

I'm really looking forward to riding with my family—but not to storing all of those bikes. Who has the space for three cycles in a NYC apartment, I ask? Not most of us, which means I'm going to rely on rental spots to keep us on wheels.

I did the research, and here are some great places that rent bikes at reasonable prices—sometimes even for free! Happy Bike Month!


Bike and Roll – Manhattan and Brooklyn
Various locations. Click here for a complete list.
212-260-0400
This chain boasts 11 NYC locations, including Battery Park, Pier 84, Brooklyn Bridge Park, Prospect Park and two Central Park outposts. There are a variety of packages and rates, ranging from $8-$20 an hour, to $25-$109 a day, helmets included. Plus you can pick up a bike at one location and drop it off at a different one. Bike and Roll also sponsors Free Bike Fridays on Governors Island, when you can borrow a bike at no cost for up to an hour, May 27-September 23.

Concrete Plant Park
 – the Bronx
Westchester Avenue between Whitlock and Bronx River Avenues
The folks at the Bronx River Alliance are debuting a brand-new fleet of bicycles that New Yorkers can borrow for free at Concrete Plant Park on specific days. The cycles will make their debut at the Rolling Along the River fest on Saturday, May 21 from 11am–4pm, and then be available sporadically at the park. See the calendar for dates. To take one out for a spin, all you need to do is leave a valid picture I.D. Unisex adult models and 20-inch rides for children ages 5-8 will be available.
Master Bike Shop NYC – Upper West Side
265 West 72nd Street between Broadway and West End Avenue

212-580-2355
This shop opens at 9:30am on Saturdays, which makes it a great rental spot for parents who've been up since 6:30am or so with their kids. The rates are reasonable: $20 for up to 4 hours, and $30 for the day, with helmets and locks an additional $5 each. High-performance and mountain bikes are also available.
Metro Bicycles – Manhattan
Various locations. Click here for a complete list.
You can find outposts all over Manhattan: Upper West Side, Upper East Side, Downtown and Midtown. Regular rentals are $9 an hour, $45 for the day.
MOD Squad – Harlem
2119 Frederick Douglass Boulevard between 114th and 115th Streets
212-865-5050
If you're uptown, head to MOD Squad. Rates are $8 per hour, $40 for the day, locks included. Helmets are $5 and a child seat is $10.
My Bike Heaven – Upper East Side

348 East 62nd Street between First and Second Avenues

212-230-1919
If you're interested in a short jaunt, My Bike Heaven has the cheapest per hour rate: just $6. You can also rent a bike for the day for $30.
New York's Waterfront Bicycle Shop
 – West Village
391 West Street between Christopher and 10th Streets

212-414-BIKE
This shop's located alongside the Hudson River, right across the street from the Manhattan Waterfront Greenway, a 32-mile bike path that circles the island. The majority of the route is separated from auto traffic, perfect for beginning bikers. Every rental includes a free biking map, lock and basket. Rates are $10 for the first hour; $5 for the second and $2.50 for each additional hour. An all-day rental runs $32.
For more info about cycling in the city, go to Bike New York, which has maps, rules and regulations, tips and a list of upcoming events and workshops.
Check out Mommy Poppins favorite bike routes for families and info on free learn-to-ride lessons.
Photo by Global Jet