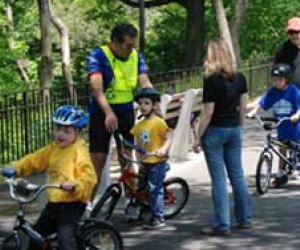 May is Bike Month in NYC: Free Activities, Classes and Festivals for Kids and Families
Riding your own two wheels around town is one of the great joys of being a kid. New York City is extremely bike friendly, and since May is Bike Month, there's no better time for families to go out and pedal.

Throughout the month, there are a slew of learn-to-ride and bike safety classes for kids and adults (where you can often snag free gear like helmets); bike tours and parades, festivals and other cycling-themed events.
Bike Month officially kicks off with the Bike Expo New York on May 1 and 2. Here you can mingle with 60,000 bike enthusiasts and check out the latest technology from big-name brands, or support local businesses and nonprofits who will also be on hand. There will also be learn-to-ride events. The expo leads right into the ever-popular Five Boro Bike Tour on Sunday, May 3.
Learn to Ride

Bike New York offers free bicycling lessons for kids and adults. Students must bring their own bikes and helmets.

Classes for kids use the "balance first" method. I took my son to a lesson and it really works! After they have that down, they learn to how to start, stop and steer, and how to adjust their helmets. All cyclists must wear helmets and be able to rest their feet flat on the ground while sitting on their bicycle seats. Parents should pump up the tires until they're rock hard and remove training wheels prior to the class. (If you can't figure out how to do this, instructors can help you on site.) The program works best for children ages 5 and up. You must register in advance at Bike New York's website. There are multiple sessions throughout May in all five boroughs. Click here for a full schedule.

There are learn-to-ride classes for adults, too, as well as info sessions on how to buy a bike, ride in traffic and more. Again, you must register in advance at Bike New York. Click here for more information and a full schedule.

In the past, the Department of Transportation has also given away free bike helmets (while supplies last.) If you want to pick one up for your kid, your child must be present so that the helmet can be fitted.


Family-Friendly Bike Events

The majority of Bike Month activities are geared toward adults or serious cyclists, but there are a handful of cool family-friendly offerings.

Bike Expo New York - Lower East Side
Friday, May 1 and Saturday, May 2
FREE
Head to Basketball City for this bicycle-lover's paradise. Beyond the exhibits and learn-to-ride programs, expect to see BMX riders in action and the latest gear displayed during fashion shows on stage. You can sample last year's schedule here.

Blessing of the Bikes - Morningside Heights
Saturday, May 2
FREE
Bicycles are welcomed into the Cathedral Church of St. John the Divine for this the 17th-annual blessing. Be forewarned, the blessing doesn't take long, so make sure you're on time.

New York Bike Jumble - Park Slope
Saturday, May 9
FREE
Head to J.J. Byrne Park near the Old Stone house for this event. Think of it as a flea market for bike enthusiasts, with vendors far and wide setting up shop to sell their wares. Afterward, head to the nearby playground and let the kids loose.


Bike Tours

Bike New York sponsors organized rides throughout the year. Don't worry: Not all of them are as hardcore as the 42-mile Five Boro Bike Tour, and multiple routes are offered so you can pick the length that's right for your family.

Transportation Alternatives hosts four family-friendly rides: Tour de Staten Island, Tour de Brooklyn, Tour de Queens and Tour de Bronx. These rides range from 20 to 55 miles and accommodate all skill levels.

Central Park Bike Tours promises two hours of biking bliss, right in the heart of the city. Tour guides share facts about the park's famous attractions, like Strawberry Fields, Belvedere Castle, Wollman Rink, the Reservoir, the Shakespeare Garden and others. These tours happen daily and departures are 10am, 1pm and 4pm. Kids must be 8 years of age to participate.

If you prefer to make up your own tour, grab one of the NYC cycling maps. The maps are free and available in most NYC bike shops, or you can download them here.

Check out the Mommy Poppins Spring Fun Guide to see what else is going on in the city this season, or browse the Mommy Poppins Events Calendar.
This post originally published in April 2011.