6 BBQ Restaurants in NYC for Father's Day or Any Time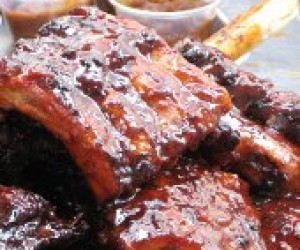 Dads and barbecue go together like smoke and fire, but backyard deprived urban dads can't always enjoy the pleasure of grilling themselves. What to do? I say, dine out and let someone else do the cooking this Father's Day. Dad can indulge in some perfectly smoked meat and mouthwatering sides at one of the great barbecue joints our city has to offer. Good barbecue used to be found only in the Southern states, but over the past decade quite a few bona fide BBQ restaurants have opened up north of the Mason Dixon line in NYC.

Read on for our favorite NYC BBQ restaurants for a carnivorous Father's Day:
Blue Smoke
116 East 27th Street
You can't call this place a joint since it is the fanciest barbecue place in town. This is my families' go-to place when we need to dine somewhere nice yet kid friendly with a menu that appeals to adults and children alike. Blue Smoke has it all, a delicious menu with smoked chicken, ribs, pulled pork and brisket, top notch service and a well stocked bar that specializes in bourbon and down-home cocktails. Kids are treated like kings here, with a fun kids menu, plus they get to decorate a pig shaped cookie which is baked and delivered back to them when they are done eating. And just in case you forgot to get Dad a gift, you can pick up boxed set of set of barbecue sauce, spice rub and their amazing North Carolina peanuts, by the door.

Dinosaur Bar-B-Que
646 West 131Street
This Harlem joint hails from Syracuse, NY and is open for lunch and dinner. Part honky tonk with great live music and part restaurant with great eats. Southern specialties like fried green tomatoes are served along side slow cooked, smoked ribs, other meats and even the upstate NY- Italian classic, spiedini. Dinosaur is right across the street from the Harlem Fairway, so you can multitask, have lunch and then shop for your groceries, before you trek home.

Brother Jimmy's BBQ
Multiple locations
Yes, the NYC micro chain where we all went in our twenties to drink. The food is good and they have a huge menu with something to appeal to just about everyone: burgers, fried chicken, pulled pork and brisket. The good thing about dining here is that it is loud enough to camouflage a noisy or ill behaved child. The great thing is that kids eat free (with a minimum adult order) and sometimes they even get a balloon. Try the new Union Square location for a more upscale Brother Jimmy's experience.

Daisy Mays BBQ
623 11th Avenue
Considered to be the best BBQ in town, the cafeteria styled restaurant serves Memphis, Texas and Tennessee barbeque, along with chili and sandwiches. If you are dining with a group check out the "Big Pig Gig" a whole or half pig to feast on. Cap off your meal with a delicious red velvet cupcake for dessert.

Virgil's
152 West 44th Street
The first BBQ restaurant in NYC is a huge 2 story affair that scents the entire block with its sweet smelling smoky goodness. Virgil's is a BBQ joint first and foremost but the inclusive menu also features soul food, Cajun and Creole dishes and other regional specialties like flatdogs and po boys. Thanks to its location it is somewhat touristy but it still has a fun atmosphere and really good 'cue.

Hill Country
30 West 26th Street
Hill Country really stands out as being unique and different. The executive chef is none other than Elizabeth Karmel, a famous female grilling maven. And you don't sit down and place an order here, you walk around to the various counters, choose what you want to eat and order it by the pound. The concept and the food here are based on the legendary Kreuz market in Texas and the menu is dotted with Lone Star State imports like Blue Bell Ice Cream and Big Red soda. For Father's Day they are offering a special smoked cowboy steak, tex-mex macaroni salad and an Arnold Palmer cupcake along with their usual smoked beef or pork ribs, brisket, Kreuz sausage and a mouthwatering array of sides.

Still have a hankering for some smoked meat? Check out the Big Apple Barbecue Block Party every June, when pit masters from all over the barbecue belt converge on Madison Square Park to strut their smoking stuff.

Looking for more Father's Day meal ideas? Check out our Family Restaurant Guide.