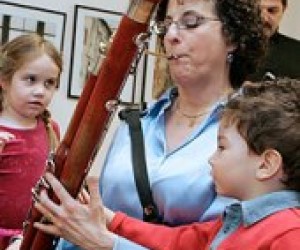 6 Places To Hear Classical Music With Your Kids in New York City this Winter
We often write about music on the site, but usually the pop-rock or kiddie genres. Young kids don't know the difference between The Beatles and Beethoven, yet, they just know what they like. Listening to live classical music can be a fun, educational and enriching experience for your whole family. And lucky for us, many of the esteemed performing arts organizations in NYC offer special concerts with interactive elements, fanciful costumes, sets, pre-show workshops and other engaging ways to develop a young kid's musical understanding and taste.

Find out where you can take your kids to these concerts and how to get your tickets.
Chamber Music Society of Lincoln Center
Not just for grownups anymore. The CMS Education Department offers "Meet the Music!" concerts for kids as young as 6 years old several times a year. The next scheduled performance is "Where are my Keys?" on March 20, 2011. Families can watch and listen as Inspector Pulse searches for the secrets of musical keys at Alice Tully Hall. Subscriptions available and single tickets cost $15 to $25. Click here to find times and tickets.


The Little Orchestra Society offers concerts for kids aged 3 and up, Lolli Pops for the younger set is below. The older kids go to Happy Concerts, the next scheduled show is this upcoming spring with Peter and the Wolf.

Lolli Pops Concerts for Children
My son aged out of these fun concerts before I ever got a chance to take him to hear classical music featuring Bang the Lion, Buzz the Bee, Toot the Bird and Bow the Panda. Families with kids aged 3 to 5 can tap their feet and wave their batons to the compositions of classical greats like Beethoven and Bach or more contemporary favorites like Copland and Gershwin. This winter The Little Orchestra Society will be presenting "Meet the Maestro" in January and "Do you Hear What I Hear" in February at the Kaye Playhouse at Hunter College. Subscription plans available and single tickets cost $12 to $40. Click here for dates, times and tickets.


The Center for Preparatory Studies in Music at Queens College
One hour concerts by professional musicians and students of the esteemed music school regularly present orchestral music for kids aged 6 to 12 years with free pre-concert activities and sometimes the chance to go up on stage for some hands on music making. Upcoming are "Concertini" in January, "Percussion" in February and "Meet the Composer" in March. Tickets are $13. Click here for dates, times and tickets.


Carnegie Hall Family Concerts
The most famous stage in showbiz offers a huge variety of musical programming for families. Whether the music is choral or orchestral kids are allowed to dance in the aisles and get right up next to the stage at these interactive and popular affairs. Best for kids aged 5 to 12, each show includes free activities before the show, too. Coming this winter are the Ensemble ACJW and The Young People's Chorus of New York City. Tickets are $9 to $15 (and sell out fast). Click here for dates, times and tickets.


The New York Philharmonic has something for every age group. Read below:

Young People's Concerts
These should ring a bell from your childhood; The NY Philharmonic has been putting on beautiful symphonies for children (6 to 12 years) and their families for over 80 years! This season they are focusing on the different periods of symphonic compositions: Baroque, Classical, Romantic and Modern. Unfortunately Baroque was in December but you still have time for the rest of them this winter if you can get a ticket – these concerts, too, are very popular. Before each show they host an interactive music fair where kids can try out the instruments and other fun stuff. Tickets are $11 to $34 and subscriptions are also available. Click here for dates, times and tickets.

Very Young People's Concerts
Little kids aged 3 to 6 can also experience The Philharmonics, with special concerts full of engaging, imaginative elements designed just for them, like hands on music making--plus the whole concert is set to playful stories about the loveable Philippe the Penguin. The overall theme of the series this year is Debussy and Friends. The next scheduled concert is in January and they go right through the spring. Tickets are $20 - $25 and subscriptions are also available. Click here for dates, time and tickets.

PhilTeens
Teenagers aged 12 – 17 can also enjoy the Philharmonics with special Rush Hour concerts that are about one hour in length and cost just $12.50 and come with a free pre-concert talk. Next up is Brahms's Piano Concerto No. 1 on January 19, 2011. Click here for dates and to order tickets.



And, finally, while this isn't technically happening during the winter and it isn't even classical music, I still wanted to include it because it is cool and if we wait, it will be sold out. It is that good.

The NYC Opera will be performing a special, one-performance-only of Where the Wild Things Are for families on April 9, 2011. Tickets are can be had for as little as $5 and go up to $50. Click here to get your tickets now.


Find more cool music posts here.