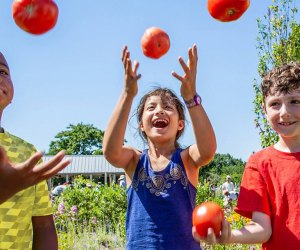 Weekend Fun: Summer Streets, Tomato Fest, Battery Dance Fest, Fish Count
High on our "must" list of things to do in New York City this weekend are the second car-free Summer Streets fest on Park Avenue on Saturday, and the New York Botanical Garden's Totally Tomatoes Fest (our toddler eats them like apples!). And, if you're in the Bronx anyway, stopping by the Bronx Zoo's Dinosaur Safari might make a perfect topper for the day.
New York City kids who like to dance (a decided majority) should love the FREE Kids' Dance Class at Rockefeller Center on Saturday, perfect prep for the 38th Annual Battery Dance Festival, which starts its week-long run in Wagner Park on Sunday. If the wiggles continue, head over to Brooklyn Bridge Park for the Moving Together Dance Series and shake them out!
City parks are packed with cool activities, like the Great Fish Count on Randall's Island, the Macy's Fishing Clinic in Prospect Park, foraging tours with Wildman Steve Brill (in Central Park on Saturday and Prospect Park on Sunday), Great Jazz on the Great Hill, and an outdoor screening of Wonder Park.
Our August GoList and Summer Fun Guide are powered up with the best ideas for family outings, and our event calendar adds things to do daily. And don't miss our list of Summer Must Dos: 40 ways to squeeze all the fun you can out of summer, before the school year starts up again.