SPONSORED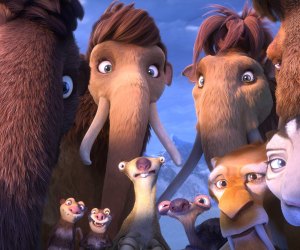 Neil deGrasse Tyson Vets the Science of Ice Age: Collision Course
Ice Age: Collision Course is the fifth epic adventure for Scrat and friends. This time their pursuit of the elusive acorn leads the heros on a cosmic attempt to save the universe. You can bet the film is full of fun and laughs for the entire family, but what about the science? None other than Neil deGrasse Tyson, America's favorite astrophysicist and the voice behind the film's character Neil deBuck Weasel, has taken the time to vet the science behind the cosmic epic.
Can Scrat reach the moon in 16.5 seconds?
Could you actually conduct electricity from a woolly mammoth?
And, most importantly, could you stop an asteroid from hitting the earth?
You can find out his answers to the science behind Ice Age: Collision Course in the video below, but you'll have to go see the movie to find out if the science works and whether Scrat, Sid, Manny, Diego, and the rest of the herd save Earth.
Watch the trailer, find out more about the film, and find fun related apps and games at IceAgeCollisionCourse.com. The movie, opening in theaters everywhere July 22, 2016, stars returning cast members Ray Romano, Denis Leary, John Leguizamo, Queen Latifah, Seann William Scott, Josh Peck, Simon Pegg, Keke Palmer, Wanda Sykes, and Jennifer Lopez. Joining the herd are Stephanie Beatriz, Adam DeVine, Jesse Tyler Ferguson, Max Greenfield, Jessie J, Nick Offerman, Melissa Rauch, Michael Strahan, and Neil deGrasse Tyson. Get tickets now!