Tribeca Kids' Stores: Best Toy Shops and Children's Boutiques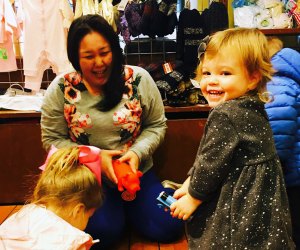 We continue our month-long focus on Tribeca with a roundup of our favorite places to shop with kids in the area. Considering the neighborhood's trendy reputation, it's no wonder that its picturesque cobblestone streets are home to some of NYC's hippest children's clothing and toy boutiques, all with eye-catching window displays. Whether you're looking for eco-friendly playthings, a unique outfit for a special occasion, your tot's first pair of shoes or even celebrity-designed maternity wear, these Tribeca shops sell it all, plus so much more. Here are our top 12 places to shop with kids in Tribeca.
Babesta Threads
66 West Broadway between Murray and Warren Streets
Catering to the hipster family crowd, this shop carries funky clothing, furniture and toys "for trendsetting tots" as the sign says. Browse onesies and tees emblazoned with the Ramones and Che Guevara, and designer toys by Kidrobot and Wild & Wolf. While most of the items are aimed at the preschool set, the store does carry a handful of products for school-age kids. Around the corner at Babesta Cribz (56 Warren Street) you'll find the furniture, all sleek and colorful, like a high-end IKEA.

Bit'z Kids
275 Greenwich Street between Church and Franklin Streets
An international children's clothing company that was founded in Japan, the shop caters to newborn through age 8. After opening a successful outpost on the Upper West Side, Bit'z Kids expanded to Tribeca. The designer clothes are super-cute and often have an Asian vibe. We're particularly fond of the mini-kimonos for tots and the elastic waistband pants, which are great for kids who are potty training. Bonus: There's a small kids' play area and a restroom with a changing station.

Boomerang Toys
119 West Broadway near Duane Street
There are analog playthings for every age at this neighborhood favorite, which carries baby toys, educational toys, games, trikes and scooters, and lots of miniature NYC vehicles—MTA buses, LIRR and Metro-North trains and several subway lines. In addition to hot modern-day items like Magna Tiles, you'll find classics such as Rubik's Cube, the original metal Slinky and the Bananagrams word game. Need a recommendation? The friendly and knowledgeable staff is happy to help you pick out the perfect gift. Boomerang also makes custom party bags and offers a birthday registry.

Balloon Saloon
133 West Broadway between Duane and Thomas Streets
Need a one-of-a-kind balloon? Then this is the place to go. Since 1977, Balloon Saloon has been designing, customizing and delivering balloons. Whether you want balloon bouquets, singing balloons, floating balloons or big novelty balloons for your lawn, the shop's got it all plus fun trinkets like windup toys and bubbles.

Koh Kids
311 Greenwich Street at Reade Street
Grace Koh's charming handmade knit sweaters and hats pack this tiny shop, which caters to kids under 15. She also carriers accessories, shoes and boots, and a handful of toys.

Zaba Kids
85 Franklin Street between Church and Franklin Streets
Zaba (Polish for frog) enthralls its young shoppers with vivid illustrations of an amphibian and his friend painted on the walls. The focus here is green and organic toys and clothing. The wears come from all over the world: Bholu of Australia, Viva la Pepa of Argentina and Fig Organic Kids Fashion of Canada, to name a few. They're not the kind of duds you can pick up at Children's Place.

Polarn O. Pyret
200 Chambers Street near West Street
The phrase "fashion over function" doesn't carry weight here. Polarn O. Pyret (which means buddy and the little guy in Swedish) carries cool but comfortable clothes for ages newborn to 12. You'll see a lot of smart looking stripes and checkered patterns here, and all of the outfits take a lot of wear and tear.

Playing Mantis
32 North Moore Street between Hudson and Varick Streets
Welcome to eco-friendly wooden toy heaven! Nothing here has batteries or wires. All of the items are meant to inspire old-fashioned imaginative play. Peruse wooden puzzles, marbles, instruments and music boxes. You'll also find one-of-a-kind handmade wool blankets, pillow pals and puppets.

Torly Kid
51 Hudson Street between Duane and Thomas Streets
Opened by a Tribeca mom in 2004, Torly Kid was originally called Babylicious and catered to tots, but the store grew as her children did. Now the shop carries clothing for newborns to tweens, and its safari theme was inspired by the owner's two daughters. Browse high-end clothing by emerging designers, as well as toys, books and plush animals. There are even adorable gift baskets for all ages in little green suitcases that can be shipped throughout the U.S.

Rosie Pope Maternity
55 Warren Street near West Broadway
Expecting? Rosie Pope, the star of Bravo reality show Pregnant in Heels, recently opened her second NYC maternity boutique right here in Tribeca. Her stylish clothing and accessories are all about making moms-to-be feel glamorous. Plus there are cocktail dresses and gowns... which you'll probably only wear once.

Read all of our posts about Tribeca.