SPONSORED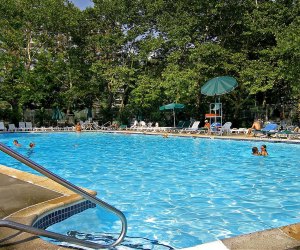 Find Family-Friendly Rental Apartments in NYC's Top Neighborhoods
Here's one thing NYC's lockdown has made abundantly clear to urban families: home is so important. And as the city continues to prioritize staying in and safely spending time outside, many moms and dads are looking for a little more square footage and super easy access to outdoor space. Bright airy apartments and spacious interiors, welcoming terraces and rooftops, open-air swimming pools and tennis courts, and nearby parks and playgrounds are all topping wish lists as 2020 wears on.
Our sponsor, father-and-son-founded Glenwood Management, has a reputation for catering to families with rental apartment buildings in popular kid-approved neighborhoods, large rental apartments with 2-4 bedrooms, and meaningful amenities like playrooms, rooftop gardens, pools, fitness centers, and parking. Not only can Glenwood help to narrow your search for a luxury apartment with its select properties across Manhattan and Riverdale, but the company is also seriously dedicated to the many New York City families and communities it serves. Glenwood has been a long-time supporter of a number of community-oriented organizations—from local public schools to hospitals—it's prioritizing green building to preserve resources, and it plants about 150,000 tulip bulbs around the city each and every year.
Whether you're totally ready to make a move or you're really just daydreaming about your crew's next destination, read on for snapshots of some of the much-loved New York City neighborhoods Glenwood serves, plus a few of its most family-friendly buildings!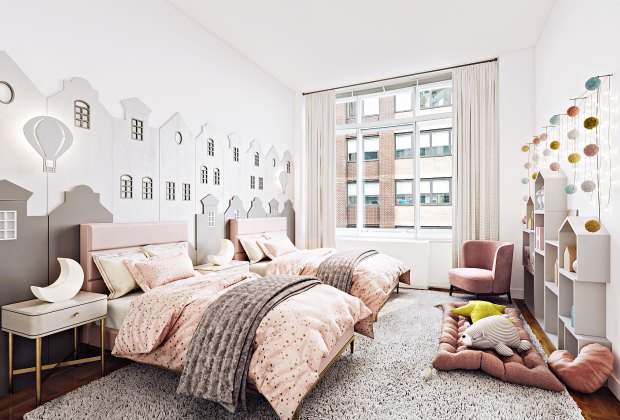 The spacious two- to four-bedroom apartments at Lincoln Square's Grand Tier feature 9-foot ceilings and solid oak floors.
Riverdale
According to many parents, this three-square-mile Bronx neighborhood feels more like a suburb than a part of the city—even though it's only a 20 minute commute to Manhattan! Nestled along the beautiful tree-lined streets are historic houses, prestigious private schools (think Fieldston and Horrace Mann), charming shops, and perfectly old-school restaurants like the Riverdale Diner. Riverdale is also home to three of the city's best parks—Van Cortlandt Park, Riverdale Park, and Wave Hill—filled with hiking trails, dog runs, playgrounds, and plenty of green space.
Briar Hill 600 West 246 Street This 13-story post-war rental building sits on a 4-acre wooded site that features a huge outdoor swimming pool, tennis courts, an outdoor children's playground, a fitness center, and so much more. Many of the building's spacious two- and three-bedroom apartments offer beautiful views of the Hudson River and the city skyline.

The children's playroom is just one of the many family-friendly amenities at The Pavilion on the UES.
Upper East Side
The Upper East Side is where four-star restaurants and exclusive boutiques meet super fun playspaces and independent toy stores. With Central Park as your backyard, sprawling grassy fields and hotspots like the Ancient Playground, the Central Park Carousel, and Wollman Rink keep kids busy year 'round. Meanwhile, Museum Mile puts fine art and family programming right at your fingertips, and the world-class 92nd Street Y offers classes and events for children of all ages (and grownups too).
The Pavillion 500 East 77th Street
This historic building offers a selection of two- and three-bedroom apartments with tons of closet space and beautiful finishes. Amenities include 24-hour doorman service, an attended garage and valet, a fitness center, a children's playroom, landscaped rooftop sundecks, an on-site shopping center with a grocery store and spa salon. A free shuttle to the subway makes getting around the city that much easier.

Tribeca Bridge Tower is bordered by the Esplanade and Battery Park, home to plenty of parks and green space.
Battery Park City
With totally one-of-a-kind playgrounds, stunning river views, and a couple of prime public schools, Battery Park City's got the goods New York City families are looking for. The Hudson River Esplanade is perfect for scooters and strollers alike, while Nelson Rockefeller Park and the Kowsky Park are some of the best around. Between the Oculus and Brookfield Place there's truly something for all ages, from high-end shopping, to a sprawling food court, to family-friendly events and exhibits, to plenty of room to romp around.
Tribeca Bridge Tower 450 North End Avenue
Designed for family living, these two and three- bedroom apartments boast big, bright, airy rooms; oversized windows; huge closets; and a washer and dryer in every unit. On-site amenities include a 24-hour doorman, a fitness center, a kids' indoor playroom, and bicycle and luggage storage. The building is bordered by beautiful parks, and the Esplanade is a block away.

A 24-hour doorman, fitness center, game room, lounge, and terrace make Crystal Green perfect for families.
Midtown West
Between the oh-so-active local parenting group, Hell's Kitchen Babies, and the $2 million overhaul of the Matthews-Palmer Playground, it's safe to say Midtown West is getting more and more kid-friendly every year! Nowadays, 9th Avenue is overflowing with bars and restaurants; Bryant Park is bustling with ping pong, a putting green, and live performances; and Hudson Yards is home to next level shopping, dining, and entertainment for the whole family. Of course, beyond the tourists, Times Square is packed with family shows and attractions.
Crystal Green 330 West 39th Street
On top of its spacious New York City rental apartments with 9-foot ceilings and bamboo plank floors, Crystal Green offers loads of amenities families will love. There's a fully-furnished lounge and kitchen that's perfect for birthday parties and other celebrations, a billiard and game room, a beautiful landscaped terrace, and an under-the-sea-themed playroom—complete with a climbable submarine!

The Bristol is situated in Sutton Place, complete with an attentive staff and family-friendly amenities.
Midtown East
Like Midtown West, Midtown East is sometimes dismissed as a tourist hotspot thanks to world-famous attractions like the Empire State Building, the New York Public Library, and Rockefeller Center. But family-friendly gems including the Ford Foundation Building's indoor garden, the Morgan Library & Museum, and the East River Esplanade make the neighborhood a hit with Manhattan moms and dads. Residential enclaves like Sutton Place, Turtle Bay, Murray Hill, and Tudor City are especially popular picks.
The Bristol 300 East 56th Street
This Sutton Place rental building features a long list of amenities, including contemporary renovated kitchens and bathrooms, a responsive staff, a fitness center and children's playroom, terraced gardens, and a landscaped rooftop sundeck, and a 24-hours attended garage. The building's large two- and three-bedroom apartments—plus rare four-bedroom units—easily accommodate a luxury family lifestyle.
Want to see more family-friendly New York City rentals? See all of Glenwood's properties and available apartments for rent here or call their uptown office at 212.535.0500 or their downtown office at 212.430.5900.
A space-themed playroom, lounge with kitchen, and indoor pool make Hawthorn Park on the UWS a perfect fit.
Photos courtesy of Glenwood Management ​