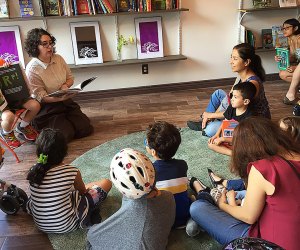 A Cozy Kid-Friendly Bookshop Arrives in Kew Gardens, Queens
Queens has never been short on fun adventures, places to discover, and educational havens… but it does lack in one area: bookstores. After titan Barnes and Noble vacated the entire borough, only a handful of brave little bookshops remain. so most children's story hours take place at the local library.
Vina Castillo, Natalie Noboa, and Holly Nikodem saw the shockingly low number of general interest bookstores in Queens, and these ingenious book lovers set out to create an independent reading refuge for their community.
After a successful Kickstarter campaign supported by the community, Kew & Willow Books opened its doors in October 2017, offering adults and kids alike a beacon of book hope.
Also known as the Queens Bookshop, Kew & Willow Books' children's section is a cozy area complete with a tot-sized picnic table and round rug and easily turns into a reading circle for weekly storytime (Sundays at 11:30am), where kids can choose the books. During our visit, my son and I enjoyed a reading of our family favorite, Green Eggs and Ham by Dr. Seuss. He also got the chance to hear, for the first time, The Story of Ferdinand by Munro Leaf.
The calendar extends far beyond storytimes, though. Past events have included a Spooky Weekend Halloween, a reading of No Kimichi For Me by local Queens author Aram Kim, and a pajama party with author David Ezra Stein. There's also plenty for the grown-ups, too, such as Noir at the Bar—crime fiction readings by authors. Check back frequently to its event page to get the latest.
RELATED: Best Storytimes Around Brooklyn for Babies and Kids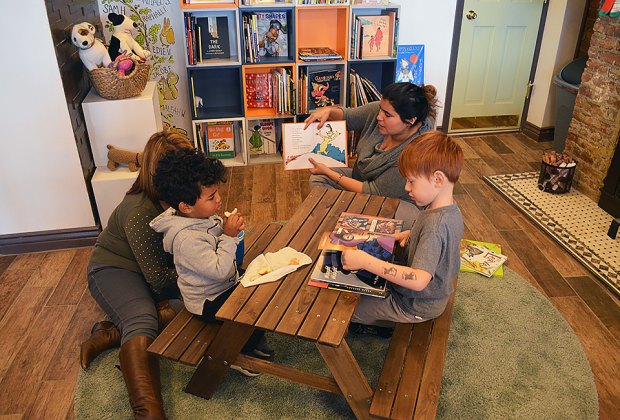 Storytime at Kew and Willow. Photo by the author
After our visit, we left with a book under my 5-year-old's arm—it was a Batman-themed book, of course.
The bookshop just announced fulltime hours: Tuesday through Friday, 11am–6:30pm; Saturday 11am–7pm; and Sunday 11am–5pm.
And if you're a book lover looking for more, check out these other indie bookshops around NYC.
Top photo courtesy of the bookstore
Kew and Willow Books
8163 Lefferts Blvd.
Kew Gardens, NY 11415