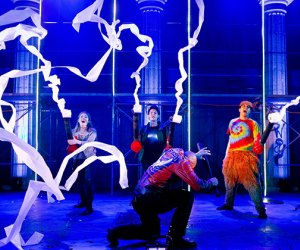 The Lightning Thief Review: Percy Jackson and Demigods Return
Percy Jackson fans rejoice: The Lightning Thief: The Percy Jackson Musical has returned to the Lucille Lortel Theatre in Greenwich Village. You don't have to have read the books to enjoy this full-length musical production, though my son and I adore the Percy Jackson and the Olympians series by Rick Riordan. We were disappointed we missed the Theatreworks hourlong production in 2014, so when we heard it was expanded and heading back to the stage we knew we had to check it out.
With amazing talent, catchy pop-rock songs, heaps of humor, and a storyline with themes kids can relate to, demigod or mere mortal, it's a must-see for fans, according to my 13-year-old son. Read on for our full review, or find more kid-friendly NYC theater in our spring theater picks for families.
The Lightning Thief: The Percy Jackson Musical is based on the first book in the series and follows 12-year-old Percy Jackson (played by charismatic Chris McCarrell, who some might remember from Les Misérables), as he discovers he is a demigod and son of Poseidon. He embarks on a quest to retrieve Zeus' stolen lightning bolt, save his mother from Hades, and quell a brewing war between the gods.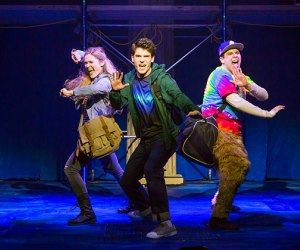 The Lightning Thief is rooted in Greek mythology, but presents universal themes suitable for almost all children.

This musical adaptation is faithful to the book's storyline, opening with Percy on a field trip, where he encounters a fury and learns he's a demigod. Soon he's whisked away to Camp Half-Blood, where he meets Annabeth, daughter of Athena (Kristin Stokes, who also played the role in the 2014 production); Luke, son of Hermes; Grover, a satyr; and others. They show Percy the ropes at Camp Half-Blood and provide insight on being a demigod. They shed light on his dyslexia—his brain is hard-wired to interpret ancient Greek—and ADHD (heightened senses—an asset for battle).

The songs are witty, fun, and resonate with kids of all ages with lyrics such as "Normal is a myth...the things that make you different are the very things that make you strong." The Campfire Song laments uninvolved parents and proves even demigods can be embarrassed by immortal moms or dads. Though this is a fantastical tale about ancient Greek gods and modern-day demigods, the theme is universal—adolescents struggling to find their place while desperately trying to prove themselves to their parents, using their intellect and special gifts to make tough choices.
RELATED: Best April Festivals and Fairs in NYC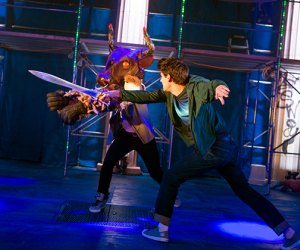 Percy, played by Chris McCarrell, battles the Minotaur.
The Lightning Thief is action-packed with plenty of laugh-out-loud moments, and nothing too scary for younger viewers. Fun, low-tech elements draw in the audience, like an "explosion" that sends gold confetti into the audience, and leaf blowers and toilet paper that cleverly portray Percy's ability to manipulate water. The underworld scene is a treat, hilariously depicted as a live concert and dance party, complete with "cameos" by James Brown, Kurt Cobain, Janis Joplin, and Mozart.

My son and I thoroughly enjoyed the production, which is suitable for all ages, though kids younger than 7 may have trouble keeping up. Kids younger than 4 are not admitted into the theater.

The Lightning Thief: The Percy Jackson Musical is playing through Saturday, May 6, at the Lucille Lortel Theatre, 121 Christopher Street in Greenwich Village. Tickets start at $65.
Top photo: Leaf blowers and toilet paper show Percy's ability to control water. All photos by Jeremy Daniels/courtesy of the production.