SPONSORED
Why Your Frozen-Obsessed Kid Will Love Disney's Frozen on Broadway
Following in the footsteps of Disney on Broadway's blockbusters The Lion King, Aladdin, Beauty and the Beast, and Mary Poppins, Frozen on Broadway is a not-to-be-missed spectacle packed with colorful characters, memorable music, stunning sets, and important lessons about love, belonging, daring to be different, and finding the courage to look inside oneself.
Your kid's first trip to Broadway is pretty much a rite of passage, so deciding on that inaugural show can feel a bit daunting. Well, unless of course you've got an Elsa superfan on your hands like I do (or Anna, or Olaf…), in which case making the decision to snag tickets to Frozen on Broadway might not be so tough.
If you're wondering whether the Broadway performance could possibly fill the huge, icy-blue shoes of the beloved film, the answer is a resounding yes. From the moment you enter the theater, you're transported to the north, starting with a stunning, eye-catching reincarnation of the Aurora Borealis that seamlessly transports the audience from the castle in Arendelle to the North Mountain and arctic world beyond with a bit of Disney mastery.
Our seats put us eye-to-eye with Anna and Kristoff as they climbed ever closer to Elsa's ice castle. Watching the stage—and indeed the entire theater—transform into Elsa's frozen wonderland was stunning, and though we're six months removed from our visit to Frozen at the St. James Theatre, my daughter still talks about that enchanted metamorphosis as though we just witnessed it. A shimmering surprise at the end adds a spellbinding flourish to the one-of-a-kind performance.
We sent a family to see the show for themselves and share the experience. Check out our video above to get a taste of their experience and read on for all the deets about taking kids to Disney's iconic show.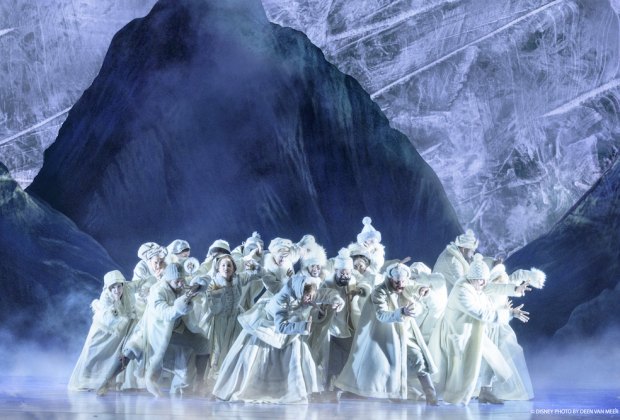 Stunning effects help make Frozen on Broadway a memorable experience for all. Photo by Deen van Meer.
What age should my child be to see Frozen on Broadway?
The show is best for ages 8 and up, and it's not recommended for those 4 and younger. Keep in mind that everyone in attendance needs a ticket, regardless of age.
How long is Frozen on Broadway?
Frozen has a run time of 2 hours and 20 minutes with one 15-minute intermission. The doors open about an hour before showtime, and early arrival is encouraged so that you have plenty of time to hit the restrooms if needed, find your seats, and get settled in.
What should my child wear to the theater?
While some kiddos—and parents—are excited to get dressed up for their big trip to Broadway, comfort is really key. And since the theater is kept cool year-round, it's smart to pack a sweater (even during the summer months).
You can leave the costumes to the cast, but Frozen-inspired garb is also welcome. My daughter opted for a winter wonderland-worthy sequin dress!
Will my young child be able to see the stage?
Booster seats are available on each level if your child needs a little assistance.
Can we snap photos or take videos during the performance?
While there are loads of photo opps outside of the theater and in the lobby, photography and videotaping aren't allowed during the performance. You'll be asked to power your phone down at the start of the show, but you can turn it back on to capture some footage of the pretty spectacular curtain call!
Can I bring a stroller to the theater?
If you're traveling with a stroller, it must be checked at coat check. Each checked item—coats included—incurs a $3 fee, payable in cash only.
Is the story in Frozen on Broadway the same as the movie?
With a book by Jennifer Lee, who co-wrote and directed the film, and music by the award-winning husband-and-wife songwriting duo Robert Lopez and Kristen Anderson-Lopez, who wrote the music for the movie, the Broadway rendition stays pretty true to the film—although you can look forward to a dozen brand new songs!
Expect to reacquaint yourself with all your favorite characters. The actresses playing Anna and Elsa give the characters their due with strong performances and powerful vocals. Sven is an oversized presence with a personality to match. And Olaf is as entertaining as ever, brought to life in puppet form.
We were pleasantly surprised by the hilarious Oaken, whose trading post gets its own musical number in the giggle-inducing Hygge. Later in the second act, a new song sung by Elsa, "Monster," rivals "Let It Go" in its emotion and power.
Are there any scary parts of the show?
If you're familiar with the movie, you'll see that the trolls take on an unexpected new look as a wandering troupe of human-like characters in the stage production. Their appearance may unnerve some youngsters.
Smoke, haze, and strobe lights are also used during the performance.
Should we brush up on the "Let It Go" lyrics?
Though it's very tempting, there is no singing or talking allowed during the show. If your child can't resist or starts to get antsy, you can leave the theater and watch the live feed available in the lobby of the orchestra and balcony levels.
What if my child requires special accommodations?
Thanks to TDF's Autism Theatre Initiative (ATI), children with autism—along with their families and caretakers—can also experience Frozen in a supportive and judgment-free environment. At designated autism-friendly performances with reduced ticket prices, slight modifications are made to sound and lighting and autism specialist staffing are on hand to lend support.
There is designated wheelchair and companion seating in the Orchestra section and there aren't any steps into the theatre from the sidewalk. That said, be aware that the St. James Theatre does not have an elevator, so all other levels require you to take the stairs.
Free handheld devices for assisted listening, closed captions, and English language audio description—as well as Spanish, Portuguese, Korean, Japanese, and Mandarin language audio translations—are available at every performance. Just visit the headset booth in the Orchestra lobby.
Click here for more details on accessibility!
How do I get tickets to Frozen on Broadway?
Ready to be blown away? Click here to see ticket availability and purchase online through Ticketmaster! You can also call 866-870-2717 from within the US or +1-949-333-4001 if you're international. If you're in the New York City area, you can visit the box office at the St. James Theatre at 246 West 44th Street.
Places featured in this article:
---
St. James Theatre