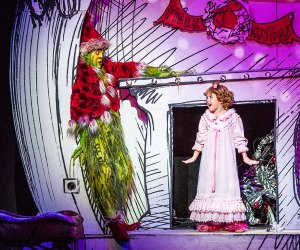 Best Family Shows in NYC for Christmas 2018 (That Aren't "The Nutcracker")
'Tis the season to get the gang all dressed up to see some holiday shows. While there are plenty of spectacles to splurge on, like the Radio City Christmas Spectacular and all those beautiful Nutcrackers, if you've got young children you may not want to blow all of your bucks on theater tickets.
That's why our roundup of Christmas-season family theater includes a range of productions, from inexpensive, low-key offerings perfect for fidgety preschoolers, to extravaganzas that are worth the investment.
From live stage adaptations of classics such as How the Grinch Stole Christmas, to seasonal musicals based on popular picture books, to amazing circus feats and offbeat spectacles (like drag queen ballerinas and performing-arts activists), here are our top 18 holiday shows for NYC families.
If an event piques your interest, be sure to click through to our listing for all the details, including address, time, and pricing.

Yeti, Set, Snow! at the Swedish Cottage Marionette Theatre. Photo by Justina Wong for City Parks Foundation
Yeti, Set, Snow! — Central Park
Tuesday, November 13 through Sunday, February 24, 2019
Ages 2-8
The puppet masters at Central Park's Swedish Cottage Marionette Theatre debut a brand-new holiday tale about a Scrooge-like yeti named Pascetti who despises snow. But the mythical misanthrope changes his attitude when he befriends a young girl named Widget and her pal Twig, who really love a snow day! A wonderful first-time theatergoing experience for younger kids.
RELATED: Where to See the Nutcracker in NYC: 14 Family Shows in 2018

The Emperor's New Clothes and More Magical Stories by New York City Children's Theater. Photo courtesy of New York City Children's Theater and Nadav Wiesel
The Emperor's New Clothes — Midtown West
Saturday, November 24 through Saturday, December 22
Ages 5 to 8
The kid-lit lovers at New York City Children's Theater bring a quartet of Hans Christian Andersen tales to life: The Princess and the Pea, The Emperor's New Clothes, The Nightingale and The Ugly Duckling. This hour-long performance offers a great introduction to the rich stories of the 19th-century Danish author. Arrive early for preshow crafts and stick around afterward for photo ops with the cast.
RELATED: 15 Must-Do Holiday Events for NYC Kids

Dan Zanes Trio plays the Queens Theatre. Photo courtesy of the artist
Dan Zanes Trio Holiday Sing-Along — Corona, Queens
Sunday, November 25
Ages 3 and up
The Grammy-winning granddaddy of kindie rock moves his beloved holiday fete to the landmarked Queens Theatre this year. Zanes is joined by Haitian-American jazz vocalists Claudia Eliaza and Yuriana Sobrino for this multicultural celebration featuring seasonal songs and traditions from around the globe. Spirited singing along is encouraged! Note: The 3pm performance is sensory-friendly.

Reverend Billy and the Stop Shopping Choir. Photo by Erik McGregor
Love, No Border — East Village
Sunday, November 25 through Sunday, December 23
Ages 8 and up
Families looking to add some activism to their entertainment will enjoy this political performance by Reverend Billy and the Stop Shopping Choir. The longtime artivist is a defender of the environment and a critic of consumerism with an Elvis-style delivery. But he turns his attention to the treatment of immigrants for this resistance revival at Joe's Pub. Songs, stories, and ways you can help are all part of this show, which is appropriate for socially conscious tweens and teens.

Alvin Ailey American Dance Theater in Jessica Lang's EN. Photo by Paul Kolnik
Ailey 60 — Midtown West
Wednesday, November 28 through Sunday, December 30
Ages 5 and up
The venerable dance company marks its 60th anniversary at New York City Center over the holidays. Appropriately, some of the pieces have a biblical bent, such as Rennie Harris' Lazarus, based on the life of Alvin Ailey, and the troupe's signature work Revelations. The programs change nightly so peruse the full schedule to see which lineup is best for your little dance lovers.

Cirque Dreams Holidaze. Photo courtesy of Cirque Productions
Cirque Dreams Holidaze — Flatbush, Brooklyn
Thursday, November 29 through Sunday, December 2
Ages 5 and up
Head to the historic Kings Theatre to celebrate the season at this over-the-top circus featuring hundreds of sparkly costumes, 20 jaw-dropping acts, and lots of holiday touches such as snowmen, penguins, reindeer, toy soldiers, gingerbread men, and even Santa.

Circus Abyssinia: Ethiopian Dreams at the New Victory Theater. Photo by Che Chorley
Circus Abyssinia: Ethiopian Dreams — Midtown West
Friday, November 30 through Sunday, December 30
Ages 5 and older
More seasonal circus fun! Hit the New Victory to see this Ethiopian troupe, featuring juggling, contortion, balancing, pole climbing, and tumbling backed by catchy African beats. Note: an autism-friendly performance will be offered on December 14.
Hanukkah Playhouse — Upper West Side
Sunday, December 2
Ages 4-11
It's time to light the lights! Celebrate Hanukkah at Merkin Concert Hall with this interactive revue, featuring songs such as "The Ballad of Thomas the Shammus" and "Latkes & Applesauce," plus a musical adaptation of the picture book In the Month of Kislev.
Seven In One Blow, or the Brave Little Kid — West Village
Friday, December 7 through Saturday, December 22
Ages 4-10
An offbeat stage riff on a Brothers Grimm fairy tale, this 17th annual Axis Theatre Company production follows the misadventures of Kid, a young boy who kills seven flies in one shot and gets caught in a tangle of lies surrounding his feat. In the end, he learns about love and kindness with help from the children in the audience and his mom, played by Debbie Harry (yes, from Blondie!) who appears on video.

Angelina Ballerina: A Very Merry Holiday Musical at Vital Children's Theatre. Photo by Steven Rosen
Angelina Ballerina: A Very Merry Holiday Musical — Upper West Side
Saturday, December 8 through Sunday, January 6, 2019
Ages 2 to 7
Every preschooler's favorite pirouetting mouse returns to the stage in this seasonal musical. Angelina and her pals are psyched to perform in the holiday pageant, but a mix-up means the show may not go on. What will the dancing divas do? Catnip for young fans of the TV show or the picture book series by Katharine Holabird.

Les Ballets Trockadero de Monte Carlo perform at the Joyce Theater. Photo by Zoran Jelenic
Les Ballets Trockadero de Monte Carlo: Your Favorite Men in Tights! — Chelsea
Tuesday, December 11 through Sunday, December 30
Ages 5 and up
What's taller and sparklier than the grandest Christmas tree? The drag queen ballerinas of Les Ballets Trockadero de Monte Carlo! This venerable troupe is made up entirely of men who dance en pointe in tutus. I've been with my daughter and even though it's a comical company, these dudes can really dance. In between laughing you'll find yourself marveling at their technique. Although they're performing seven times a week at the Joyce Theater, note that they're hosting a family matinee on Saturday December 22 complete with a special welcome packet and a post-performance meet and greet.

Dr. Seuss' How the Grinch Stole Christmas! The Musical at the Hulu Theater at Madison Square Garden. Photo courtesy of the production
Dr. Seuss' How the Grinch Stole Christmas! The Musical — Midtown West
Thursday, December 13 through Sunday, December 30
Ages 5 and up
The eye-popping stage adaptation of Dr. Seuss' iconic tale brings the holiday spirit to Madison Square Garden. Your favorite tunes from the TV special are there, including "You're A Mean One, Mr. Grinch" and "Welcome, Christmas," in addition to new songs written for the stage. Plus two-time Tony nominee Gavin Lee, who was so gleefully glum as Squidward in Broadway's recent SpongeBob SquarePants musical, is taking on the testy title role! So watch the animated special on YouTube and then snag seats for this magical live experience. Save money on tickets via Broadwaybox.

Jack & the Beanstalk at Abrons Arts Center. Photo by Norman Blake
Jack & the Beanstalk — Lower East Side
Friday, December 14 through Sunday, December 30
Ages 5 and up
Don't let the familiar fairy-tale title fool you: This is not your average kid show! From the outrageous minds of married artists Mat Fraser, a disabled actor, writer, and activist, and Julie Atlas Muz, a feminist burlesque performer, comes this holiday spectacle at the Abrons Arts Center promoting "radical joy and equality in all forms." While the couple and their cast of 20-plus downtown luminaries usually make art for the 21-and-over set, they bring their signature sense of abandon and boundary breaking to this politically charged family show, which my daughter and I saw last year and loved. Now it's back for an encore run, so get ready for tap-dancing animals, puppets, pie fights, pop music, cross-dressing, and lots of in-your-face fabulosity.

Carnival of the Animals at the Miller Theatre. Photo by Rob Davidson
Carnival of the Animals — Morningside Heights
Saturday, December 15
Ages 6 and up
Sergei Prokofiev's Peter and the Wolf may have emerged as a holiday-season theater staple, with the Isaac Mizrahi-narrated production at the Guggenheim leading the pack. But Camille Saint-Saëns' whimsical composition for children is a fabulous alternative. The piece comes to life at the Miller Theater thanks to an innovative staging that combines puppetry, live performers and verses of Ogden Nash. A colorful introduction to classical music for tots.

The Magic Flute at the Metropolitan Opera. Photo courtesy of The Metropolitan Opera
The Magic Flute — Lincoln Center
Wednesday, December 19 through Saturday, January 5, 2019
Ages 6 and up
For the holidays, the Metropolitan Opera revives its family-friendly version of Mozart's masterpiece. Director Julie Taymor (of Broadway's The Lion King fame) incorporates fantastical costumes and puppets into the production, which is whittled down to just 100 minutes and sung in English. It's played the Met before and always receives rave reviews from critics and, more importantly, kids.
La MaMa Kids: The Winter Wonderland Performance and Celebration — East Village
Saturday, December 22
Ages 4 and up
The legendary avant-garde arts center celebrates the season with an offbeat interactive show created by some of its most playful resident artists. Leave your expectations at the door: This genre-busting performance includes acting, puppetry, storytelling, dance, and music, and includes a post-show gingerbread house making activity.
The Very Hungry Caterpillar Show — Midtown West
Thursday December 27 through Saturday, December 29
Ages 3 to 8
We've been raving about this interactive, hour-long show for years, and it's back once again for a special holiday run at the Town Hall. Four of Eric Carle's popular picture books, Brown Bear, Brown Bear; The Very Lonely Firefly; 10 Little Rubber Ducks, and the title tale leap from the page to the stage courtesy of four performers and more than 75 larger-than-life puppets. While there have been other shows based on the legendary author-illustrator's tales, this version boasts high production values, including lively visuals that capture Carle's unique artistic style. A perfect first-time theatergoing experience.
The Pirates of Penzance — Upper East Side
Thursday December 27 through Sunday, December 30
Ages 8 and up
The New York Gilbert & Sullivan Players mount their namesake's most celebrated operetta about a rowdy band of pirates and the young man who vows to stop them...once he ceases being their apprentice. High jinks, hilarity, and romance are all part of this classic romp.