Snap, Crackle, Pop: Kellogg's Cereal Bar Opens in NYC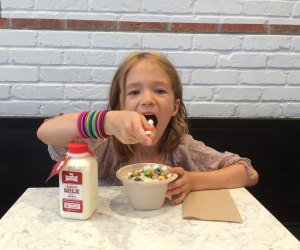 I will not lie. When I heard a permanent cereal bar opened earlier this month near Times Square, I thought it would just be a trap for tourists. But after visiting, I found Kellogg's NYC to be an adorable cafe appealing to many diverse visitors (even us proud New Yorkers) with a fondness for breakfast; it will take you right back to your mother's kitchen, filling everyone's bowl with a whole lot more than just Rice Krispies.
We ran into Rob Nieporent, general manager of Kellogg's NYC, who told us that the inspiration behind the cafe was not merely to enhance Kellogg's bottom line or reinvent a tried-and-true brand name. Instead, Nieporent explained that the masterminds behind the restaurant wanted consumers to think about cereal in a new light. Beyond a staple breakfast food, the cereal bar demonstrates how the Kellogg's cereals we grew up with pair with a number of other ingredients, including blueberry jam, mint, and lemon zest. After trying three scrumptious concoctions inspired by pastry chef Christina Tosi (the founder behind the cereal-studded Momofuku Milk Bar), they sure had us convinced.
UPDATE: This cafe moved to Union Square on December 7, 2017. The new address is 31 E. 17th Street, New York, NY.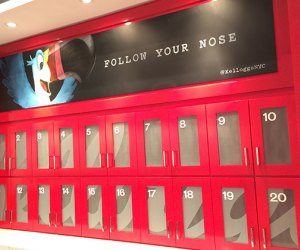 Froot Loops' Toucan Sam leads you to your order.
Kellogg's NYC is not just another breakfast spot, and only partially about the food. Step into this 800-square-foot bright and airy space (there's another 800 square feet in back, where the magic happens) in the heart of Broadway bustle and get ready to be a kid again. The friendly staff welcomed us at the counter and explained how things work. First, select your items, place an order and step aside with a buzzer. Second, wait patiently for about three minutes until your device buzzes.Then, open the pantry door corresponding to the buzzer number for food pickup. All orders are delivered in a cute paper bag and can be unpacked at the restaurant or at home. The process was plenty of fun for the kids (and me).
One element in the two-sided menu beckons diners to "Raid the Pantry." The first step is to select a cereal—they have all your favorites from Kellogg's. We went with Froot Loops, Frosted Mini Wheats, and Raisin Bran. Then, select a fruit, nuts and seeds, and "boost." Think big: Pop Tart Crumble, Chai Tea Powder, White Chocolate Chips to name a few.
RELATED: NYC Restaurant Guide for Families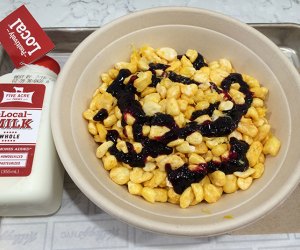 Enjoy the "Corny Blues"—Corn Pops, blueberry jam, lemon zest, and a pinch of salt.
If you would rather leave your cereal-bowl creation to the experts, Tosi has put together six inventive concoctions that we never would have considered. Each is based on a Kellogg's cereal combined with several ingredients. Our favorites were the Chai Line (love the clever nod to the High Line), made of Crispix, peaches, and chai tea powder; and the Circus, comprised of Raisin Bran, toasted peanuts, and banana chips. All bowls of cereal come with a large Five Acre Farms milk, a local brand. Choose from skim or whole milk, or opt for soy milk for an extra dollar.
Did we mention that dessert is served at Kellogg's NYC? Feast on one of four ice cream sundae options built on a bowl full of Blue Marble (Brooklyn's own!) vanilla soft serve topped with your favorite cereal and a handful of unexpected toppings, including fresh mint, toasted coconut, and dried cranberries. Our favorite was Life in Color: Froot Loops, lime zest, marshmallows, and passion fruit jam—my daughter was reluctant to share. Kellogg's NYC is meant to satisfy breakfast, late-night cravings, and everything in between. You can also grab a cup of New York's very own Irving Farm coffee, iced or hot.
Portions were generous and affordable—nothing more than $10, though when you can buy a whole box of cereal (or two) for that price, the cost might give some pause. But restaurant prices are always higher than at-home dishes, so we weren't surprised. The a la carte options were less expensive, and all dishes, including the sundaes, were available in small or large sizes. The food is yummy and partnerships with local businesses and chefs make Kellogg's NYC feel like a neighborhood joint.
What does one do nearby after a satisfying and fun cereal outing? Check out the newly renovated Ramon Aponte playground just a few blocks away, or explore the rest of Midtown West with the Kids.
Kellogg's NYC is located at 31 East 17th Street. Cash is not accepted, so bring your credit card. Open daily, but check the website for specifc hours.
All photos by the author.