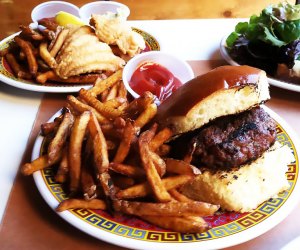 Family-Friendly Restaurants Near the Brooklyn Botanic Garden
Even if you brought a bag full of snacks to your Brooklyn Botanic Garden excursion, kids will be hungry after all that time running through the grass, collecting sticks, and chasing butterflies.
The good news is that there are plenty of family-friendly options for a bite in the nearby Crown Heights and Prospect Heights neighborhoods, many with high chairs and changing tables available. These restaurants are also close to the Brooklyn Museum, and a short walk from the Brooklyn Children's Museum and Prospect Park.
Barboncino Pizza
781 Franklin Avenue
(718) 483-8834
This Neapolitan pizza place features pies from a wood-burning oven, along with appetizers, salads, and a full bar. A classic margherita pizza is sure to please the little ones, and meanwhile you can eat like a grownup with the artichoke and smoked pancetta pie.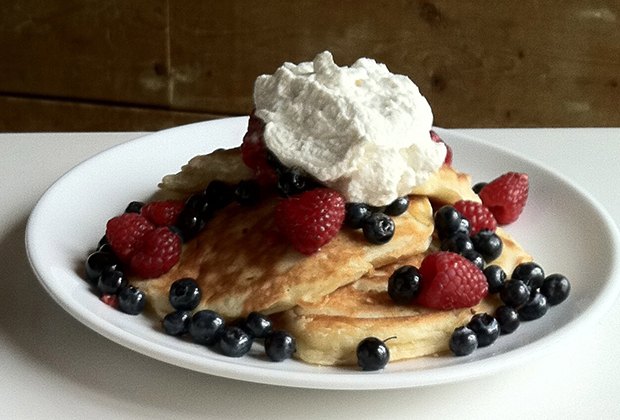 The pancakes at Cheryl Global Soul are perfection.
Cheryl's Global Soul
236 Underhill Avenue
(347) 529-2855
This cozy sit-down cafe is a longtime neighborhood favorite. You'll find pancakes and French toast on the breakfast menu every day, and sandwiches and salads for lunch and dinner. The expansive kids' menu features grilled cheese, mac and cheese, burgers, hot dogs, chicken sandwiches, and even fish and chips.
RELATED: Brooklyn Beer Gardens Where Kids Are Welcome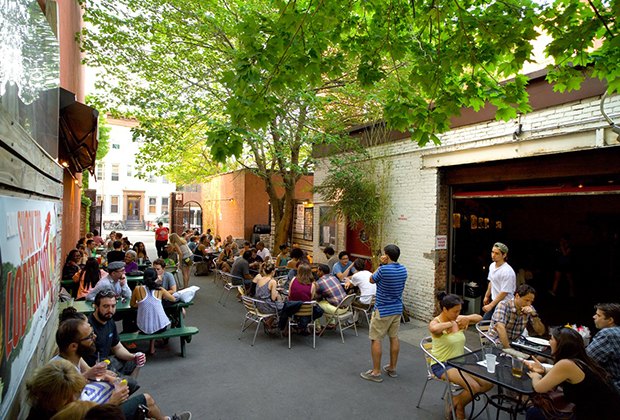 Franklin Park's outdoor garden is a big hit in the neighborhood as are the arcade games.
Dutch Boy Burger
766 Franklin Avenue
(718) 230-0293
Nothing beats a classic burger and fries—especially if you're a kid! This Crown Heights favorite (connected to Franklin Park) offers burgers made with local, organic beef in a classic diner environment. Kids can top off their meal with a root beer float (and parents can indulge in a "spiked" milkshake!). They also offer veggie burgers and chicken options. With the well-priced lunch special Monday through Friday, you can feed the whole family without breaking the bank.
Longevity
810 Washington Avenue
(718) 676-6380
The huge order-at-the-counter menu at this upscale deli has bagels, omelettes, smoothies, sandwiches, wraps, soups, salads, quesadillas, paninis, and sweets. And if you still can't find anything on the menu for your pickiest eaters, there's a small grocery area in the back, where you can grab dried fruit and a bag of Pirate Booty to tide them over. Note: no high chairs here, and seating is limited—but this is a solid choice for takeaway.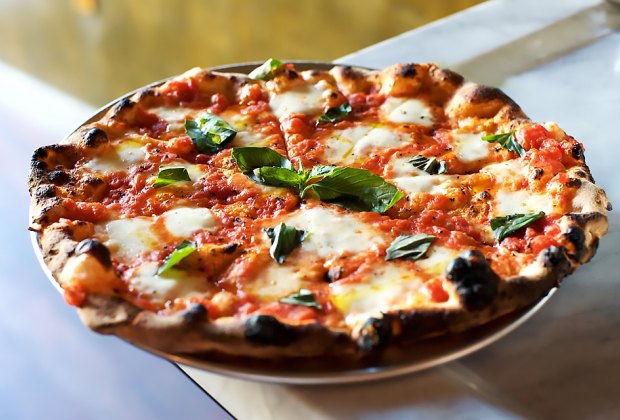 Artisanal pizza from Ogliastro will make the whole family happy.
Ogliastro Pizza Bar
784 Washington Avenue
(718) 789-3700
The menu may seem grownup with its artisanal pizzas and high-end ingredients, but the atmosphere is kid-friendly, especially in the large garden out back, which has a footbridge sure to delight little ones. Pro tip: Service can be a little slow, even when the place isn't full, so order a classic margherita pizza for the kids as soon as you arrive. Then take your time with the adult orders.
Penny House Café
732 Washington Avenue
(347) 240-7281
This laid-back, order-at-the-counter coffee shop may not look like much, with its mismatched chairs and narrow dining area. But the food is seriously good. You'll find bagels, sandwiches, wraps, and soups, along with kid favorites such as veggie burgers and peanut butter and jelly. If you have time to kill (or energetic kids to tire out), grab your order to go and eat it on a bench at Underhill Playground, around the block at Underhill Avenue and Prospect Place.
Chavela's
736 Franklin Avenue
(718) 622-3100
This warm, bright corner restaurant is a great family destination. The menu offers a variety of Mexican food, with options for the more adventurous eaters (guacamole with smoked trout, anyone?), as well as classic crowd-pleasers for the pickier eaters (guacamole—straight up!). They have lunch and brunch specials that keep prices reasonable. The only downside to this fantastic local favorite is that it gets crowded around peak times, so plan accordingly.
Lincoln Station
409 Lincoln Place
(718) 399-2211
Food, coffee, or beer—you can get all three at this adorable coffee shop just a few blocks from the BBG. Sandwiches, soups and breakfast served until 4pm make this a great place for the whole family. They offer classics like mac and cheese and cheeseburgers, as well as lamb and chicken entrees, salads, and a long list of mouthwatering sandwich options. Get your food to go, or grab a table and relax in this pleasant neighborhood hangout.
Glady's
788 Franklin Avenue
(718) 622-0249
Glady's is the perfect place for a kid-friendly tour of traditional Caribbean fare. Their menu is on the smaller side, but they execute each dish perfectly. Everything is a la carte, so you can pick and choose the perfect flavor combination for the whole crew. The brightly colored, relaxed, tropical vibe make this a fun destination for kids. Make sure to ask your server about the spice-level of each dish, since some of their specialties are on the spicy side!
A version of this post was published in 2016; it has been updated. Louise Finnell contributed additional reporting.
Unless otherwise noted, photos courtesy of the restaurants.