SPONSORED
Play-Based Early Childhood Center at Stephen Wise Free Synagogue Taking Applications for 2021-22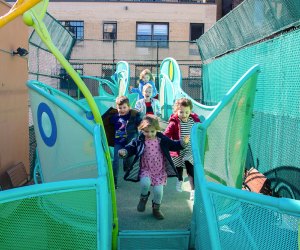 At the Early Childhood Center at Stephen Wise Free Synagogue on the Upper West Side, creative play-based learning and a commitment to helping kids build a strong Jewish identity are top priority. And with select spots available at the popular Manhattan nursery and pre-K program for kids ages 18 months to 5 years, applications are now open for the 2021-2022 school year.
Often dubbed the ECC, the synagogue's Early Childhood Center is inspired by the Reggio Emilia philosophy, utilizing a child-centered, emergent curriculum. Because kids are empowered to explore their surroundings and experiment with materials, everyday moments easily become major learning opportunities. Cooking introduces basic math skills, dress up helps kids explore their place in the community, painting in the light-filled art studio becomes a creative outlet, and gardening on the terrace is a welcome science lesson.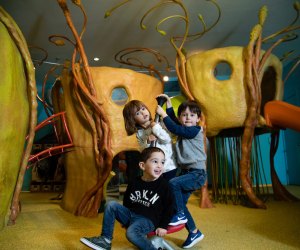 Since the ECC is built on the belief that children learn from every space they encounter, the homelike classrooms and one-of-a-kind play areas are expertly plotted out. The school features a state-of-the-art rooftop playground with slides, climbing equipment, and plenty of room to run, plus a hands-on water play area for warmer weather. There's also a whimsical multi-sensory indoor playroom dreamed up by leading design firm May + Watkins to spark students' imaginations while accommodating their different physical needs and levels of development. Of course, safety is a top priority across all spaces, with the NYC Department of Health regularly inspecting the building, extensive COVID precautions in place, and security guards stationed in the lobby at all times.
"We are so fortunate to have been open for full time in-person learning since September. We have detailed COVID-19 protocols in place, including mask wearing, increased cleaning and additional air filters that have been successful in preventing any spread of the virus," says ECC Director Miriam Kalmar. "Learning together in community is a crucial step in child development and we are so pleased to facilitate this in person with professional educators to support our children's growth."
Within this immersive environment, teachers play a critical role—and many have been with the school for more than 15 years now! Not only does every classroom have a teacher who either holds or is working towards a master's degree, but a full-time studio arts teacher, a library specialist, and a consulting psychologist all help to round out the staff. The clergy at Stephen Wise Free Synagogue also play a meaningful role in shaping kids' early Jewish identities, and bringing Jewish values and traditions to the early education program. The whole school gathers in the sanctuary every Friday morning for Shabbat songs and prayers with Cantor Daniel Singer and Rabbi Shira Gluck, and celebrations continue in the classrooms with traditional blessings over grape juice, candles, and challah.
On top of school, all ECC families are encouraged to participate in the synagogue's Family Experiences program—an array of activities and services for those with kids 12 and under—and synagogue membership is required for most early education center programs. The littlest members can enjoy interactive and musical bi-monthly Tot Shabbat Together services, and there are loads of lively holiday services and other special events for all ages throughout the year.
If you're interested in learning more about the part-time and full-time 2s, 3s, or 4/5s programs at Stephen Wise Free Synagogue's Early Childhood Center, start by filling out the application form here, and you'll be contacted by admissions to set up a virtual tour and info session. In the meantime, you can visit the Stephen Wise Free Synagogue website to read more about this impactful progressive program.
Photos courtesy of Stephen Wise Free Synagogue