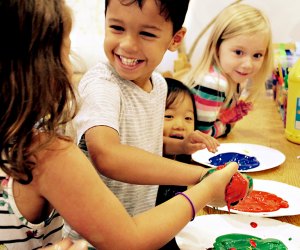 14 Popular Preschools in Park Slope, Brooklyn
Finding the right preschool fit is almost as daunting as getting your kid into the right college—meaning, people will try to terrify you, but odds are good you'll find a great spot for your little one, even if it isn't your first choice. Close your eyes. Breathe.
Whether you opt for a full day, five-day-a-week program or just a few half days, your child will benefit from spending time with kids and adults who are outside your family circle. Potty training, reading, small motor skills, early math—all of these come in time, but preschool will lay the foundations. The most important factor in choosing a preschool is whether you and your child feel comfortable there. Do the children look happy? Are they engaged in projects or play in the classroom? Are the teachers focused, but also friendly and welcoming? That's what counts.
Also consider whether you'd like to commit your own time, which would make you a perfect candidate for a co-op preschool, or if the time commitment required might be hard for you to fulfill, in which case a traditional or year-round preschool would be best. The difference between a school that embraces Reggio Emilia and one that uses a Montessori method are slight (both embrace open space and child-directed learning), but you may find you prefer teachers who consider themselves "guides" en route to making the child independent (Montessori) - or you may be drawn to Reggio's emphasis on communication and documentation. Home-based preschools may feel "cozier" and more a continuum of what your child has already experienced in your own home.
After that, look for:
Communication: How the school interacts with parents, and how parents interact with teachers, is key.
Security: Who has access to the school during the day? What is the teacher/child ratio for your child's age group?
Structure: What is a typical day at school like? Are there special progams, such as music or science?
Discipline policy: Does it align with your own? How is potty training handled (if your child is not quite "there" yet)?
What are the facilities like? Is everything sparkling clean? Is there a separate play space? What are the options for outdoor play?
And even though it is strongly recommended that your start your search early (at least a year in advance), remember that spots do open up. Ask about wait lists if you're late to the process or new in town.
We've done a little research on Park Slope preschool options, breaking down some fundamentals for you, below, but remember our Directory is an excellent resource, too! And prep for your interviews with 10 Questions to Ask During a Preschool Tour and our Preschool Admissions Tips.
Happy hunting.