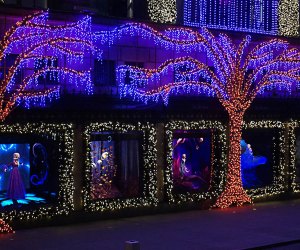 Holiday Windows Walk 2019: Midtown's Most Brilliant Holiday Window Displays
The festive fun of the holiday season is officially upon us, and New Yorkers and tourists alike know that seeing the brilliantly decorated holiday windows in Midtown's iconic stores is a Christmas-season must-do. Besides, what better way to work off some holiday treats than with a wintry stroll through Midtown to take in the sights?
If seeing the holiday window displays in NYC is part of your family's holiday traditions too, read on for our top stops during a 2019 holiday windows walk.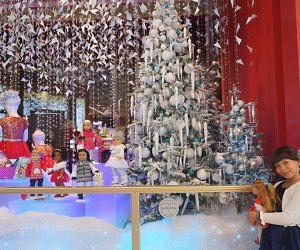 The dazzling windows sparkle at American Girl New York.
American Girl New York
75 Rockefeller Plaza at 51st Street
What it lacks in size, the American Girl display makes up for in sparkle. With 200 Swarovski crystal strands and 130 pounds of crystal star dust, this lone, large window is seriously blinged out. See if your daughter can spot her favorite characters posed in the winter wonderland. If you can convince your kid to save her requests for Santa, more photo ops await in store, including posing in Julie's old-school, full-size VW bug.
OUR LATEST VIDEOS
RELATED: Christmas Tree Lightings in NYC: Rock Center and Beyond

Marvel at the neon pinball machine and even can catch your reflection in a ball.
Bergdorf Goodman
754 Fifth Avenue at 58th Street
Bergdorf's display is always opulent and over the top, and 2019 is no exception. Tackling the theme of "Bergdorf Goodtimes," each window depicts an aspect of holiday revelry illustrated in avant-garde opulence. We loved the sequined chess scene and the neon pinball machine where you can catch your reflection if you look close. My daughter also loved spotting the very fashionably dressed dogs that seemed to find a home in each vignette.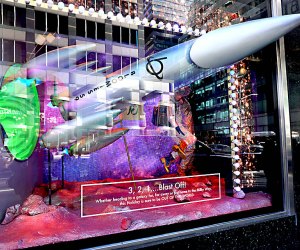 Blast off to "out of this World" holiday cheer at Bloomies!
Bloomingdale's
1000 Third Avenue at 59th Street
Bloomingdale's 2019 windows are otherworldly, taking on an "Out of this World" theme with futuristic, space-aged fun in each scene. A touch button on one allows visitors to bring a robotic orchestra to life and hear classic Christmas carols. In another, you can command Google to turn on the lights for you. There's plenty of glitz and glam, and a pretty impressive rocket ship seemingly blasts over your head and onto Lexington Avenue. Head inside for a drink in the Polar Ice Bar, located in the Ralph Lauren section, or enjoy VR experiences, and other holiday fun complementing the theme.
RELATED: When and How to See Santa at Macy's Santaland

Scratch a dreaming dog's nose at the interactive Macy's windows.
Macy's
151 West 34th Street between Sixth and Seventh Avenues
A modern take on a traditional holiday theme, Macy's invites you to "Believe the Wonder" as you embark on an adventure with Santa Girl, who dreams of helping Kris Kringle deliver holiday magic in a seriously lit (Griswold-style!) pickup truck. The shiny, chromed-out displays dazzle and there are multiple interactive elements. Power a neon light show, scratch a dreaming dog's nose, drive the truck while trying to smash presents in an Asteroid-like video game, and pose for a selfie to see yourself in the windows. In addition to the big, six-window display on Broadway, you can see the traditional Miracle on 34th Street windows on 34th Street and a tribute to Holiday Barbie along the Seventh Avenue displays. Brooklynites take note: For the first time since 2016, the Downtown Brooklyn Macy's location will feature a trio of holiday windows of its own, too.
Nordstrom
225 West 57th Street between Seventh and Eighth
Midtown's newest department store doesn't have traditional boxed in windows, but promises a twinkling light show along its facade. Its decorations go up on Black Friday. Red and white lights will illuminate the exterior windows, coming to life with an interactive light show during the shop's daily Santa parades, where the big man will be accompanied by a Dixieland jazz band. The light show will be visible inside and out, and there will be more festive decorations in store, including more than 253,000 twinkling lights.
RELATED: Disney and Saks Team Up for a Magical Frozen 2-Themed Interactive Holiday Display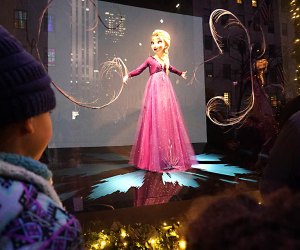 The ever powerful and strong Elsa takes the stage in one Saks Frozen-themed windows.
Saks Fifth Avenue
611 Fifth Avenue between 49th and 50th Streets
Saks and Disney have teamed up for a star-studded holiday season, and were not just talking about the appearance of Idina Menzel at this year's big window unveiling. Menzel's animated alter-ego Elsa and the rest of the Frozen 2 gang headline an in-store experience, and the characters take center stage in Saks' window display, too. Anna, Elsa, Krisstoff, and Sven can all be spotted in the window displays and Saks traditional light show takes on a stunning Frozen-inspired look.
Can't get enough holiday windows? See our posts from 2018, 2017, 2016, and 2015. Be sure to check out our holiday guide for more festive sights and happenings.
Photos by the author