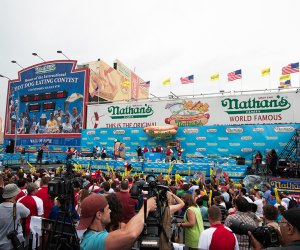 Fun Things to Do on July 4th in NYC If Your Family Doesn't Like Fireworks
Fireworks just aren't for everyone. For little kids especially, the loud noises and flashing lights in the sky can be overwhelming and a little scary. If that's the case in your family, the Fourth of July might be a bit of a challenge in New York City.
But no worries: You don't have to line up midday to stand in a crush of strangers and then wait for nightfall to watch the sky explode in order to enjoy this holiday in NYC. We've got a cool dozen ideas to help you navigate the birth of our nation, gunpowder-free!
Of course, you can also always turn to our July GoList, our compendium of 100 Free Things to do with NYC Kids This Summer, and our bulging calendar for more ideas. Happy 4th!
1. Independence Day: George Washington's Encampment — Upper West Side
The New York Historical Society invites families to celebrate Independence Day by hanging out with our first President (well, a costumed character actor)! Kids can explore Washington's Marquee tent, watch Revolutionary military drills, sing along to patriotic songs, and listen to President John Adams (another costumed actor) read the Declaration of Independence.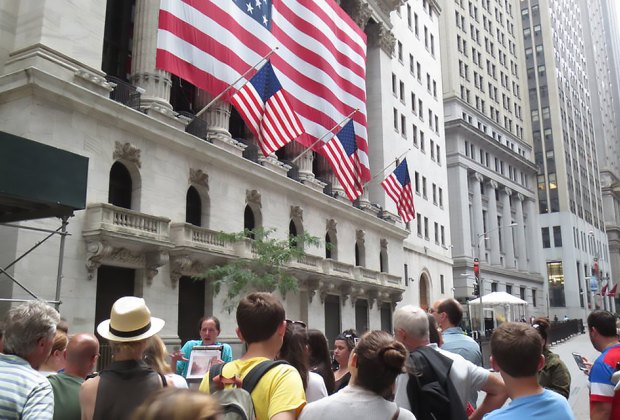 Enjoy a patriotic tour as part of the Fraunces Tavern Museum's Fourth of July celebration that explores the American Revolution. Photo courtesy of the museum
2. Fourth of July at Fraunces Tavern Museum — Financial District
Celebrate Independence Day at one of George Washington's favorite restaurants (he even ordered food to go!). The museum offers a special dawn tour and $1 admission to the museum itself all day long.
3. Nathan's Famous 4th of July Hot Dog Eating Contest — Coney Island, Brooklyn
How many hot dogs can you eat in ten minutes? 72? 73? The record so far remains in the mustard-drenched fingers of Joey Chestnut, but who knows what 2019 will bring? Root for a new champ (or the old one) and watch frankfurters disappear at the speed of sound. FREE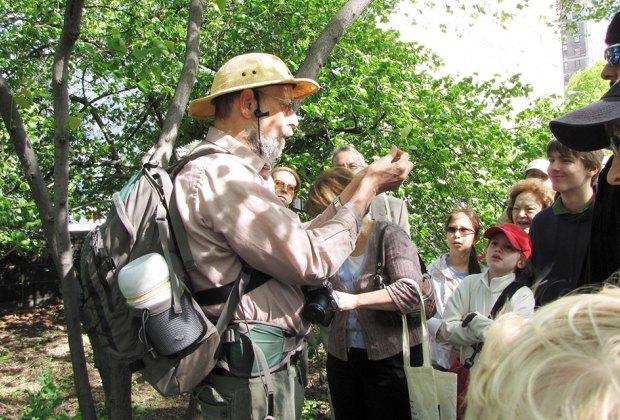 Go Foraging with Wildman Steve Brill. Photo courtesy of Wildman Steve Brill
4. Foraging Tour with Wildman Steve Brill — Kew Gardens, Queens
Take a tour of Forest Park with one of NYC's most famous foragers, Wildman Steve Brill. Learn about honewort, burdock, sassafras, and how to chew birch twigs!
RELATED: Best Fairs and Festivals for NYC Families in July

Join the Prospect Park Alliance for Independence Day in Prospect Park. Photo courtesy of Prospect Park Alliance
5. Independence Day in Prospect Park — Prospect Park, Brooklyn
The Prospect Park Alliance hosts family-friendly activities at the Prospect Park Audubon Center, Lefferts Historic House, and the 1912 Carousel. In fact, you can celebrate not one, but two Independence Days: America's independence from England in 1776, and the emancipation of enslaved African-Americans in New York in 1827. Look extra patriotic as you make yourself a plumed hat to wear while signing your own "John Hancock" on a reproduction of the Declaration of Independence.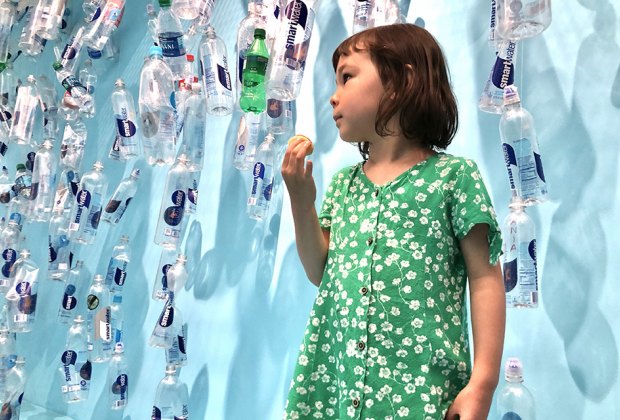 Learn about preserving the oceans at Ocean Cube. Photo by Janet Bloom
5. Ocean Cube — SoHo
Can't get out to the beach? No worries, you can do some underwater exploration right downtown in the futuristic Ocean Cube pop-up exhibit. Learn about preserving the ocean and wallow in the soothing bio-luminescent glow.
6. Midsummer Nights Swing: Bobby Valentin — Midtown West/Lincoln Center
Gotta dance? Jump in to the Midsummer Nights Swing of things in Damrosch Park when the Bobby Valentin band performs on the 4th. The evening includes a salsa lesson at 6:30pm.
7. Big Onion Walking Tour: Revolutionary New York — Financial District
New York's Revolutionary era is often hidden behind modern buildings and obscure signs, but Big Onion Tours peel back the layers in a perfect 4th of July hike for kids who don't mind meandering. Visit the site where the Declaration of Independence was first read to a New York audience, the graves of Revolutionary War General Richard Montgomery and first Secretary of the Treasury Alexander Hamilton, the site of President George Washington's Inaugural Address, Fraunces Tavern, and the target of the Stamp Act mob in Bowling Green.
8. Louis Armstrong's Birthday Bash — Jackson Heights/Corona, Queens
Celebrate Satchmo's 119th birthday at his lovely home in Queens. Don't miss the jazz concert in the garden!
9. Travis Parade — Travis, Staten Island
The colonial-era Staten Island neighborhood of Travis hosts one of the oldest consecutive Independence Day celebrations in the United States. And if you love an old-fashioned, small town parade complete with fire trucks and floats, this can't be beat. The festivities start at noon with a ceremony at the reviewing stand, then the marching begins! FREE
10.Kids Yoga with Sacred Sounds Yoga — Greenwich Village
Go full on ZEN and get little ones into relaxed mode through stretching, music and more. Bring your own yoga mat. FREE
RELATED: 100 Free Things to Do with Kids in NYC This Summer
11. Independence Day at Historic Richmondtown — Staten Island
Do a little time traveling and visit one of NYC's oldest continuously working family farms. Historic Richmondtown does the 4th the old fashioned way, with picnicking, lawn games, and old-timey demonstrations.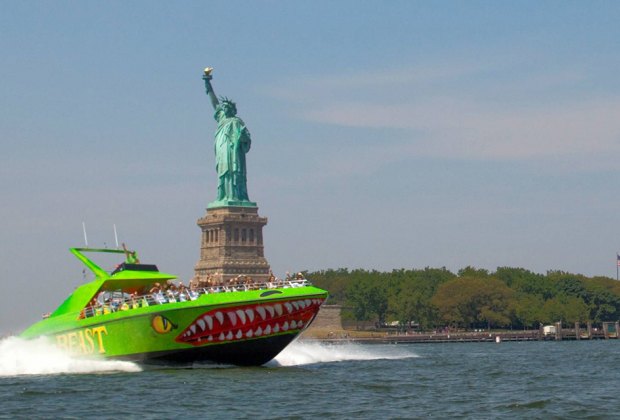 Take a super fast thrill ride past the Statue of Liberty on The Beast. Photo courtesy of NYCGo
12. Boat Rides around Manhattan and Beyond — Citywide
Break the heat with a ride on the waves. NYC offers a delicious variety of boating fun, from speedboats to ferries. Salute the Stature of Liberty as you pass by, however you travel!