Blue Waters Antigua: A Luxury Spot for Family Vacations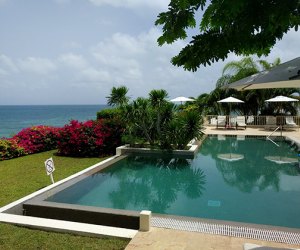 Blue Waters Resort and Spa in Antigua is not your everyday vacation destination. This luxury spot is perfect for that special-occasion getaway, especially a multigenerational family vacation. With villas that can be configured for 1-6 bedrooms and a staff that makes sure everything goes smoothly, families can plan a truly get-away-from-it-all trip, including all the logistics and interests of a big-family vacation, and feel confident it will be a hit.
Antigua is known for its laid-back and friendly people, bright blue waters and 365 sandy beaches. Blue Waters Resort offers all that, with luxury suites, and service to boot. The staff is as friendly as it gets and bends over backward to make sure you are happy.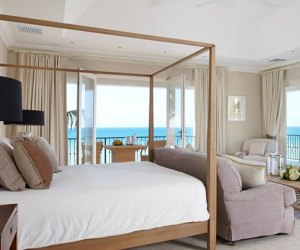 The resort offers a variety of room options, including this beachfront junior suite. Photo courtesy of the hotel.
Blue Waters is made for big families, who can choose from adjoining standard rooms, to suites with room for four, to villas with up to six bedrooms. All rooms above standard level have ocean views and suites have a semi-private adjacent pool just for their villa. If a family reserves an entire villa, they have that pool to themselves. You don't have to miss out on poolside beverage service at your villa pool, either. Blue Waters delivers the ultimate in luxury with beverage service available to your villa pool.
If you love a get-away-from-it-all vibe, Blue Waters is perfect. The resort has more than 100 rooms spread out over almost 20 acres and plenty of private nooks in which to hide out. Of course, one of the nicest places to disappear is into the spa, where you can have your knots kneaded out or enjoy a menu of beauty treatments.
The nicest rooms are in the Turtle, Pelican and Rock houses. These modern suites offer living rooms and kitchens that open to the pool decks, plus multiple bedrooms that can be configured for the size of your group. Before arrival guests can request how to have the fridge and bar stocked, and private in-suite dining can be prepared by a personal chef.
RELATED: 23 Best All-Inclusive Family Resorts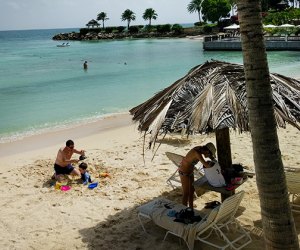 The resort sits across three beaches, including two relatively secluded ones for those who prefer some private family time.
The resort offers a main central beach, plus two smaller, more secluded ones. The waters are warm, calm, and a beautiful turquoise blue, if slightly cloudy from the limestone cliffs. The central pool deck overlooks the ocean and beverage service can be enjoyed in both locations. There's also an adults-only pool.
While Blue Waters is perfect for just chilling out on the beach or by the pool sipping pina coladas, the resort also offers an array of water sports. Standup paddle boarding, kayaking, windsurfing, paddle boating, and sailing are included in your stay. Snorkel gear is available, but if you want to see lots of fish, reserve a sailing outing.
We booked an afternoon boat excursion. Our guides showed us some island sights and took us to a beautiful private beach, where we swam and snorkeled. About a mile away from Blue Waters sits a marine park, where we saw tons of colorful fish. It was a worthwhile addition to the trip.
The Kids Club is open for children 4-12 years old from 8:30am to 4:30pm, except Sundays, with a one-hour break for lunch. The club is free, but children ages 14 months to 3 years old must pay per session to use the Creche area, near the club. Private babysitting is also available.
RELATED: 25 Warm Weather Destinations for Families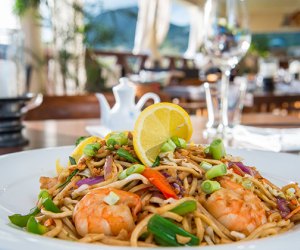 Enjoy the Thai food at Touloulou, an offsite but nearby Asian fusion eatery. Photo courtesy of the restaurant.
While I wouldn't say food was the star at Blue Waters, it's better than what you'll find at most all-inclusive resorts. For those who like to eat healthy, there are plenty of salads, fresh fruit, and seafood available at every meal.
Although a breakfast plan option is available, most customers opt for the all-inclusive plan for a truly carefree experience. Off-site dining is also an option. We had a delicious meal at a nearby Asian fusion restaurant, Touloulou, where we enjoyed a fresh and flavorful Thai-inspired meal in a charming, eclectic environment.
Those looking for a luxury, get-away-from-it-all Caribbean vacation will not be disappointed with Blue Waters Resort. But where the hotel shines is in multigenerational family vacations, weddings, or other large groups, thanks to the ability to have a resort-within-a-resort, including a private villa, pool, and even beverage service.
To find out more or book your vacation at Blue Waters Resort visit bluewaters.net.
All photos by the author unless otherwise noted.