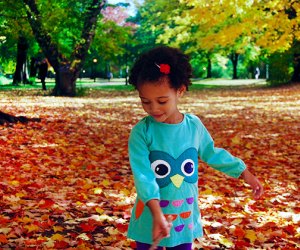 Brooklyn Leaf-Peeping with Kids: Top Streets for Fall Foliage
When fall arrives in the tristate area, serious leaf-peepers tend to head upstate. But when you have little kids, the idea of packing them into the car, with all the snacks, for a long drive through traffic, to try to point out clusters of colors in the distance, is often less than appealing. What if we told you that you don't even have to leave Brooklyn to see some genuinely beautiful fall foliage? The reds, oranges, yellows, and purples of maple trees, oak trees, and more are right here. You just have to know where to look.
A safe bet to find those stunning fall colors will always be your local park or garden, such as the Brooklyn Botanic Garden (the Japanese garden is typically gorgeous at this time of year). But for a FREE neighborhood walk, consider these blocks in Brooklyn for family walk. We've even pointed out top spots to stop for a break along the way.
Going out to see the changing leaves is a great activity for kids—via stroller, scooter, or foot. They can collect leaves and acorns for crafts at home, crunch leaves underfoot, work off energy, and maybe even pose for an adorable fall photo or two. The peak foliage time changes each year depending on the weather, but 2017 forecasts say New York City's trees will be at their brightest in late October and early November.
Crown Heights
Saint Marks Avenue, from Albany Avenue to Franklin Avenue
Along this route you'll find pin oaks, which turn dark red; Norway maples, which are typically bright yellow and orange; and sugar maples, which are the New York state tree but are a bit more rare in New York City and turn a brilliant orange, yellow, and red. Then turn down Classon Avenue anywhere between Dean Street and Eastern Parkway to see the bright yellow leaves of the littleleaf linden trees, and head along Eastern Parkway between Classon Avenue and Kingston Avenue to see gorgeous red maples, which can be yellow, orange, or red. If you still haven't had enough, and you want to see the bright, fiery red leaves of the amur maple, head down to Union Street between Brooklyn Avenue and New York Avenue, where you'll also find more red maples.
Where to Stop: Pop in to Breukelen Coffee House at 764 Franklin Avenue for a Nutella hot chocolate.
Brooklyn Heights
Cranberry Street between Columbia Heights and Henry Street
You'll find pretty red maples among the brownstones along this lovely street, and if you turn down Willow Street between Cranberry and Middagh Street, you'll see even more red maples and some littleleaf lindens.
Where to Stop: Let the little ones run around at Harry Chapin Playground on Middagh Street in Columbia Heights.
RELATED: Best Apple Picking Orchards and Farms Near NYC

Stop by the Little Cupcake Bakeshop for a warm treat on your Prospect Heights leaf-peeoping tour. Photo courtesy of the shop
Prospect Heights
Saint Marks between Vanderbilt Avenue and Flatbush Avenue
Along this route you'll see shimmering red maples and Norway maples. Then turn down Carlton Avenue between Flatbush and Dean Street for more vibrant color. You may also catch a glimpse of an amur maple on Park Place between Carlton and Vanderbilt, and some littleleaf lindens and more Norway maples along Underhill Avenue between Sterling Place and Dean Street.
Where to Stop: Enjoy a Brooklyn Blackout cupcake at Little Cupcake Bakeshop at 598 Vanderbilt Avenue.
Fort Greene
Cumberland Street between Fulton Avenue and Myrtle Avenue
This may be one of the best streets in the borough to see fall foliage, including red maples; sweet gums; which turn yellow, orange, red, and purple; pin oaks; littleleaf lindens; and Norway maples. Two blocks over, on Adelphi Street and Carlton Avenue, you'll find more red maples and Norway maples.
Where to Stop: Warm up from the fall chill at Hungry Ghost at 781 Fulton Street.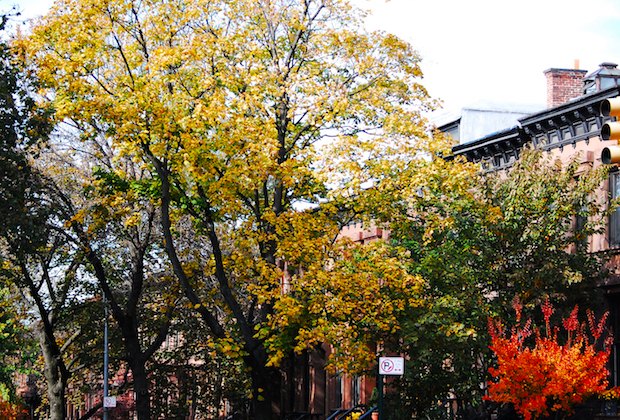 The tree-lined streets of Park Slope make leaf-peeping easy. Photo by Rebecca Wilson via Flickr
Park Slope
Fifth Street to Ninth Street between Eighth Avenue and Prospect Park West
This leafy neighborhood is a natural for leaf-peeping by foot and stroller. The best blocks to see all the colors are Fifth, Sixth, Seventh, Eighth, and Ninth streets between Eighth Avenue and Prospect Park West, but really, just walk around, including South Slope. But, you'll find pin oaks, sugar maples, and Norway maples on these streets. Make sure to hit Fifth Street to see the rare sugar maples, then head up Prospect Park West to see the sweet gum trees. If you still want to see more, turn down First, Second, or Third Street toward Seventh Avenue to see the dark red leaves of Japanese maples.
Where to Stop: Grab a treat at Chocolateria at 228 Seventh Avenue.
RELATED: Top Corn Mazes and Fall Farm Fun Near NYC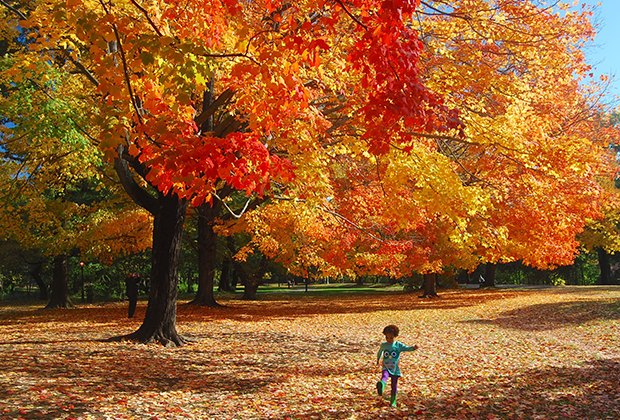 Find gorgeous maple trees along the edge of the lake in Prospect Park. Photo by the author
Prospect Lefferts Gardens
Fenimore Street between Flatbush Avenue and Rogers Avenue
This beautiful street has sugar maples, red maples, Norway maples, and pin oaks. You'll find similar fall color on Midwood Street and Rutland Road between the same avenues. Head to Winthrop Street between Bedford Avenue and Rogers Avenue to see a sweet gum tree. If your little ones' feet aren't too tired, trek to the southern end of Prospect Park to see the brilliant maple trees along the edge of the lake—a perfect spot for a fall family photo opp.
Where to Stop: Grab a pastry or a light bite at Desserts By Michael Allen at 1149 Nostrand Avenue.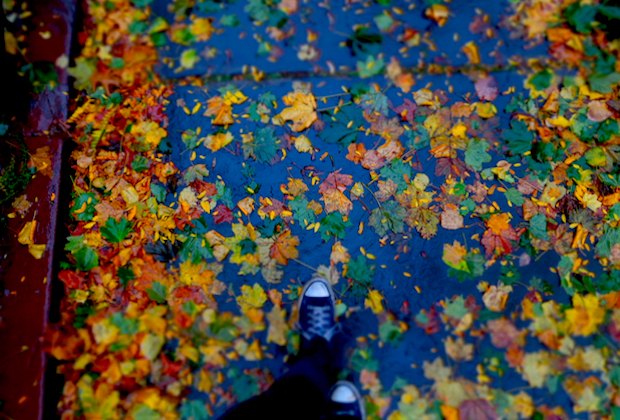 Fallen leaves line the streets in Bed-Stuy. Photo by stephanie jalove via Flickr
Bedford-Stuyvesant
Macon Street from Nostrand Avenue to Howard Avenue
If you're lucky, you'll see a bright red amur maple on Macon Street between Throop Avenue and Tompkins Avenue, along with a pin oak and sweet gum. Head up to Greene Avenue between Marcy Avenue and Nostrand for red maples, or Monroe Street between Tompkins and Marcus Garvey Boulevard for littleleaf lindens, Northern red oaks, pin oaks, and Norway maples.
Where to Stop: Refuel with a chocolate salted caramel doughnut at Dough Doughnuts at 448 Lafayette Avenue.
Sunset Park
55th Street and 56th Street between Fifth Avenue and Eighth Avenue
The rare sugar maple makes an appearance here, along with the red maple. Nearby on 52nd and 53rd streets between Fifth and Eighth avenues, you'll find red maples, along with pin oaks and littleleaf lindens.
Where to Stop: Head to the newly refurbished playground at 44th Street and Sixth Avenue in Sunset Park to work off some energy in the crisp fall air.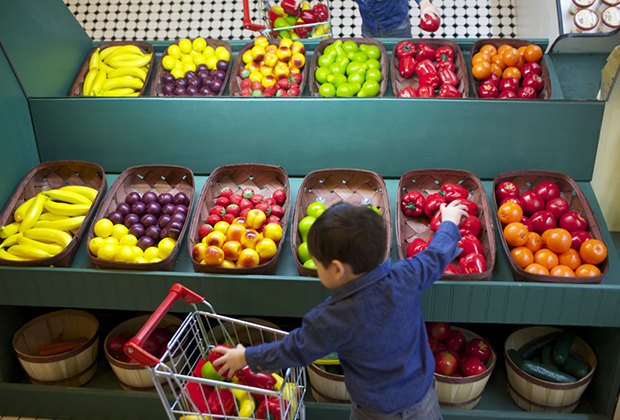 Enjoy indoor fun post-walk at Twinkle Playspace. Photo courtesy of Twinkle
Williamsburg
Ainslie Street between Leonard Street and Bushwick Avenue
This leafy block boasts red maples, amur maples, sweet gums, and littleleaf lindens. Turn up Leonard between Devoe Street and Ainslie and you'll find Norway maples, as well. Of course, you can always head to McCarren Park as a safe bet for leaf collecting and view, too!
Where to Stop: Warm up and burn off some energy at Twinkle Playspace at 144 Frost Street.
Looking for more seasonal ideas? Check out our Fall Fun Guide for NYC Kids, or take a day trip with our Leaf-Peeping Guide for the tristate and New England areas.
Top photo: Prospect Park, along the edge of the lake where the maple trees are. Photo by the author