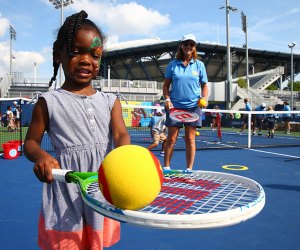 Best Summer Festivals for NYC Kids This August
We've rounded up over a dozen mostly-FREE, family-friendly festivals happening throughout the Big Apple in August to help you get the most out of NYC with kids during the last month of summer. Many families flee the city in August for end-of-summer vacations, but it's actually one of my favorite months to be in NYC. With summer staples like swimming, play fountains, and Governors Island, plus hundreds of free summer activities and only-in-August favorites like Summer Streets and Arthur Ashe Kids' Day, there's plenty to do if you stick around.
Be sure to click through to the listings for all the details, including times, locations and recommended ages.