We Ate Meal Kits for A Month – Here's What We Learned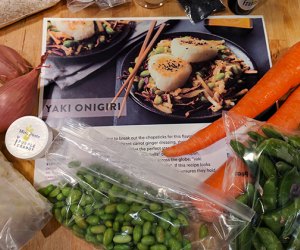 5/7/17
- By
Anna Fader
I tried every meal kit, and it wasn't at all what I expected.
I am a meal planning fanatic (yes, spreadsheets and all). So I was curious to try out the new trend of meal kit delivery services to see if they really make family dinnertime with kids easier. And because I'm completely compulsive, I signed up for every single meal kit option out there, so that my family ate only meal kits for five weeks. Want to know how it went?
After cooking dozens of meal kits, here's my obsessive, totally non-sponsored rundown of the best and worst. If I didn't answer your question here, feel free to check out my meal kit review videos on Facebook and leave a question there.
The elephant in the room is whether meal kits are actually a time-saver. I was shocked to realize that in some ways meal kits made cooking feel more difficult. Let me explain: While preparing a meal kit is admittedly easier than planning a menu, shopping, and cooking; eating from meal kits does not eliminate the need to shop and plan for the other meals and snacks your family needs each week. So taking a couple of meals off your plate doesn't help all that much.
Each meal promises to take 30-45 minutes (mostly accurate), but that's a ton of cooking. For a lot of working parents, meal kits are not going to be a realistic option on weeknights. After a few weeks of only meal kits I was exhausted, and convinced that I was not going to cook these big dinners every night. Leftovers rock.
Because another thing is, meal kits are specifically portioned. If you order for four people, you get food to feed two adults and two children. You probably will be full at the end of dinner, but also probably not have enough for seconds or another meal—unless you've ordered for say four and two are picky toddlers vs. older kids. Not the case in my house, but definitely for many of our readers. That means 45 minutes of cooking for every meal, no batching or repurposing leftovers. Did I mention I love leftovers?
By the way, I've looked up promo codes to get discounts or free meals for you from the services that offer them. If you use the codes I will also get a credit, which I will use to donate meals to charity.
Most Craveable Meal
Of all the meals we cooked, there is only one I intend to make again. The cod and tomato stew from Blue Apron is a simplified bouillabaisse with a delicious garlicky aioli that makes it creamy and flavorful. Granted, by week two of meal kits I had learned to double the garlic that the recipes call for, but I honestly have been craving this meal. On the other hand, Blue Apron was the worst when it came to waste, sending tons of tiny little plastic bottles with ingredients that we had to mix together to make a sauce. Just send me the sauce, thanks.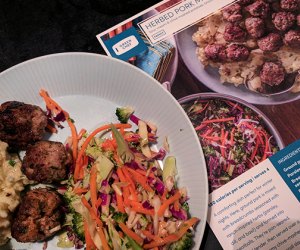 Herbed pork meatballs from Green Chef.
Most Kid-Friendly Winners
The one company that consistently delivered meals that made us happy was Green Chef. We especially liked the herbed pork meatballs and crispy Dijon chicken. Perhaps because we liked the meals so much, Green Chef was the one service in which we felt the servings were a little small. DEAL: Get 4 free meals.
Best for Novice Cooks
Hello Fresh meals were all fine, too, but seemed more basic. I enjoyed the Monterey Jack burgers with red onion jam, but, in the end they were burgers, and I doubt I would go to the trouble to caramelize red onions for my burger again. Our other two meals were a basic stir fry and a simple shrimp fra diavolo with linguini. Both of those easily could become simple recipes to add to your cooking staples. DEAL: Get $40 off your first box.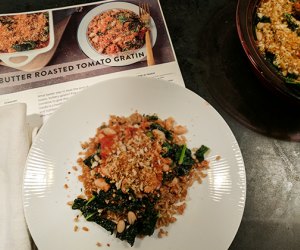 Purple Carrot's butter roasted tomato gratin.
Best for Adventurous Eaters
It shouldn't be surprising that Purple Carrot's vegan meals were not universally loved by my family. But it was the only meal plan in which I felt we expanded our boundaries. I will cop to adding a fried egg to the garlicky and delicious butter roasted tomato gratin. But even I will admit Purple Carrot's creamy roasted red pepper pasta was not too tasty; sorry kids. Adventure isn't always successful. DEAL: $25 off first order.
Most Eco-Friendly
There's one thing all the meal kits had in common that drove me bonkers: waste. All deliveries come in big insulated boxes, loaded with ice packs. The ice packs weigh a ton, so the volume of fossil fuel used to deliver your kits from across the country is huge. Then you have to dispose of those ice packs. And I'm not talking about one small ice pack: Many of the boxes were half-full of ice. It is totally unnecessary, IMHO. Plated only used one ice pack. By the way, my Plated box was left out all day and the chicken was still perfectly cold with one little ice pack. Plated also uses a natural compostable insulator. The meals were just as good as others, with less packaging. Kudos, Plated.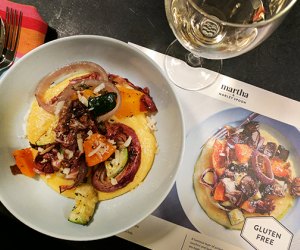 Martha's cheesy honey polenta.
Most Disappointing
Surprisingly, Martha Stewart's Martha and Marley Spoon was the most disappointing. Martha's sweet and sour chicken wasn't very sweet or sour, and the cheesy honey polenta with roasted squash, onion and zucchini was overpowered by the addition of limp bitter endive. My kids liked the tamale pie, but didn't think it was great. Where did you go wrong, Martha?
Best for Getting Kids Cooking
Sun Basket has the most kid-friendly model with tips in each recipe for how to involve kids, and a game sheet. But my kids hated the quinoa pasta and the very "rustic" pasta sauce in the chicken parm dish. Its chicken tikka masala, one of its faves, was bland and disappointing. On the other hand, Sun Basket gets eco points for not overdoing it with the ice packs and sending recyclable insulation. DEAL: Get 3 free meals.
Best for Commitment-Phobes
We only tried one recipe from Chef'd—fish tacos. It was above average, but what separates Chef'd from other meal delivery companies is that it is not a subscription service. You can order one meal and never order again. Chef'd takes away all that subscription-managing drama, plus the recipes are from top chefs and publications, so there's plenty of variety. The downside of not being a subscription service is that prices are higher. On the flip side, you don't accidentally pay for meals you didn't want. Newsflash: Chef'd has added 10-minute meals. Woot! DEAL: $10 off your first order.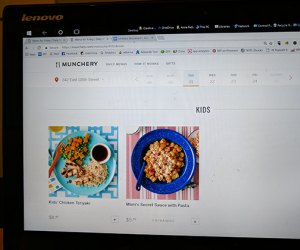 Kid meals from Munchery.
Best Last-Minute Option
In addition to these meal delivery services, I also tried two services that deliver prepared meals. Munchery sends single-serving, heat-and-eat meals in as little as an hour. Most meals are about $10 and less greasy than take-out; it also offers kids' meals for even less. Order before leaving the office and have food arrive at your door when you get home. Also, Munchery delivers locally in select cities, so no ice packs and insulation. DEAL: $20 off your first order.
A Better Way
Between the waste, no leftovers, and still having to shop for the rest of your meals, I don't think meal kits are the solution to dinnertime, although I enjoyed trying them out. Another concern for those with young kids, or picky eaters, is that many recipes just won't be kid-friendly enough, either too spicy or involving exotic ingredients they'll refuse.
There is another solution that has been around for ages that deserves a return to popularity with all the attention paid to meal kits. Meal planning services such as The Six O'Clock Scramble and The Fresh 20 are like a smart cookbook that does the heavy lifting for you. They tell you what to cook each week and prepare your shopping list, and are usually cost- and time-conscious. I think they are a more planet- and family-friendly solution.
Final Verdict
Meal kits could be a novel way of spicing up supper time if you're in a rut, but they don't solve the putting-dinner-on-the-table-every-night problem by a long shot.
Next.
Top photo: Most of the meal kit delivery services, such as Purple Carrot's Yaki Onigiri, deliver not meals, but ingredients to your doorstep, along with recipe cards.