SPONSORED
How to Find In-Home or Online Music Lessons for Kids in Four Steps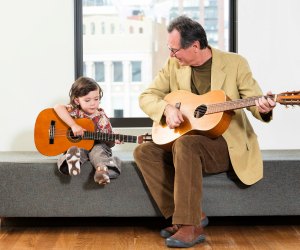 Forget lugging your kid's guitar on a crowded 6 train or sloshing through a New York City snowstorm to get to a piano lesson. If skilled instructors who will teach your child "Here Comes the Sun" on the ukulele in the comfort of your own home or through an engaging virtual music lesson sound more your speed, Hey Joe Guitar Music School is about to game-change your future Beethoven's education. The dad-owned business has been matching Manhattan and Brooklyn children (and adults) with highly-trained teachers for private in-home lessons for more than 15 years and, now, they're offering flexible online lessons and hybrid options too.
Hey Joe Guitar was founded by fourth-generation New Yorker and long-time musician, Joe Berger, after countless friends asked him to recommend music teachers for themselves and their children. With the school in its second decade, he's still personally involved with every client and monitors each instructor. Above all, he takes care of perfectly matching teachers to eager learners.
From Joe's helpful hand-holding to the program's promise of individualized attention and flexibility with both in-person and virtual lessons, this stress-free learning style is tough to top—and getting started is as easy as one, two, three, four.
1. Pick Out an Instrument
Now, this is a big one... Hey Joe Guitar offers music lessons in guitar, piano, voice, ukulele, bass, drums, violin—or any other teachable instrument. Maybe your ambitious child even wants to master singing while also playing the piano? Hey Joe can hook you up with just the right highly-experienced teacher for the job. Oh, and if you're interested in instruction in a different language, lessons can be taught in Spanish, French, Chinese, Italian, and more, on request.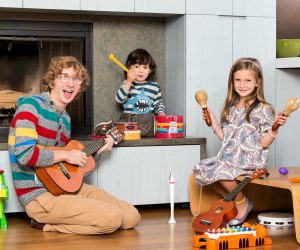 Joe matches kids with experienced and encouraging teachers from his fleet of professionals.
2. Get Matched with a Music Teacher
Once you have an instrument in mind, give the Hey Joe team a call or fill out this simple online form and set-up a time to talk to Joe himself. Together, you'll discuss your child's musical goals, learning style, and personality, as well as whether you'd like in-person lessons, online lessons, or a combination of the two. Note that Hey Joe Guitar's instructors happily head to homes in nearly every Manhattan and Brooklyn neighborhood for in-person lessons, and are able to connect with kids across the country for virtual lessons on Zoom. They're also up-to-speed on current health guidelines, including vaccine and booster requirements and mask-wearing recommendations.
Based on your answers, Joe will match you with an experienced and encouraging teacher from his fleet of professionals hailing from some of the top music schools, like The Juilliard School and Berklee College of Music. Depending on your preferences, instruction can be super-structured and serious, easy-going and playful, or just about anywhere in between.
3. Start Your Music Lessons
Once you've been set-up with your handpicked instructor, you can expect them to have availability seven days a week and at just about any reasonable hour, so you're guaranteed to find lesson times that fit your family's busy schedules. Depending on how frequently you'd like to connect, you can purchase a monthly membership—that gets you one 30-, 45-, or 60-minute lesson each week for a flat fee—or a 5-pack of lessons, which enables you to schedule anytime over the next few months.
Lessons can be cancelled 24 hours in advance, so you're never paying for missed classes or scrambling to find time for make-ups. And in NYC neighborhoods where in-person instruction is available, families can switch between live and virtual instruction as needed–whether it's due to safety, travel, or simply convenience. Yeah, I wasn't kidding about the whole stress-free thing…
4. Help Bring Music Instruction to All Kids
By simply taking classes with Hey Joe, you're also supporting the team's incredible nonprofit, MusiCan. Hey Joe donates a portion of proceeds from every music lesson to support the organization, which is dedicated to bringing music programs to children at public schools in New York City's most economically disadvantaged neighborhoods. Thanks to Hey Joe families, dozens of underprivileged kids experience the joy of participating in activities like chorus, band workshop, and small-group instrument instruction each year.
If you're ready to take the first step towards kicking off your kid's music education and supporting a wonderful cause, head over to the Hey Joe Guitar Music School website for more information, or give Joe a call–or send a text–on his direct line at 646.320.3131.
Photos courtesy of Hey Joe