Kiddie Science Opens in Lefferts Gardens with Classes for Kids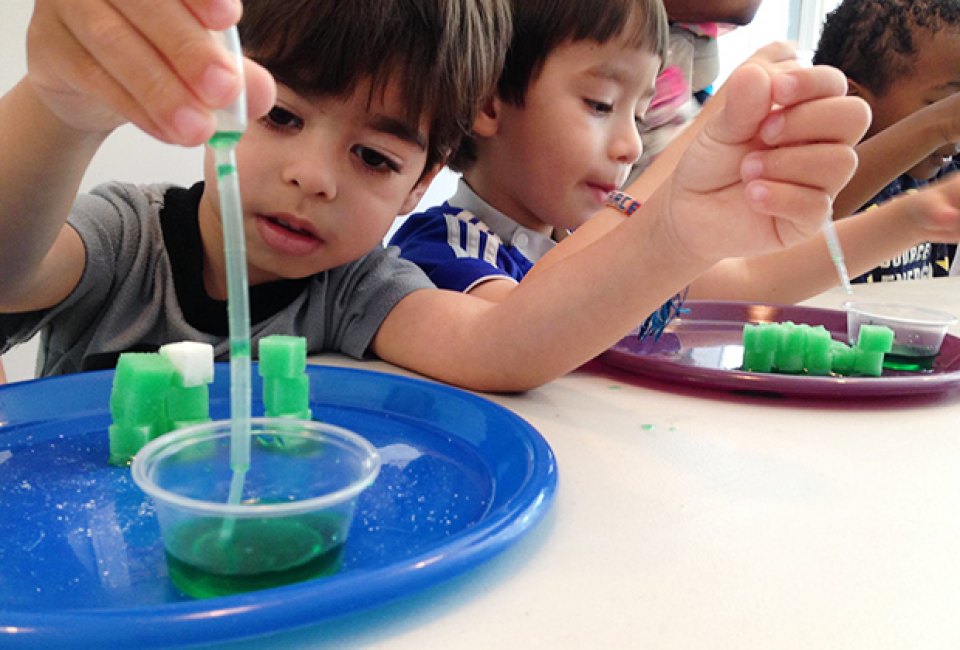 2/19/17
- By
Yuliya Geikhman
The Brooklyn-based Kiddie Science has had a roaming presence in NYC since 2013, inspiring children wherever it set up shop. But the nonprofit tot science program finally has a permanent home.
It recently opened a STEM classes and camp spot in Prospect Lefferts Gardens in a bright and renovated space that is welcoming to all ages. The location is a work in progress with plans for outdoor gardening in the small backyard and more active experiences such as yoga in the basement.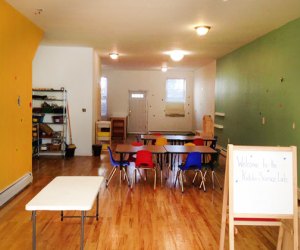 Kiddie Science's new and, at last, permanent, space.
The space itself might be new, but the program offers an established and well-thought out, inquiry-based curriculum. Launched by the affable and experienced Carmen Castillo-Barrett, a New York City teacher, Kiddie Science introduces children to scientific concepts through hands-on experimentation. Some classes are grouped by age, with the younger crowd requiring parental participation. Others are a mishmash of ages and experience levels. Class sizes vary with age, from a total of six families for smaller tots to up to 10-12 kids for older budding scientists. (Larger groups also utilize up to three staff members, ensuring every child ample attention.)
RELATED: Great Tech Camps and Classes for NYC Kids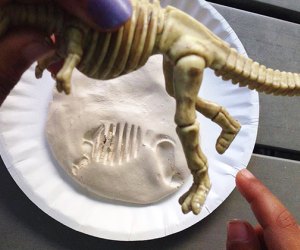 Fossils fuel young imaginations at Kiddie Space.
Regardless of age or experience level, each child eventually accomplishes a similar goal. Under varying degrees of guidance, children are led through experiments and taught scientific concepts. Children ask questions, move around, interact with the materials and the space around them, and have plenty of fun. After an initial goal is met, student inquiries guide the direction of the lesson, cultivating open-mindedness and curiosity.
Lessons draw from Earth and physical sciences, food science and urban agriculture, and biology. Programs range from electricity and states of matter to germs and the digestive system. Throughout the year children have a chance to grow their own garden fruits and vegetables and, of course, enjoy the spoils after harvest. Children also visit the Brooklyn Botanic Garden and a local farm (both located only a few minutes walk away), and occasionally get messy, all in the name of science.
Kiddie Science offers a range of time and commitment options. Parents can choose an individual class determined by age, time, and topic, or sign their kids up for a series of classes, including the after-school science program. It is also offering school vacation camps for schoole-age kids, and $20 40-minute workshops for 2-5 year olds. The latter run for as little as $20 a session. Fees generally include all materials and sometimes a healthy snack for growing minds.
Interested in a less formal gathering? Family Science is a monthly meet-and-greet at which parents are taught to be teachers. Spots fill up quickly, so register as soon as possible. Schedules are posted a month or two in advance. (If you merely want the lay of the land, Family Science tends not to fill up as quickly.) Attending just one class makes your family a "regular," which gives you a chance to register two or three weeks before the general public.
RELATED: NYC Maker Spaces for Drop-in Creator Fun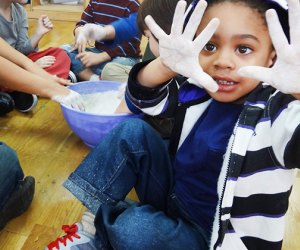 Kiddie Space is all about hands-on learning.
Kiddie Science caters to all ages, starting as early as 2 years old. This program is unique in its inclusiveness of all ages, teaching complex concepts in an age-appropriate manner and is a fun place for kids to learn about the world in which they live. It's located at 509 Rogers Avenue at Sterling Street, a block from the Sterling Street train stop (5/2) and a couple blocks from the Prospect Park stop (B/Q/S).
Photos courtesy of Kiddie Science.
Places featured in this article:
Click Here to Sign Up!
i