Disney and Saks Team up for Magical Frozen 2 Holiday Display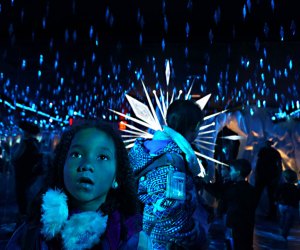 What do you get when you combine a favorite annual holiday tradition with a bit of mysterious magic and a sure-to-be holiday blockbuster? Saks Fifth Avenue's treat for all of us this holiday season. The iconic department store is teaming up with Disney to pay homage to Frozen 2 with its holiday windows and a themed in-store experience.
Both will be unveiled on Monday, November 25, with an assist from actress (and voice of Elsa!) Idina Menzel, plus a choir, a cast of characters from Frozen 2, and more. The popular annual light show at Saks will also kick off that night. Read on for details on how to see the biggest holiday store experience to hit NYC since Macy's Santaland (or the return of FAO Schwarz).
Whether you choose to see the opening night extravaganza or plan to visit at a later date, timed-entry tickets are required for the in-store Frozen 2 Enchanted Forest Experience and are wildly popular. Though many slots are completely sold out, Saks tells us cancellations may open some additional tickets, so keep checking back. You can also add your name to the email list to be notified if more tickets are released. Tickets cost $5, plus taxes and fees, and all proceeds will be donated to New York-Presbyterian's Phyllis and David Komansky Children's Hospital.
Aside from the warm-and-fuzzy feeling of giving back, the immersive in-store display promises visitors an opportunity to experience all the wonder of Frozen 2, with the film's themes of earth, wind, fire, and water prominently featured as visitors traverse the same journey Anna and Elsa take in the new film. And, yes, you'll even encounter the beloved characters.
Families can expect to spend about 35 minutes exploring the installation and all visitors ages 2 and over will require a ticket. Book now because some sessions are already selling out. The experience, held on the ninth floor of the store, runs daily through Christmas Eve with a few exceptions. Single-strollers are permitted. Pack light—there will be no coat check.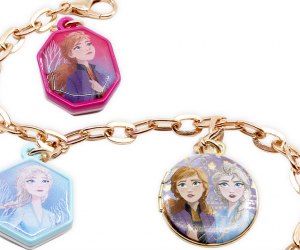 Pick up special items for your Frozen fan.
Saks has also debuted a line of Frozen-inspired merchandise, ranging from the affordable (a $16 barrette set) to the over the top ($395 limited edition Anna and Elsa dolls!) and the truly opulent (a line of Roberto Coin fine jewlery).
Nearby, explore the rest of Rockefeller Center's family-friendly fun and snap a picture with the tree...if you are brave enough to face the crowds!