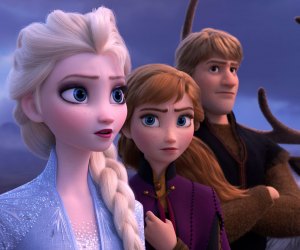 The Frozen 2 Trailer Is Out and We Are So Here for It
Elsa and Anna are BACK! Disney just released a Frozen 2 trailer, the sequel to the Let It Go fever that swept up both parents and kids a few years ago.
When Frozen debuted back in 2013, I had an instantly obsessed 4-year-old Elsa wannabe. We knew, like so many other families with young kids, that this Disney musical franchise was going to be a mainstay in our home. Catchy songs and strong, independent princesses, what's not to love?
Fast-forward to 2019, and that obsessed 4-year-old's baby sister is now a kindergartner pining to see the Broadway iteration of Frozen.
All three of us were thrilled to watch the Frozen 2 teaser together. Take a peek to see what you think! My girls are already making me promise we'll see the flick this fall.
While the teaser trailer is short on dialogue and doesn't give away any plotlines, plenty of details caught our attention.
OUR LATEST VIDEOS
Anna (Kristen Bell) and Elsa (Idina Menzel) are rocking fierce new outfits, befitting of princesses on an adventurous mission. The leggings-and-flowing-top look did not go unnoticed by my girls whose drawers are similarly stocked; or by me, who's a bit tired of the frilly dress-up gowns.
Sven, Olaf (Josh Gad), and Kristoff (Jonathan Groff) return for Frozen 2, too. A pair of mystery characters debut in a brief shared-scene appearance. Early speculation suggests these might be the roles voiced by Evan Rachel Wood and Sterling K. Brown. In my eye, they bear uncanny resemblances to Anna and Kristoff.
The glimpses of the action we do see in the trailer feel and look a little dark, from the opening frames where Elsa attempts to cross a rocky, dark sea by running across frozen patches of water to Kristoff astride Sven leading a stampede of reindeer. The final (literal) cut shows Anna brazenly removing Kristoff's sword from its sheath and taking a swipe at the screen as it goes dark.
Arendelle and its surrounding snow-covered wilderness are nowhere to be seen, replaced instead by forest draped in fall foliage.
All told, the trailer didn't leave us with much of an understanding about what's in store, but it did leave my Frozen fans, past and present, eager for more.
"We gotta see this movie," my 5-year-old exclaimed.
Like I said, we just can't let it go.
The Frozen 2 movie will debut in theaters November 22.