New York City Daycares Set to Reopen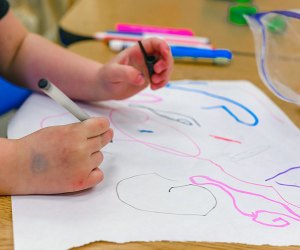 As the debate over school reopenings rages on, New York City's Board of Health voted Tuesday to allow city daycares to reopen on Monday, July 13. Daycares must meet a series of heightened health and safety protocols to reopen. The announcement affects approximately 3,000 child care providers across the five boroughs and is welcome news for working parents who may have been called back to the office with the city squarely in Phase 3 of reopening.
City-supervised daycares have been shuttered since April 6; those supervised by the state were never ordered closed.
"We want parents to know that the best quality childcare will be there for them. So, strict safety requirements will be in place," said Mayor Bill de Blasio, ahead of the Board of Health's official vote. "There'll be real social distancing requirements as well, no more than 15 kids in a room...There'll be daily health screenings, regular cleanings, constantly—very careful regulation of any items that kids might use in common. So, for example, limited sharing of toys. We need to bring back childcare quickly and safely, and that's what we are working on as we speak."
In particular, city daycare providers must abide by the guidelines laid out as part of the New York Forward plan. Highlights of the safety protocols include:
Caregivers must wear face coverings any time social distancing cannot be maintained around coworkers and at all times when caring for children.
No more than 15 children are allowed in any single room.
Contact between groups of children must be limited.
Caregivers floating between groups of children must be limited.
Enhanced cleaning and hygiene procedures must be enacted, including frequent hand washing and use of hand sanitizer.
Limit sharing toys between children and removing toys (i.e., dress-up clothes or stuffed animals) that cannot be properly sanitized.
Additionally, child care providers are asked to conduct daily health screenings of all children and employees, which can be as simple as asking about symptoms and any possible exposures.
Other suggested health precautions are encouraged, including creating a one-way flow of traffic throughout hallways, setting up a staggered arrival and dismissal plan that also allows for a six-foot distance between staff and parents/guardians, and limiting any non-essential visitors to the site.
Providers are required to report any positive COVID-19 diagnoses of children or staff to the Department of Health.
Summer camps were the first form of child care to return with some reopening June 29. And though daycares have now been given the green light, it's unclear how many centers will be ready to open their doors Monday, as classrooms may need to be reconfigured and supplies procured.