SPONSORED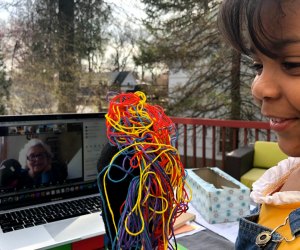 Dwight-Englewood Offers Customizable Online Camp for Preschool to 12th Graders
At Dwight-Englewood School's virtual summer camp, kids can experience much of the same fun and camaraderie they'd expect out of a traditional day camp, from home. Flexible and highly-customizable, D-E 360° Summer Connections online camp offers a huge selection of live classes and activities for preschoolers to 12th graders, with the option for families to enroll their kids for one week, two weeks, five weeks, or all six weeks the camp runs.
Whether you've got a gamer, film buff, ballerina, budding activist, or musical prodigy at home, the virtual camp experience at D-E 360° Summer Connections is tailored to your child's personal interests. Each week, campers create their own curriculum from the seriously extensive course catalog, which includes classes on sewing, origami, coding, broadcast journalism, writing, animation, and dance—just to name a few.
Traditional Camp Experience from Home
For the youngest campers—PreK3 to grade 5—the Live Virtual Camp Adventures & Discoveries program offers live daily programming with experienced teachers from 9:00am to 11:30am, featuring daily sing-a-longs and group activities like art, yoga, acting lessons, and poetry workshops. Thanks to a weekly drive-through pickup option at the D-E campus in Englewood, NJ (mail delivery is available for an additional fee), kids are conveniently equipped with all the necessary supplies. Quintessential traditions like Pajama Day and Crazy Sock Day create traditional summer camp fun—2020 style. To add to the scheduled program hours, "AnyTime" activities can be done at home on campers' own time, providing additional hours of camp fun whenever it fits your schedule.
Customizable Virtual Camp Program
For the grade 2 to grade 12 crowd, D-E 360° offers the option to create a totally à la carte enrichment program, packed with immersive master classes and seminars covering a wide variety of topics. Led by master level faculty and running daily from 9:00am to 12:00pm on Zoom, these group courses cover everything from Dungeons & Dragons and physics to stop-motion animation and creative writing. Meanwhile, musicians can participate in one-on-one lessons with experienced music faculty. There's even a Driver Education Theory course available for New Jersey residents who are 15 1/2 year olds and up.