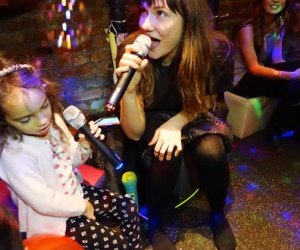 NYC DJs and Venues for Rocking Kid Karaoke Birthday Parties
Karaoke parties are wildly popular for kids of all ages, so we've rounded up some of the best local DJs who host them, plus New York City venues where kids can belt the day away.
From tot sing-alongs to tween and teen rock-out sessions, it's a thrill to grab that mic and belt out the lyrics to favorite songs. Taking a family jam session to a full-blown karaoke bash can make for an extra special birthday party for your kid. Many DJs will bring the whole party to you, complete with microphones, song libraries, and even music games for the kids.
Read on for more details on the best karaoke DJs and party spots in NYC, and check out our Party Guide and Party Directory for more party-planning ideas.
Mobile DJs
Big City Karaoke
551-497-8356
Big City Karaoke travels throughout NYC, facilitating karaoke parties for kids of all ages, though it finds tweens are its biggest fans. It'll come to you or host at a venue of your choice. Iggy's, an Upper East Side karaoke and sports bar, and Dylan's Candy Bar are two popular options. If the venue doesn't have karaoke screens, founder and mom, DJ Brooke Edwards, and her team set up a TV at eye level, so kids can sing along to their favorite tunes; parents can pre-approve the song list. Between tunes, sweet birthday messages appear on screen as an add-on option. The party crew also helps facilitate extra party fun like a round of limbo or hot potato. It can also provide extra lights and goody bags.
A Touch of Class
718-966-0255
This Staten Island company will travel anywhere in Manhattan to help make your child's party memorable. In addition to hosting your karaoke bash, it also has very cool add-ons like a photo booth and giveaways for the kids. The company provides all the equipment for a great party, including special lighting for the singers. Kids request their favorite songs and perform, either in groups or solo, while staffers encourage young guests to dance and sing. "Our DJs play music-themed games that will keep the kids entertained, and every kid walks away with a prize," adds company owner Louis Cooper. The company provides a big book of songs for kids to select from in advance and can arrange a party around a themed list.
RELATED: 6 Awesome Artists for a Craftacular Party

Get into the groove with Expressway Music karaoke.
Expressway Music
212-953-9367
Expressway Music DJs come to your home or party venue fully equipped for karaoke fun, toting an up-to-date karaoke song library (including Broadway hits!), microphones, a TV-monitor for song lyrics, and speakers. Owner David Swirsky says his karaoke DJs excel at kid parties starting as young as 4 up to around age 11. "They have to genuinely love kids and have a sensitivity to them. They have to be gently encouraging without being pushy," he says. They also do many bar/bat mitzvahs, taking on DJ duties and leading the karaoke jams. If there's a lull in the karaoke, DJs are prepared to play music and lead games to keep the party going.
Small World Puppets & Entertainment
631-447-9092
Long-Island-based Small World has been entertaining New York families for 26 years. It travels citywide and offers custom packages based on age, ability, and audience size. DJs bring the mics and the video monitor and have more than 25,000 songs from all genres in its karaoke library. "All music is prescreened for explicit content, and music lists are provided for selection by parents," explains production manager Nicole Douglas. With children, she adds, "We like to make it fun and less formal; sometimes children shy from the spotlight." She adds props and backdrops to up the fun, along with top-notch sound equipment, lighting, and a plethora of extras from face-painting and balloon sculpting for younger party-goers to upgrades like a photo booth, snow-cone, popcorn, or cotton candy machines, and more. As the name implies, Small World Puppets and Entertainment offers a variety of other party services, too.
Sing4Karaoke
201-410-7891
All Sing4Karaoke party packages start off with the basics: DJ music, karaoke, line dancing, games, disco lighting, and party favors for up to 20 guests. Add-ons include craft projects like sand art, temporary tattoos, nail or face painting, and more. Opt for photo sessions that include fun party props and up to 100 4x6 photos printed instantly! Packages can be customized based on the guest of honor's preferences, age, and theme.
Baby DJ School
646-836-2729
DJ Natalie Weiss hosts DJ classes for tots that eschew the nursery rhyme staples, focusing on modern beats. She earned our seal of approval as one of the best baby-&-me classes in Brooklyn. And guess what? She'll bring the sing-along party to you for a tot-friendly, tune-and-dance fest at a karaoke venue of your choosing. They'll show up with DJ equipment, a bubble machine, kid-friendly instruments, laser lights, and more as kids belt out "Let It Go" and test out their Whip/Nae Nae moves. A variety of other birthday packages are also offered.
RELATED: 10 Music Day Camps for NYC Kids This Summer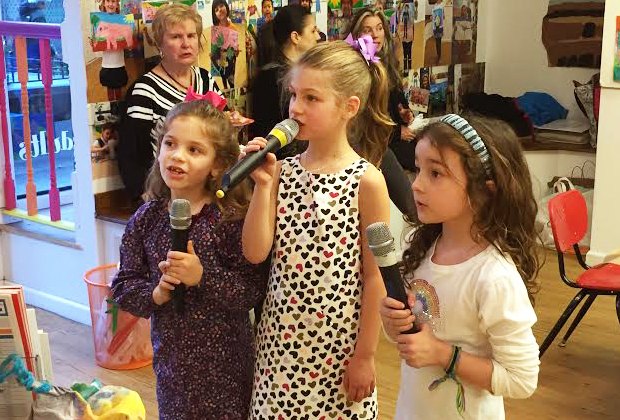 Combine karaoke with crafting for a true DIY party at Kids at Art.
Family-Friendly Karaoke Venues
Kids at Art — Upper East Side
1412 Second Avenue (between 73rd and 74th Streets)
212-410-9780
This adorable children's art studio on the Upper East Side hosts an "Arts and Karaoke" combo birthday party package that's a big hit with DIY kids. Partiers create a selected project (DIY umbrella, tote bag, T-shirt, etc.) and then sing! DJs from Expressway Music (see above) provide a fun, non-intimidating environment for all kids.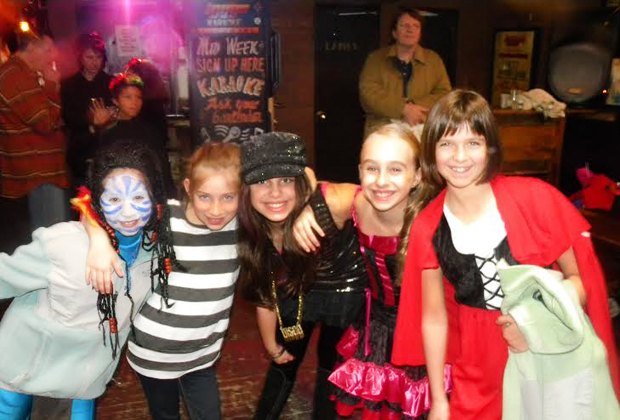 Karaoke parties at Iggy's aren't just for grown-ups.
Iggy's — Upper East Side
1452 Second Avenue (between 75th and 76th Street)
212-327-3043
You might know Iggy's as a grown-up karaoke bar, but daytime and early evening hours are for the kids! Parties include karaoke, soft drinks, and pizza. Raised screens right off the bar let kids to see the words to sing along with their friends. Fun add-ons include a chocolate fountain, sound-check rehearsal, extra food, face painters, and more. Iggy's can even coordinate a themed karaoke party, such as Rock Star Diva, Frozen, Katy Perry, Pirates of the Caribbean, and more. As for the singing part, with more than 300,000 songs to choose from, there is truly something for everyone. There is a 20-person minimum to book a party.
Nemo NYC — Union Square
54 East 13th Street (between Broadway and University Place)
212-477-1177
Although Nemo NYC is a popular place for happy hour, it also hosts kid karaoke bashes. Parties include a private room, pizza, fries, soda, chicken wings, balloons for the room, as well as the whole karaoke setup. Parents pick songs in advance. There is a five-kid minimum to book a party.
The Craft Studio — Upper East Side
1657 Third Avenue (between 92nd and 93rd Streets)
212-831-6626
The colorful Craft Studio offers lots of party options, including karaoke. Especially popular among tweens, karaoke parties take place after hours, giving partygoers the entire 2,000-square-foot studio to party the evening away. The venue supplies mics and has a TV for kids to view the lyrics on-screen. Add-ons include a chocolate fountain, giveaways, glitter tattoos, balloon bouquets—you name it. An on-site party planner can help mom and dad arrange everything.
This post originally published in February 2016 has since been updated.
Top image: Baby DJ School with DJ Natalie. All photos courtesy of the venues.