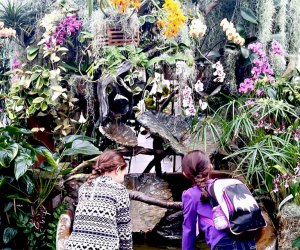 Beat the Winter Blues at Unique & Free Indoor Spots in NJ
You've bounced at trampoline parks, visited all of the play spaces, and tried all the indoor activities you can think of—and it's STILL winter. If you're looking for some alternatives to the usual indoor fun spots, you've come to the right place: we've rounded up eight FREE NJ locales that can help you escape the winter doldrums without breaking the bank.
From admiring exotic orchids and art to visiting a charming children's library, you can mix up the routine while staying warm. For more no-cost fun, don't miss our roundup of free indoor play spots.
Atlantic City Convention Center Atrium – Atlantic City
While Atlantic City is usually known for its casinos and beaches, there's plenty of art to behold, too, especially inside the Convention Center Atrium. Gaze up at artist Jonathan Borofsky's five flying fish sculptures, which soar close to the 90-foot high ceilings in this striking space. Or, check out the 27 cast stone sculptures that are displayed along the atrium walls, paying homage to sea creatures, including seahorses, crabs, and starfish. Travel up to the fourth floor and admire man's best friend in costume—artist William Wegman's famous photographs of weimaraners are featured in an exhibit titled Six Scenic Scenes.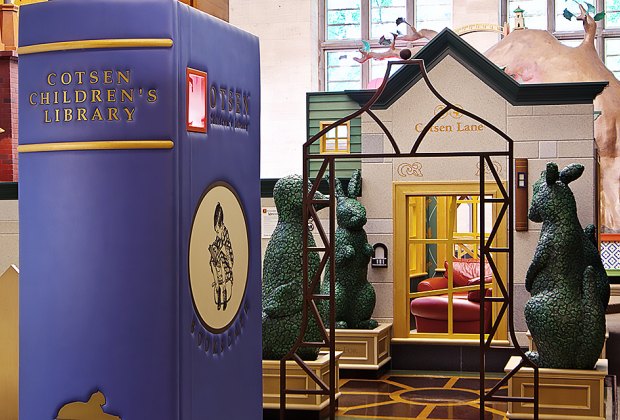 The enchanting Cotsen Children's Library is a cozy spot to while away a winter day.
Bookscape, Cotsen Children's Library – Princeton
Sparking little imaginations, this enchanting reading space is the bright and whimsical invention of James Bradberry, an architect from Pennsylvania. A garden of topiary animals welcomes guests who find that the room practically begs you to curl up with a good book. Don't miss the "Hearth of Darkness," a fireplace located inside the house section. A soaring, hollowed out bonsai is the perfect reading hideaway, but equally fun are the puppet theater and wishing well. Check the calendar for fun programs and events held year-round. Making a day of it? Find more fun things to do in Princeton with kids.
RELATED: Free Admission for Kids at 50 of NJ's Biggest Attractions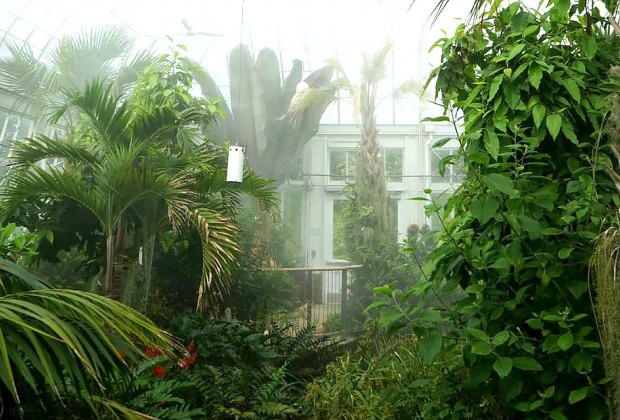 At Duke Farms you can get a dose of warm weather and gaze at the amazing orchids in the Tropical Greenhouse.
Duke Farms Orchid Range and Orientation Center – Hillsborough
Start at the Orientation Center on the first floor of the historic Farm Barn, where displays and interactive exhibits teach about Duke Farm's mission and sustainability. You can also check out upcoming classes and events, and enjoy refreshments at the café. Next, warm up with tropical temps in the Orchid Range. You'll have to do some outdoor walking to get there, but once inside you'll have a chance to gaze at the delicate blossoms in the Tropical Orchid Display, where plants that are native to the U.S. are on view. The first ornamental building constructed on the site, the Orchid Range also includes a footbridge over water (with fish), along with ferns, palms, and other native plants. Read about more fun things to do at Duke Farms.
Grand Arcade – Asbury Park
Located between the iconic Jersey Shore landmark Convention Hall and the Paramount Theatre, the Grand Arcade is a great spot to stroll in a historic setting. With shops and eateries, there's plenty to see and sample for lunch or a quick snack. Depending on the time of year, you may find free performances or holiday-themed events and bazaars.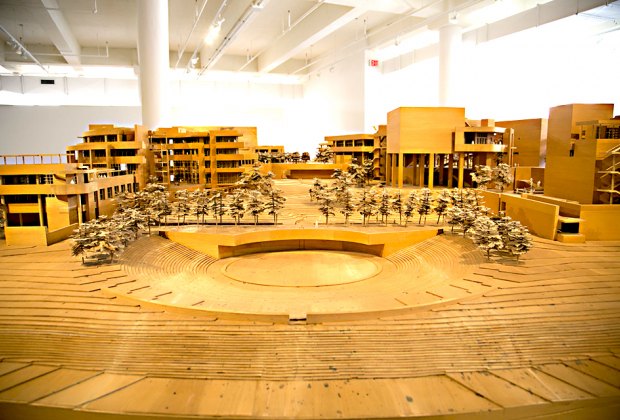 The Richard Meier Model Museum reveals the design process behind a legendary New Jersey native and his architectural practice.
Mana Center – Jersey City
One of the largest contemporary art organizations in the country is right here in Jersey City. Housed inside a former tobacco warehouse, Mana is home to a wide range of disciplines including painting, sculpture, photography, dance, film, sound, and performance, which means there's something for everyone. To view Mana's exhibitions Tuesday to Friday, visitors must attend a tour—but on Saturdays, tours are optional. Within this spacious facility are mini-museums such as The International Center of Photography and the Richard Meier Model Museum, which have gallery spaces that are open by appointment.
Princeton University Art Museum – Princeton
With more than 100,000 works across an array of media, you many need to visit these collections more than once to take it all in. Works of art range from ancient to contemporary and represent Asia, the Americas, Mediterranean regions, and Western Europe. Check the events calendar for 'Art for Families' on Saturdays, when you can create a masterpiece of your own.
Rutgers Geology Museum – New Brunswick
Mini archeologists will "dig" checking out this museum's collections, some of which date back to 1836. From minerals to fossils, you'll learn plenty about the Garden State's geology. The Museum is open Tuesdays through Saturday. Public tours and lectures provide additional opportunities for understanding the natural world.
RELATED: 16 Stores That Offer Free and Cheap Classes for NJ Kids

Trailside Nature Center's Children's Discovery Room is designed for young children.
Trailside Visitors Center – Mountainside
In addition to state-of-the-art exhibits where kids can learn all about Garden State forests, visitors can admire a towering 34-foot American beech tree, which takes center stage inside the building's atrium. Get ready to see birds, nests, and other surprises hiding in the branches and leaves. A night theater will entrance and delight the whole family as you discover what happens in nature long after humans go to sleep. Get a glimpse at Native American life at the Lenape exhibit, where children can hang out inside a wigwam and learn more about how they lived. Read about other NJ nature centers, some of which also include indoor spaces.
Unless noted, photos courtesy of the venues