SPONSORED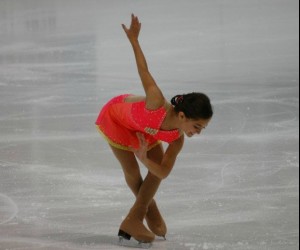 Best Places for Ice Skating Lessons in NJ
It's the perfect time of year to lace up those skates and hit the ice. New Jersey is home to some great outdoor ice rinks as well as plenty of indoor skating arenas. If your kids are dreaming of becoming Olympic figure skaters or professional hockey players, you might be thinking of signing them up for skating lessons. We've found some great skating programs across the state that will have your kids going for the gold, or at least not falling down as much. From Mommy and Me classes to advanced figure skating and hockey lessons, your kids will be ready to compete, or just show off, in no time.
Bridgewater Sports Arena – Bridgewater
Bridgewater Sports Arena offers "Learn to Skate" group classes for skaters ages 4 to adult. Classes are divided by skill level and age. Programs are offered for all abilities and focus on the FUNdamentals of skating which emphasize both fun and safety. No prior experience is necessary. The Bridgewater Sports Arena also offers Special Olympics Sports Skills Programs for people with both intellectual and physical disabilities. For more information, including schedules and pricing, contact the skating office at (732) 627-0026 x112.
Clary Anderson Arena – Montclair
The Clary Anderson Arena offers 7 week "Learn to Skate" group sessions for all ages and skill levels. Mom and dad can get in on the fun with children ages 3-5 during Mommy/Daddy and Me classes. Children ages 4 to 17 can enroll in a variety of classes for every skill level. In addition, the Arena offers private skating lessons. For more information call 973-744-6088.
Codey Arena – West Orange
Codey Arena is open to the public year round for skating, group skating lessons, private ice skating lessons and birthday parties. The "Learn to Skate" program introduces skaters to the United States Figure Skating basic skills program of ice skating. Classes are offered during the fall, winter, spring and summer seasons for six, seven or eight weeks. The arena also offers private skating lessons that include both on and off the ice options. For more information contact Laura Klinger, the arena's skating director, at 973-731-3828 x223.
Howell Ice World – Howell
The Howell Ice World Skating Academy offers a variety of skating programs. They boast an international and national senior level coaching staff in addition to an entire staff of United States Figure Skating registered coaches. Their "Learn to Skate" program program has been developed by the USFS and is designed to provide students with the skills appropriate to their age level. The program consists of a comprehensive lesson structure that is rewarding, safe and fun. The "Learn to Skate" program is designed to develop skills that students need to move on to their advanced figure skating and hockey programs. For more information email Adriana Ryan at aryan@howelliceworld.com.
Ice House – Hackensack
United States Figure Skating (USFS) ranks the Ice House "Learn to Skate" program the #1 Basic Skills program in the entire country. The program consists of a comprehensive lesson and testing structure that is exciting, rewarding, safe and fun. Whether your goal is to achieve Olympic fame or to simply enjoy the recreational benefits of skating, the Ice House LTS program is ideal for everyone. Classes are available for ages 2 to adult. For class schedules and registration information call 201-487-8444.
Ice Land – Hamilton
For the past 19 years,the dedicated staff at Ice Land has been teaching skaters of all ages. They offer programs for any age and level of experience. With their "Learn to Skate" program, helpful instructors will teach you the basic moves in no time at all. As skaters progress through the levels of the program, each session offers new, exciting challenges. Ice Land also offers a "Learn to Play Hockey" program that focuses on basic hockey skills including skating, puck-handling, passing and shooting. For more information, call 609-588-6672.
Igloo Ice Skating Rink – Mt.Laurel
The Igloo, a state-of-the-art facility, offers skating lessons for ages 3 to 99. All lessons are under the tutelage of professional coaches. Each skater receives a log book and badges for all completed levels. Lessons include a half hour of instruction and a half hour of practice time. Group lessons include Parent & Tot, Snow Plow Sam beginner classes, Hockey Levels 1-4, Basic Skating levels 1-8 and Adult. Private lessons are also available. For more information call 856-638-0801.
ProSkate Ice Arena – Monmouth Junction
This twin rink facility is open year round and offers an Olympic size surface ideal for beginning and competitive skaters. They offer a wide variety of skating programs for all ages and skill levels. ProSkate is also a member of the International Skating Institute. Little ones and parents will enjoy learning the basics during Proskate Parent/Me classes. Group classes are also offered for kids ages 3 and up. The arena also offers an "Intro to Hockey" program. For more information call 732-940-6400.
Protec Ponds Ice Skating Center – Somerset
The Protec Ponds Ice Center boasts an award winning "Learn to Skate" program. Group classes are available for skaters ages 2 through adult. Classes are designed to teach skaters the basic skating skills needed to confidently skate on their own along with the skills necessary to progress into the sport of figure skating or hockey. No prior skating experience is necessary. Private lessons and summer skating camps are also available. For more information contact Whitney Trif at 732-868-9181 x101 or email skate@protecponds.com.
Skate Zone – Atlantic City, Vorhees and Pennsauken
Learn to skate and play hockey at the official training facility of the Philadelphia Flyers. The Skate Zone's "Learn to Skate" program is a beginner skating program taught by certified instructors and coaches. Lessons are available for children ages 3 and older. Skate Zone also offers "Learn to Play Hockey" lessons for both boys and girls. For more information visit the Skate Zone website.