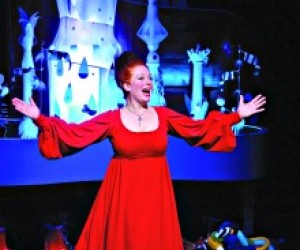 Mommy Poppins Event at the New Victory Theater: Still Awake Still! Discounted Tickets & Special Activities on Sat, January 18
We're major theater lovers at Mommy Poppins so of course we're big fans of the New Victory Theater and its amazing family shows from around the globe. We are thrilled to be partnering with the theater again to host a fun-packed Mommy Poppins Event at the New Vic on Saturday, January 18 at 3pm. At this exclusive gathering, Mommy Poppins readers can enjoy the kid-friendly cabaret-style musical Still Awake Still!, participate in an interactive preshow workshop, and stick around afterward to meet the performers and decorate a delicious handmade cookie compliments of our friends at Cookie Party.

Read on to find out more about this special Mommy Poppins event and how you can save 20% on tickets.
Still Awake Still! is a comedic cabaret-style show for children ages 4 to 7 commissioned by the Sydney Opera House in Australia. It's based on the 2009 children's bedtime book/album I'm Still Awake, Still! by author Elizabeth Honey and composer Sue Johnson about the Queen of Sleep who can magically send little ones off to dreamland with a few notes of her soothing songs. However, on this particular night, surprise visitors pop out of her piano and cause mischief and mayhem with hilarious, non-restful results. With live music, lots of laughs, an easy-to-follow story and a brisk 45-minute running time, Still Awake Still! is a great first-time theater experience for youngsters and a wonderful introduction to all the New Victory Theater has to offer family audiences.

For our special Mommy Poppins Event, readers are invited to arrive an hour before showtime for an interactive Arts Express workshop in the lower lobby. Kids can explore the show's themes by crafting sleep masks, navigating a sleepwalk maze, playing a lullaby-themed Mad Libs-style game and other creative activities with New Victory teaching artists.

After the show, Mommy Poppins will host an exclusive reception where kids can meet the Queen of Sleep herself along with the rest of the cast. The performers will sign complimentary posters and kids can also decorate a sweet treat with our friends from Cookie Party. Bonus: Save 20% on select seats by using the code MP4510 when you place your order. It's going to be a great evening so be sure to get your tickets today.

Mommy Poppins at the New Victory Theater: Still Awake Still! takes place on Saturday, January 18 at 3pm at the New Vic, 209 West 42nd Street between Broadway and Eighth Avenue. Preshow activities begin at 2pm. Tickets are $14-$38 but you can save 20% on orchestra and mezzanine tickets to this performance by using the code MP4510.
Photo courtesy of The New Victory Theater and Elizabeth Honey