Mommy Poppins Night at the New Victory Theater: Me and My Shadow Discounted Tickets and Special Activities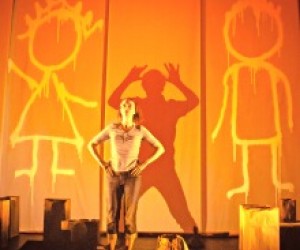 Last week, we announced our brand-new partnership with the New Victory and gave you an in-depth preview of the theater's unique, globe-spanning season of family shows. As part of our collaboration, we're proud to announce the first-ever Mommy Poppins Night at the New Victory Theater on Sunday, October 20, an exclusive event where our readers will enjoy a terrific family production, Me and My Shadow, participate in an interactive pre-show workshop and meet the performers afterward.

Read on to find out more about the show, the special kids' activities and how you can save 20% on tickets.
Me and My Shadow by Australia's Patch Theatre Company has won several family theater awards, including the prestigious Helpmann Award for Best Presentation for Children in Sydney. At just 45-minutes with an easy-to-follow story, it's a perfect first-time theatergoing experience for young children and a wonderful introduction to the New Victory Theater's offerings. Aimed at children ages 4 to 7, the inventive and visually engaging show uses paper props, glow-in-the-dark set pieces, music and shadow puppetry to explore the friendship between a girl and her clever shadow.

For our special Mommy Poppins event, readers are invited to arrive an hour before showtime for an enriching hands-on Arts Express workshop in the lower lobby. New Victory teaching artists will show kids how to craft simple shadow puppets out of paper bags and other everyday items, and more creative activities.

After the show, Mommy Poppins will host an exclusive meet and greet with Sarah Brokensha and Tim Overton, the cast of the charming Me and My Shadow. All kids will receive a complimentary poster (great for autographs), and everyone will be home before bedtime. Plus, you can save 20% on tickets by using the code MP4257 when you place your order. It's going to be a great evening and availability is extremely limited, so be sure to get your tickets today.

Mommy Poppins Night at the New Victory Theater: Me and My Shadow
The New Victory Theater, 209 West 42nd Street between Broadway and Eighth Avenue
Sunday, October 20 at 5pm; preshow activities begin at 4pm
Tickets are $14-$38 but you can save 20% on this performance by using the code MP4257
Can't make it this month? Plan ahead: We'll be hosting a similar event on Saturday, January 18 for kiddie cabaret Still Awake Still. Don't worry: We'll definitely remind you about it!
Photo courtesy of The New Victory Theater and Dan Brown.