9 Car-Free Day Trips Los Angeles Families Can Take on Metrolink Trains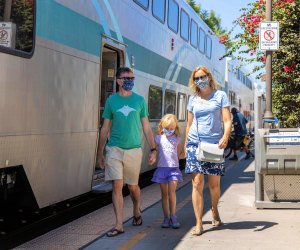 6/12/21
- By
Jessica Laird
Nothing spoils a fun family outing like sitting in bumper-to-bumper traffic or desperately searching for parking once you finally reach your destination. That's why we're big fans of car-free getaways! And with a recent weekend service expansion on Southern California's Metrolink rail system, plus the new "Kids Ride Free Weekends," there's never been a better time to plan a day trip to one of the many awesome spots easily accessed by train.
Since 1988, Metrolink has been taking pressure off the freeways and reducing greenhouse gas emissions, while providing SoCal locals with safe, efficient, and reliable rides to work, school, family, and fun. Now, just in time for summer—and for the first time in its history—Metrolink has launched a new Saturday service on the Ventura County Line, which connects Ventura County residents in Moorpark and Simi Valley through the San Fernando Valley stations at Chatsworth, Northridge, Van Nuys, Burbank Airport and Burbank Downtown and Glendale with Los Angeles Union Station. All Metrolink lines except Riverside now also have a weekend service that can take families to popular destinations across Southern California.
And, to make your car-free day trips even easier, kids ride free every weekend on Metrolink. For just $10 per adult, kids ages 17 and under can actually ride for free with no ticket required.
Of course, all this news has had us thinking about all of the family-friendly Southern California day trip destinations that are a hop, skip, and jump from Metrolink stations. Here are some of our favorite family outings convenient to Metrolink.
Discovery Cube LA
Orange Station - Calling all science lovers young and old! Discovery Cube LA is one of the best local museums, featuring interactive STEM attractions that encourage visitors to explore, ask questions, learn, and touch everything—making it perfect for little ones. Spend a few hours making your way through more than 50 hands-on exhibits designed to spark kids' natural curiosity, including favorites like Inspector Training Course, Early Learners, Planetary Research Station, and more.
San Fernando Mission
Sylmar/San Fernando Station - Founded way back in 1797, Mission San Fernando is the seventeenth Spanish mission to be built in California. This active parish features a simple adobe church and a beautiful convento—the padre's quarters and a guest house—both open to visitors. Families can also explore displays and paintings in the on-site Archival Center for the Archdiocese of Los Angeles, as well as sculptures in the two sprawling landscaped gardens. Remember this one when it comes time for that 4th Grade Mission project!
America's Teaching Zoo at Moorpark College
Moorpark Station - This five-acre enclave might be smaller than the average zoo, but it's just the right size for small kids. Get up close with nearly 200 exotic animals who call this student-run teaching zoo their home, including Ira the lion, alligators, geckos, monkeys, tigers, camels, snakes, ocelots, and more. Visitors can also check out fun shows and demonstrations, where animals engage in enrichment activities ranging from painting with primates to water buffalo football.
Americana at Brand
Glendale Station - Americana at Brand in Glendale is a huge shopping, dining, and entertainment complex with over 82 shops, internationally recognized eateries, and a trolley that kids can't resist riding. Whatever you do, don't miss Waters of Americana, an animated musical fountain that performs every hour on the hour. It's located at the central lush two-acre park, which is once again buzzing with family-friendly activities like storytimes, Stroller Strides fitness classes, and live entertainment.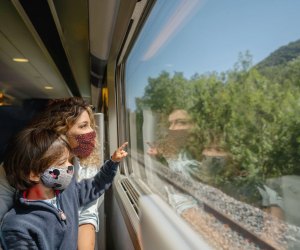 Glendale Galleria
Glendale Station - It doesn't feel like it, but this shopping center is actually the fourth largest mall in all of Los Angeles County! Check out the first ever Disney Store, which opened in the Glendale Galleria in 1987, the Lego Store, or do some serious shopping at the world's first three-story Target store. Oh, and you wouldn't forget to stop by See's Candies for your free sample, would you? Teens and tweens will also likely appreciate that pop singer Billie Eilish used the complex as the backdrop for her 2020 "Therefore I Am" music video.
Ronald Reagan Presidential Library
Moorpark Station - While a presidential library may not seem like your typical kid destination, there are a surprising number of hands-on activities and engaging exhibits at this Simi Valley spot. Tour Air Force One, check out a chunk of the Berlin Wall, explore a full-scale replica of the Oval Office, and even meet a hologram of Ronald Reagan himself. Plus the grounds at the 100-acre museum are totally breathtaking, and perfect for a picnic lunch. Pack your own or pick something up at Reagan's Country Cafe.
Burbank Aviation Museum
Burbank Airport – South Station - Located in Valhalla Cemetery, the Burbank Aviation Museum—also known as the Portal of Folded Wings—is a 75-foot-tall "Shrine to Aviation" and the burial site for fifteen industry pioneers. The ornate marble mosaic structure also houses an incredible array of memorabilia and documents collected with the help of aviators, engineers, designers, fabricators, and other enthusiasts. You'll find a large-scale model of the space shuttle that was created to honor fallen astronauts. This little-known museum is a real find for kids who love airplanes and space.
North Beach
San Clemente Station - How about a beach day in a coastal town you may not have visited before? Running right along the Ole Hanson Beach Club in San Clemente, this beautiful stretch of beach features picnic tables, fire rings, swings, and volleyball courts for the whole family to enjoy. Cute nearby coffee shops and other stores for beachgoers also add to the charm. North Beach is the northern starting point of the San Clemente Coastal Trail, a multi-use trail that offers walkers, runners, and cyclists a way to explore the coastline that runs down to Calafia Beach at the south end.
Stoney Point Park
Chatsworth Station - Take the kids rock climbing! Stoney Point, which is also called the Stoney Point Outcroppings or Chatsworth Formation, is a Los Angeles City park near the north end of Topanga Canyon Boulevard. It's a popular destination for hikers, equestrians, and especially rock climbers—because of its large boulders. Head to the very top of the rock formation for excellent views of Chatsworth, the Santa Susana Mountains, Coyote Pass, and the entire San Fernando Valley.