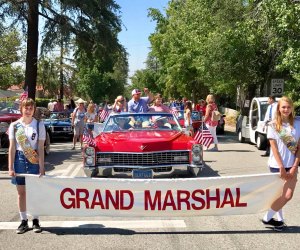 4th of July Weekend: Best Things To Do in LA with Kids
This weekend we celebrate our freedom. Freedom to see the red, white, and boom of fireworks all over the Southland. 4th of July fireworks this weekend in LA take place over water, sporting arenas, theme parks, and iconic amphitheaters … which will you choose? Freedom to watch the parades marching by, to go to carnivals and patriotic concerts, and more. You are free to revisit favorite summer activities in LA (like Bubblefest) and free to discover new ones (like Boat Cinema). You are even free to learn about our freedom in a new animated series from the Obamas.
You are free to spend your weekend discovering new and amazing things to do with kids in Los Angeles, which you'll find on our Summer Fun Guide, or free to get out of the city this holiday weekend with a day trip, camping trip, or family adventure.
Feel free to keep reading for the best events and things to do in LA this Fourth of July weekend!