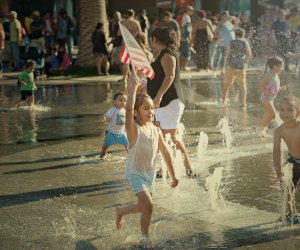 July 4th Weekend Things To Do with LA Kids: Red, White, and Kaboom!
The upcoming holiday is all about the red, white, boom. We have fireworks up and down the Southland. Fireworks with a concert. Fireworks c'est chic. Fireworks with skydivers. Fireworks with baseball. Fireworks with soccer. Fireworks fireworks fireworks. A parade. Fireworks. Legoland, Knott's Berry Farm, and Disneyland all have fireworks, and this year, so does Universal.
But the fireworks are mostly a Thursday thing (unless you want them Wednesday Or Friday. Or most of the weekend. ). So what will you do with the rest of the weekend? What. Will. You. Do????
((((snicker))))
I laugh because, hello, Mommy Poppins: our job is to give you the scoop on totally fun times with kids! Things like superheroes and dogs and men on the moon! Free Shakespeare, free movies, free crafts, free concerts, and, what's that? Kaboom, baby! Fireworks 'til we can't firework no more. Independence Day, mamas!
Keep reading for some of our most patriotic picks for this weekend ....