A Playground in a Movie Theater? For Real? For SoCal!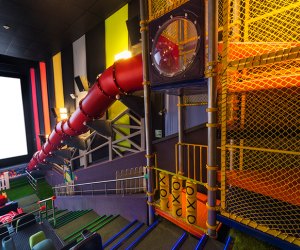 Cinépolis, the Latin American movie theater chain, debuts one of its most family-friendly features in Southern California this weekend—but when we say feature, we're not talking movies. The cinema giant has had big success with its innovative movie theater playgrounds for antsy kids south of the border, and two of its US locations are poised to let local kids give it a try. Thinking of seeing Beauty and the Beast this weekend? Why not see it where little ones can romp if the action feels slow, scary, or otherwise less appealing than a giant slide?
The two locations opening a Junior Room this weekend are in Pico Rivera, east of Downtown LA, and in Vista, east of Carlsbad. Neither location is prepared to commit yet to what time the first, much anticipated screening will be; apparently both theaters still have construction crews working up to the last minute. We have been assured, though, that sometime this weekend the new rooms will open, and the first movie your bouncing bundles of joy can alternately enjoy and ignore is to be Disney's new live action Beauty and the Beast, which opens nationwide this weekend.
The Junior Rooms (or Junior Salas, as the rep I spoke to called them) feature a play area near the screen as well as a jungle gym, slides, stationary pogo sticks, a small carousel, and hanging bags filled with foam in the space. Special theater seating includes cushy beanbag chairs and some family style seating as well. Parents in Latin America have shown Cinépolis that they enjoy a chance to watch a movie as a family without needing to restrain or apologize for their kids; it seems pretty likely that SoCal families will follow suit.
The movies that are planned for Cinépolis Junior are not the Mommy and Me adult movies that some local theaters offer for movie-starved parents of infants; the Junior Room is a space dedicated solely to family flics (next up will be The Smurfs in April). The idea is a family outing without the usual pressure, which may be particularly appealing for families with kids of different ages. If not everyone in the family is equally excited about seeing Beauty and the Beast, there's always the slide.
Although prices are not yet available as we publish this post, Cinépolis says the ticket price for movies in the Junior Room will be roughly $3 more than a normal ticket at the same time of day. For that extra $3, kids are allowed to enter the space 15 minutes early to enjoy the play structures and stay about 15 minutes after the movie finishes.
If you want to be among the first Southland families to check out the new space, Cinépolis (562.205.3456) should be ready to announce the time for the first public screening sometime on Friday.
RELATED: Parent Reviews of Kids' Movies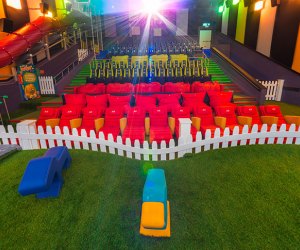 Photos courtesy of Cinépolis