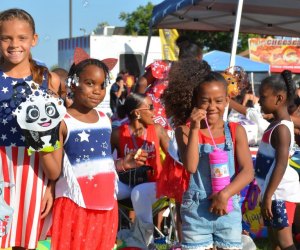 25 Cool Things To Do in LA this Weekend with Kids: First Fireworks, Railway's Last Run
Y'all might not have noticed, but it is now officially and truly summer in these parts, and the events this weekend reflect it. There's a rooftop block party, camping and fishing in local parks, and a music and art fest featuring Las Cafeteras. And those are just a few of our favorite things to do in LA this weekend! We are minutes away from the 4th of July weekend, which—spoiler alert—is going to have fireworks aplenty this year. In fact, some are even taking place early, like this weekend.
And while favorites, like the Hollywood Bowl and the Cabrillo Aquarium, are back, we're also saying goodbye to a beloved local railway. There's still time for one last ride into the sunset, so grab your tickets and climb aboard.
It's time for beaches, summer camps, hot summer blockbusters, blooming lilac fields, and all manner of fun in the sun—just check out our Summer Fun Guide for all the best summer activities in LA. Meanwhile, keep reading for our hottest picks for this weekend in LA...
Sign up for our weekly newsletter to have all the latest and greatest from Mommy Poppins arrive in your inbox. There's also a new national newsletter with fun crafts, recipes, and boredom busters to keep kids busy all summer. We also recently added the chance to book virtual camps and classes right on Mommy Poppins!