Santa Anita Park Spring Carnival
Santa Anita Park

KidStock
Pretend City Children's Museum

Online Robotics Camp
Young Gates - Kids Online Personalized Classes
Sign up for our free newsletters.
10 Kid-Friendly Happy Hours in Silver Lake and Los Feliz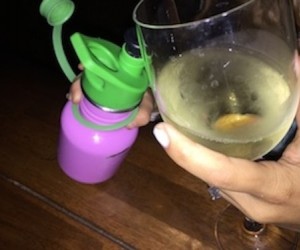 6/3/15
- By
Jennifer Cook Nice
Man, do I miss the spur-of-the-moment, after-work, happy hour drop in. What joy was had from discounted drinks and finger foods that involved no cooking or washing dishes when finished. In my hunt for ways to revive my pre-kid life that was—at times so spontaneous and uncomplicated—I found that I can still work in an occasional happy hour weeknight... with kids!
The happy hour concept is generally associated with a younger, rowdier crowd that does not want to wait for the weekend to have drinks with friends. Why should anyone wait? Happy hour can mean more than just cheap booze; it also offers a bargain menu of small portions of food that may be the perfect-size meal for little ones. Why not include your family in the pre-dinner hour fun, which often commences early enough for an after-school special? To that end, we present the sequel to Mommy Poppins' Westside Happy Hours post: Silver Lake joints for snacks and drinks that aren't just for the over-21 crowd.
Hyperion Public
2538 Hyperion Ave., Los Angeles, CA 90027
(323) 761-6440
Happy hour is daily 4pm-7pm. This community spot was created by three preschool dads. They welcome a family vibe with a happy hour menu that consists of $5 dollar items such as a grilled cheese sandwich, avocado and nduja toast, BBQ steak lettuce cups, and chicken wings. All drinks are $5 or less.
Malo
4326 Sunset Blvd. Los Angeles, CA 90029
(323) 664-1011
Happy hour happens weekdays from 3pm-7pm. The happy hour menu includes enchilada nachos for $3, guacamole fries for $4, bean and cheese sliders for $3, and a variety of freshly prepared tacos for $2. Drink specials include canned beer for $3 and house margarita for $5. There's indoor and patio seating, and street and lot parking. It's definitely a fun place to hang out, but it'll get crowded as the evening approaches.
Red Lion Tavern
2366 Glendale Blvd. Los Angeles, CA 90039
(323) 662-05337
Happy hour occurs weekdays 3pm-6pm and includes all of Red Lion's German beers, such as 16 ounces of Oktoberfest and Hofbrau Lager, for $5. The kitschy, German themed spot's appetizer menu features a sausage platter of bite-sized pieces of bratwurst, knockwurst, and smoked bockwurst. Also on the menu are potato pancakes with apple sauce, a German pretzel with mustard, and a cheese platter.
El Condor
3701 Sunset Blvd., Los Angeles, CA 90026
(323) 660-4500
El Condor's happy hour is daily from 5pm-7pm, and specials include a $5 quesadilla or nachos, plus sangria and margaritas for $7, to name a few. There is indoor and outdoor seating, and the staff is very friendly. It's a spirited place and has a nice ambiance early in the evening. Both valet and street parking are available. A lot of locals are happy to see such a great new place in a spot where the beloved, 50 year-old El Conquistador restaurant used to be. The prices are higher now, but at least there's a happy hour.
Barbarella Neighborhood Bar & Kitchen
2609 N. Hyperion Ave., Los Angeles, CA 90027
(323) 644-8000
Happy hour is Monday through Saturday, 4pm-7pm. Specialty cocktails such as the Hipster and the Blueberry Mojito cost $6; beers are $4 and $5. The pizzas cost up to $12 and are made in house and egg free. Hummus and pita is $8 and tuna tartare $9. There's a large menu with a lot of variety for both drinks and food, and the venue is spacious. Valet parking is in the front.
Barbrix
2442 Hyperion Ave., Los Angeles 90027
(323) 662-2442
Happy hour takes place Sunday through Thursday from 6pm-7:30pm at the spot voted "Best Wine Bar" by Los Angeles Magazine. Drink specials include half off wines by the glass. The menu changes regularly but lately has included dollar oysters on Monday nights. Valet parking is available.
Casita del Campo
1920 Hyperion Ave., Los Angeles, CA 90039
(323) 662-4255
Happy hour is weekdays from 3pm-7pm and includes $2 off appetizers, $2 off well drinks, and $1 off beer and wine. The atmosphere is friendly, and locals know it well since Casita del Campo was established 50 years ago. Watch out for the hot salsa, and give the mole a try. The menu also includes sweet corn tamales and a well reviewed Sopa de Albondigas (meatball soup) for $6.75. Valet parking is available.
Diablo
3129 W. Sunset Blvd., Los Angeles, CA 90026
(323) 666-4666
Happy hour is currently Tuesday through Friday, 4pm-6pm. Because Diablo features chef driven tacos, you can try that brussel sprout taco you've always wanted, amidst gluten-free, dairy free, and vegan options. Happy hour specials include PBR for $1 and cans of Olympia for $2. All of the tacos cost $5-$6. Another unique treat featured at Diablo is the Michelada pop, a spicy/savory/popsicle that you can drop in your beer. The paper covered tables are good for kids who like to draw, and there are plenty of TVs for those who want to catch the game. Diablo also makes board games available.
The Mexican Village
3668 Beverly Blvd., Los Angeles, CA 90004
(213) 385-0479
Happy hour goes from 4pm-8pm and includes free taquitos, fruit margaritas, and imported beers for $4. Other items on the appetizer menu include cheese fondue served with tortillas and a taco trio for $7. Valet and street parking are available.
1642 Beer and Wine
1642 W. Temple St., Los Angeles, CA 90026
(213) 989-6836
Happy hour only happens Thursdays from 6pm-8pm. This low key, cozy bar with an art deco flare hosts a tamale happy hour that includes a free tamale with the purchase of every drink. Only beer and wine are served. Tamales are usually cheese or chicken and are catered, since 1642 Beer and Wine has no kitchen. There are complimentary peanuts and pretzels, and the staple soundtrack is usually jazz.
Looking for more ideas? Check out these restaurants where kids eat free.
Note that times listed are correct as of the publish date of this post but could change at any time; please call the restaurant to confirm.