An Autumn Midsummer Night's Dream: Fairies, Love, and Laughter in the Woods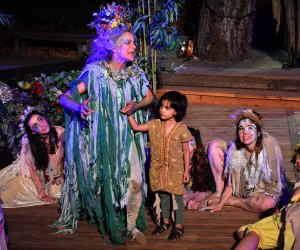 Summer Shakespeare is the norm and as summer passes into fall, much of our outdoor theater also fades away. However, that's not the case at Will Geer's Theatricum Botanicum in the Forest of Topanga (I know it's a canyon, but it reminds me of the Forest of Arden!). Here Shakespearean actors tread the boards (and Shakespeare's fairies flit through the trees) into November. The annual production of A Midsummer Night's Dream is perfect for even young kids—there were kids as young as two in the audience when we saw it—running a tight 80 minutes, with plenty of singing, slapstick, and even animals. Read on to discover why everyone from tots to teens delights in this production filled with mistaken identities, naughty fairies, unrequited love, and an Amazon queen.
Perfect for the Youngest Groundlings
This way to the show. Photograph courtesy of Theatricum Botanicum
I have been bringing my kids to Shakespeare productions since they were about three, so I feel pretty comfortable gauging what works for kids and what doesn't. And we are very lucky in Los Angeles to have three companies in town who know how to pitch a play to the youngest theatergoers.
The Actor's Gang usually does an August show in the park in Culver City (which has been much missed this summer and last) that is filled with dancing, music, backflips, pop culture, and popsicles. That one is really aimed at the littlest kids. Independent Shakespeare LA usually does two shows in rep in Griffith Park each summer, with one of them being a comedy, infused with music, and played with broad laughs. That show is more for adults, but plays well for kids who love theater.
A picnic on the grounds feels dreamy. Photo courtesy of Theatricum Botanicum
This production of A Midsummer Night's Dream is right in the middle of these productions. The text has been trimmed to just an hour and a half in ingenious fashion, as none of the lovers' mishaps, players' follies, or fairies' meddling are lost. Kids get an overview of all the major themes (and lines—it's fun to watch bigger kids perk up when they recognize a line), but the show ends before they can get antsy or bored. There is no intermission, and the play zips along, with whole portions of the show turned into songs set to original music.
Bottom makes kids roar with laughter. Photo by Ian Flanders
What Visions I Have Seen
An afternoon (or evening—most shows are at 4pm, but a few shows start at 7:30pm, and the setting is even more magical as the fairy lights come on in the woods) spent at the Theatricum is always a treat. The theater is deep in the woods in Topanga, and you can come early, wander through the Shakespeare Garden, picnic on the grounds, and then watch the sun set over the mountain behind the stage. The tranquility of the setting is enhanced when you settle into your seat and watch a bunny hopping through the trees. Actors swing onto stage from ropes hanging from trees and emerge through the audience. As the lovers run toward (and away from) each other in the woods near Athens, the Santa Monica Mountains become part of the story.
There were kids in the audience as young as two on the day we saw the show, and all were well behaved and genuinely enjoyed it. There is something for everyone: my son roared as Nick Bottom bellowed; my daughter cracked up at Helena's demonstrations of unrequited love, and the toddlers right behind us crowed when a dog appeared on stage. The fairies sing and dance and swing from the trees as lights twinkle in the forest, and the whole show culminates in the play-within-a-play that leaves the audience laughing and clapping along.

A theater in the open air, with everyone wearing masks, makes the audience feel safe. Photo by the author
Lord What Fools These Mortals Be
Because we mortals are still in the midst of a pandemic, it's especially welcome to see a show in the great outdoors, and the Theatricum has gone to extra lengths to make guests feel safe. Proof of vaccination is required for all guests 12 & up, and masks are required in the amphitheater for all. To show proof of vaccination, everyone is checked in at the box office, and tickets are stamped, so you can simply walk into the theater with that ticket. It's a quick process, but I'd recommend leaving a little extra time for check-in.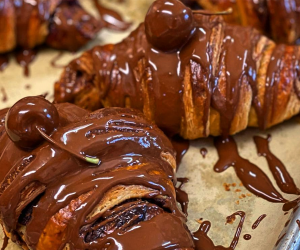 You never know what treats might be available at the bakery. Instagram photo courtesy of Canyon Bakery
I Have Had a Dream
Being here feels like a dream. The setting is idyllic, and while the play title proclaims summer, seeing it here as autumn falls is even more enchanting, as the heat of the day isn't as intense, and the shadows fall a little earlier in the day.
While the Canyon Bakery was closed for our visit (it's reopening soon; keep an eye on Instagram for the dates and menus, because this bakery's goods look divine), theatergoers are welcome to bring a picnic to enjoy on the grounds, or simply stroll through the woods and gardens.
Parking is available in a small lot for $7 (free for anyone with handicap placards), though most guests park alongside the road outside the theater. When my kids were little and we were toting a diaper bag and picnic basket, we'd have one parent do kid and gear drop off in the lot before parking on the street—I never felt safe walking on the side of the road with young kids as the cars whiz by.

Hanging out with actor, founder, and activist Will Geer. Photo by the author
A Midsummer Night's Dream plays at Will Geer's Theatricum Botanicum on select weekend dates through November 7. Tickets are $10 for kids 5-15 (kids under 5 are free), and adult tickets range from $26-$42 (with a discount for teachers, students, veterans, and seniors). If you've got bigger kids, or could use an adult date night, Julius Caesar is also playing on select dates through October 30.