Free Shakespeare Returns To Griffith Park in Los Angeles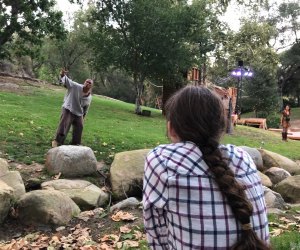 It's time to brush up your Shakespeare! Shakespeare is set free in Griffith Park this summer once again, as the Independent Shakespeare Company's production of The Tempest is now playing. Think Shakespeare is too high falutin for your wee one? Fear not! ISCLA goes back to Shakespeare's roots as entertainment for the common folk, which translates to lots of slapstick humor and music. While the show is still fabulous and free, many things have changed for this summer's production. Read on for a quick overview of the show and what's new (for brevity is the soul of wit).

The stage is in a new part of the park this year.
If You Tickle Us, Do We Not Laugh?
I've been a fan of ISCLA since I stumbled upon it (in my pre-kid days) when it was still at Barnsdall Park, and my husband and I were about half the audience. Since then, the small summer shows have grown into a large annual festival and respected summer staple in Los Angeles. The productions have a special place in my heart, as my family has grown with them. We brought my kids to see their first production of Shakespeare here when they were 4, and we've been every summer since. So I speak from experience when I tell you that these productions really make every play (well, maybe except Titus Andronicus) accessible and fun for all ages.
My kids adore these shows and were devastated when we couldn't come last year. But the Bard is back—with a few changes...
All the World's a Stage
The world truly is our stage this year! ISCLA has grown, and the temporary stage by the Old Zoo where they have performed for the last decade or so has been torn down, and construction has begun on a wonderful new permanent stage (in the same location). This means that this year, you must hike past the Old Zoo enclosures (where your kids will definitely want to play before the show) to a magical little hollow at the back of the park.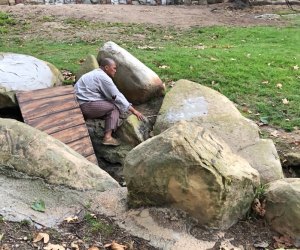 Calibri can pop out of his cave as the stage is set in the middle of the park.
Here, the company has erected a tiny stage, but they also use the surrounding hiking paths, rocks, and grass to bring The Tempest to life. The play works perfectly in the more natural setting, and the slight hill where people can set up blankets and chairs makes a perfect little amphitheater. In years past, the festival has been first come, first served; this year, to enforce social distancing, tickets (still free) are required.
Socially distanced pods are clearly marked.
Neither a Borrower nor a Lender Be
No need to borrow or lend when tickets are free! (Though this is the arts, people, so it's not well funded. Donations are always very, very welcome. Especially because concessions are not on sale this summer, so no money is coming in that way…) However, to keep crowds small, a pod (which seats four people) must be reserved, and there are a limited number of pods available. Tickets are released one week before each performance at 10am, and in my experience, they go instantly, so be on your computer or phone at 10am, exactly 7 days before you want to attend. You can reserve a space for a blanket or low chairs—the website walks you through a simple reservation process. When you get there, your reserved pod is clearly marked by color and number. The pods are nicely spaced, and the theater company and park ask that you wear a mask if you leave your pod, and when not eating. We felt simultaneously safely socially distanced, and like part of the community. It's a perfect balance.
Bring cards and a picnic to enjoy before the show.
You may still bring a picnic, even though there's no concession stand. (But t-shirts that support the theater are on sale!) Come early to enjoy the park and a picnic, just remember to bring sunscreen for before the sun sets, and blankets and sweaters for after. It gets quite chilly here in the evening. Also make sure you have your phone or a small flashlight to light the walk to the bathrooms in the dark (they're by the construction site of the new stage, and it can be hard to see the path at night).
The lights come on and the play begins.
We Are Such Stuff as Dreams Are Made On
To be honest, my family was hoping for one of Shakespeare's sillier comedies this summer. The past year has felt like we are already living a tragedy! But watching The Tempest, and hearing why they chose this play, it did feel like a perfect play for our times. It is a play about family & forgiveness and the importance of community & connection. It ends with (mostly) happy ever afters and good (and love) triumphing. As the lights twinkle in the trees, and Prospero tells us, "We are such stuff as dreams are made on," you'll find yourself swept away by the magic of Shakespeare and the rightness of the play.
And if that sounds too heady, I'll add that there is enough slapstick silliness of mistaken identities and monsters (plus some lovely music and magic) to keep kids entertained.
You know you're in Griffith Park when a horse appears right behind you!
Now Is (Not) the Winter of Our Discontent
It's not just Shakespeare! The Independent Shakespeare Company does an annual production of A Christmas Carol that's a delight, so check the website for dates and ticket information this winter.
Now, get thee to a nunnery! Er, to Griffith Park.
The Tempest plays in the park every Wednesday to Sunday through September 5 at 7pm. Tickets are free, and reservations are available online 7 days in advance.