Queen Mary Christmas: Chill Is in the Air and Lights Are on the Ship!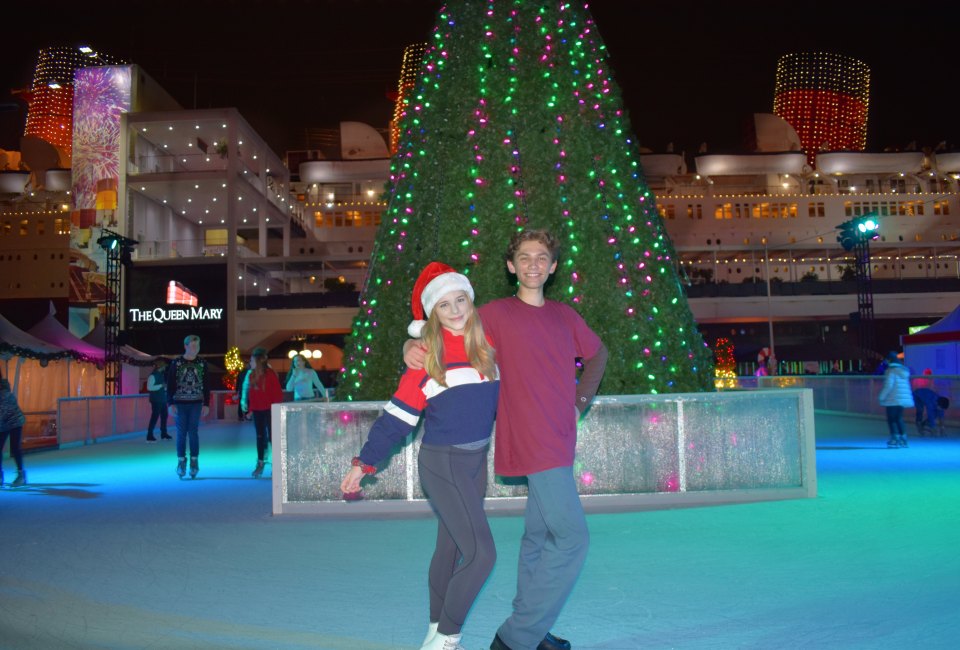 12/9/19
- By
Roberta B
Christmas at the Queen Mary is a great place to spend a chilly evening during the holiday season. The vintage ocean liner in Long Beach harbor comes alive with Christmas lights, carolers, encounters with Santa, a seasonal ice rink, a Christmas train, and several other festive and wintery activities. The annual holiday event takes place both on board and around The Queen Mary, meaning lots of twinkly photo ops against the backdrop of the floating monument, as well as exploring the art deco decks of the beloved ship. For us, it's an annual holiday tradition!
Visits with Santa Claus

You're never too old to love Santa!
The signature event, which runs daily from Black Friday to New Year's Day, fits several festive photos ops and holiday experiences into the many enchanting corners of the old cruise ship. The views in any direction are a breathtaking treat, and visits with Santa are particularly delightful. Santa and Mrs. Claus have a room off the Promenade Deck, where kids can visit, hear stories at certain times, and write letters to the North Pole to drop in a special mailbox.
A separate Santa encounter is also available on Saturday mornings during the season, as a Brunch with Santa event.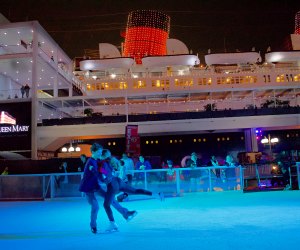 The ice rink is bigger and better than ever.
Ice Skating at the Queen Mary
The outdoor True North Ice Rink at the Queen Mary is one of the central attractions of Queen Mary Christmas. The rink moves around every season, and this year it's back on the event space next to the ship, allowing for more skating space AND a giant Christmas tree in the middle of the ice! Penguin-shaped walkers are available for little skaters to get their ice legs under them. Adjacent to the picture perfect rink are food stalls and a bar, so families can enjoy hot chocolate, hot toddies, and hot food rinkside. Ice skating takes place in 45-minute sessions. Seasonal ice rinks may be common, but this is the only one against the side of a vintage ocean liner.
Ice skating (including skate rental) is a $15 add-on to General Admission, or included in a VIP package.
RELATED: Outdoor Ice Skating Rinks around Los Angeles

Some kids could ride the carousel all night!
Christmas Train, Rock Climbing, and Merry-go-Round
New activities this year, all of which are included in general admission, include a small Christmas train, rock climbing, and a Christmas Carousel. The trackless train takes a spin around the event area, including a few trips through a tunnel of lights. The carousel runs continuously with no extra ticket required, which is a wonderful way of keeping spirits bright. There is also a photo op atop a giant rocking horse, as well as a rock climbing wall underneath a flurry of faux snow. These four activities are all lined up in a row, in the event space adjacent to the ship.

Rock climbing with a view!
Other Holiday Activities at Queen Mary Christmas
In a special event area inside the ship, kids can do holiday crafts on certain days (Christmas tree ornament crafts were set up when we popped in) and watch holiday entertainment on a festive stage throughout the evening. There is also an Instagram and selfie room inside, with a variety of Christmassy backdrops to play with. For those with a little extra holiday cash to drop, add-on activities in this space include gingerbread house building and stocking decorating. Some kid-pleasing snacks are on sale in this area as well. This is in addition to the classic theme park style food stands in the outdoor area.
The final treat included with admission is the 4D Theater screening of Polar Express, with all the shaking, tooting, and snowing of a sensaround nighttime train ride with Tom Hanks.
RELATED: LA's Best Home Holiday Light Displays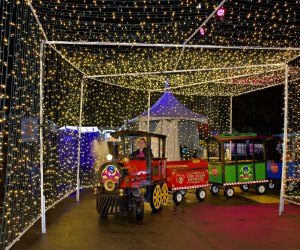 This little engine that could runs non-stop, all evening long.
FYI, if you haven't been to the Queen Mary's holiday festivities since the days of Chill, be aware that the Spruce Goose pavilion next to the ship is no longer part of the Queen Mary event area, so the ice sculpture displays of previous seasons is no more. There is still plenty to do and see, though, and lots of holiday cheer.
Staying over on board would be a delightful way to experience all the fun, but a day or evening's visit is also well worth the time. Whether or not you stay on board, you should take advantage of the opportunity to explore the decks a bit, particularly with the holiday lights festooning the many decks.
Figure in parking ($20), or plan ahead to look for parking farther away (Long Beach has a free bus service that can help with creative parking).
Queen Mary Christmas takes place daily, including Christmas Eve and Day, and New Year's Eve and Day.
Hours vary, but the event is available every day throughout the season, with different schedules for skating, movies, and stage performances.
Originally published November 22, 2012, with updates each season
All photos by author
Places featured in this article:
Sign up for the Mommy Poppins Newsletter today!