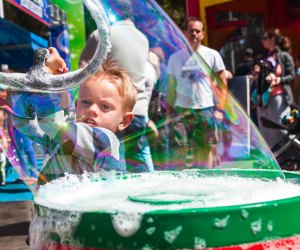 Best Things To Do in LA this July with Kids
What a blast! July explodes onto the scene with fireworks aplenty as Fourth of July festivities in LA come roaring back. And the 4th of July is only the beginning, as all month long the summer favorites are returning. Shakespeare by the Sea, Pageant of the Masters, the Hollywood Bowl ... all lined up and ready to go. Bubblefest says if July is when you'll have me, then July is when I will be. And if there was any doubt as to just how on this summer is going to be, the Orange County Fair is here with the answer: it's on, baby, it's very on.
And this is just the tip of the (melting) iceberg! There are more things popping up every day, so be sure to check our calendar of events for something new to do each and every day this summer. Plus, our Summer Fun Guide is packed with the best summer activities in LA, and if you're planning on getting out of town, we've got a California Family Travel Guide you need to check out.
Keep reading (and mark your calendars) for the best can't miss events for LA families this July ...