< Event Calendar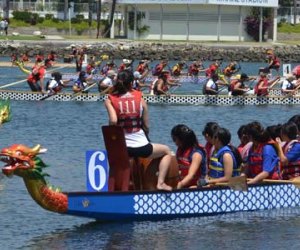 Long Beach Dragon Boat Festival
Dragon boats—long, sleek, and powered by many rowers with oars—are raced competitively in events like the Asian Games. Dragon boat competitions are also held each year in China and elsewhere to honor the life and death of ancient poet Qu Yuan (340-278 BC).
The boats are typically made of teak and adorned with dragon heads and tails. Families can see their beauty and majesty, and watch the power and vigor of the athletic oarsmen at the Long Beach Dragon Boat Festival. A schedule of races can be found on the website.
Performances throughout the weekend include magic, Taiko, martial arts, hip hop and dance.
Hours are Saturday 9am-6pm and Sunday 9am-3:30pm.
Marine Stadium
5225 East Paoli Way
Long Beach, CA 90803
** Event dates/times are subject to change. Please click through to the event website to verify.